No support for Chen in loss to Yankees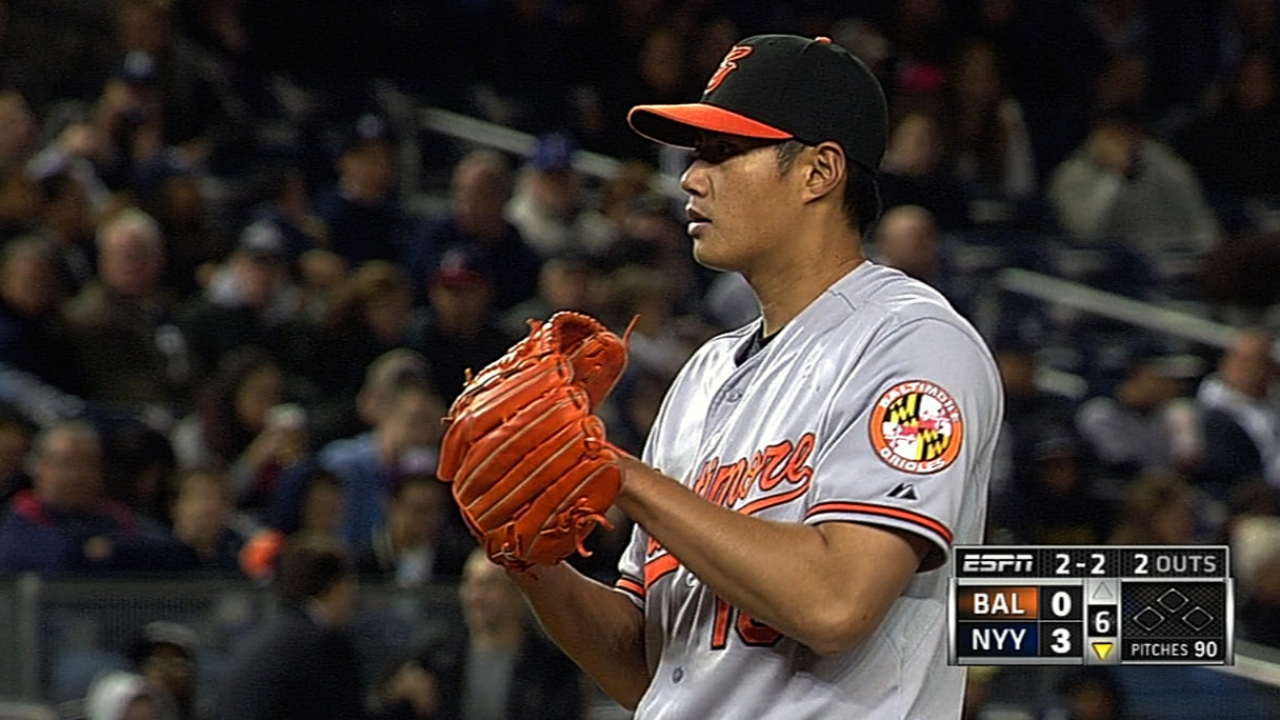 NEW YORK -- You can't win if you don't score. And when starter Wei-Yin Chen has pitched for the Orioles, the team's offense has largely gone missing.

Such was the case again on Sunday night, as Chen had one bad inning and Baltimore couldn't advance a runner to second base off New York starter Hiroki Kuroda until the ninth, resulting in a 3-0 series loss at Yankee Stadium. The defeat ends a two-city road trip at 3-3 and drops the O's back to .500 after a 12-game season-opening stretch in which they played just three at home.

"He's pitched well every time out this year," manager Buck Showalter said of Chen, whose last win came on Aug. 9, 2012. "I was looking today. He's the last guy to win 12 games since 2007 for the Orioles. We're pretty excited that he's on our side."
Chen -- who ran his regular-season winless total to 10 starts in the loss -- pitched six innings and allowed three runs, all of which came in the fifth inning. The 27-year-old lefty, the Orioles' most consistent starter last season, has had 10 runs scored while he was still in the game over that winless stretch, with the offense scoring three runs or fewer in 19 of his last 27 starts.

"We are obviously excited about the way he's been pitching," first baseman Chris Davis said. "It's what we want out of him -- go out there and eat up innings and give us a chance to win. But we've got to do our part as an offense. It's tough to win when you don't score any runs."
Kuroda pounded the strike zone, often getting ahead early and holding the Orioles without an extra-base hit for the entire evening, scattering five hits without any walks in his fifth career shutout.
"The two-seam fastball was great today," Yankees catcher Francisco Cervelli said of Kuroda. "It was so big. He was able to throw it inside to righties and come back to lefties. It was great. The sinker command was unbelievable.

"He's fun to catch, that guy. It's great, because he's able to throw every pitch whenever he wants, whatever place he wants. He has a plan for everybody. It's amazing."

The Orioles had a hit in four of the first five innings off Kuroda but couldn't score. Matt Wieters gave the O's their second leadoff hit with a single to start the fifth, and Jayson Nix let the ball slip out of his hands in a tailor-made double-play situation to extend the frame. But Nolan Reimold, who singled in his previous at-bat, struck out.

The O's squandered Adam Jones' leadoff single in the seventh, with Kuroda striking out the red-hot Davis on a full-count pitch and retiring Wieters and J.J. Hardy. The 38-year-old Kuroda also pitched around fielding errors behind him in the eighth and ninth innings.

"Seemed like everything he threw up there was a strike," Davis said of Kuroda, who threw 79 of 113 pitches for strikes and fanned five. "When a guy is that dominant, he's tough to beat."

Chen matched Kuroda early, cruising through the first four frames until a pair of singles from Brennan Boesch and Cervelli, who drove an 0-2 pitch into left field, started the bottom of the fifth. Lyle Overbay's deep flyout put runners on the corners, and Nix's sacrifice fly plated the first run of the game. Brett Gardner jumped on the next pitch, hitting the right-field foul pole with a high homer to score another pair of runs and push the lead to three.

"On the mound I was thinking too much, and that caused the big inning," Chen, who was visibility upset, said through interpreter Tim Lin.

Asked if he felt the pressure of not getting any run support, Chen said, "Not at all, because I can only compete with myself. I'm not competing with anyone. This is what it is. I didn't do my job today. Today was not my day."

Rule 5 Draft pick T.J. McFarland, pitching for the first time in nine days, tossed two scoreless innings after Chen in his second career outing. The 23-year-old lefty has thrown 5 1/3 scoreless innings to start his pro career and is part of a relief corps that has seemingly picked up where it left off last year.

And, as Davis put it, it seems like last year when the Orioles were playing games in Baltimore. The team, which opened in St. Petersburg after an unusually long Spring Training, played three games in a whirlwind Opening Day weekend and have been on the road with numerous start times, making it impossible to get on a schedule.

"We've been on a tough two-month-plus road trip," Showalter said of an Orioles club that's off on Monday before a nine-game homestand. "After being in [St. Petersburg], Boston and New York, we're looking forward to seeing some friendly faces."
Brittany Ghiroli is a reporter for MLB.com. Read her blog, Britt's Bird Watch, and follow her on Twitter @britt_ghiroli. This story was not subject to the approval of Major League Baseball or its clubs.