Royals walk off on Gordon's single in series finale
Santana allows one earned run in eight strong innings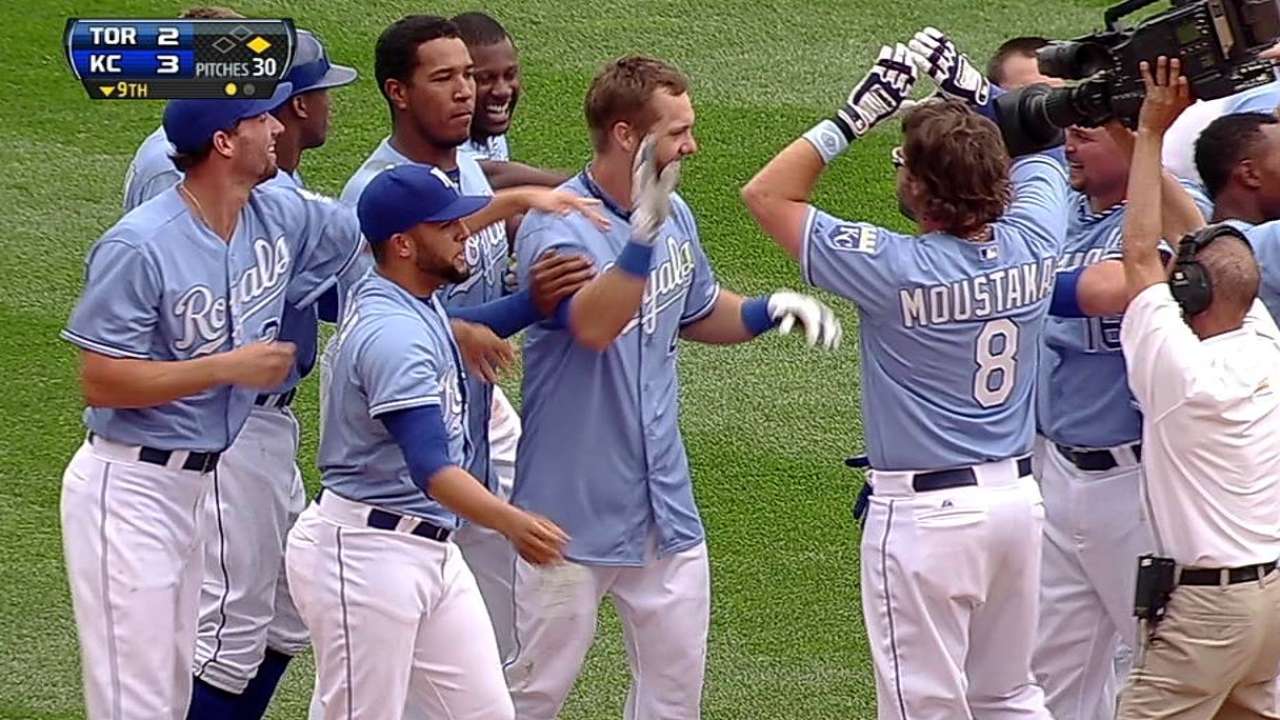 KANSAS CITY -- What a difference a year makes. The Royals are emphatically certain this isn't anything like 2012.
Teetering on the brink of being swept by the Toronto Blue Jays, the Royals regained their balance and pulled out a 3-2 walk-off victory on Sunday, doing a celebratory mob on Alex Gordon as 29,057 hooped and hollered at Kauffman Stadium.
Chris Getz doubled in the ninth and scored on Gordon's single to end the game, putting the finishing touch on a bounce-back win after two tough losses to the Blue Jays. The Royals completed their first homestand with a 4-2 record, a vast turnaround from the 0-10 stretch they endured in their first homestand last year.
Recalling the 2012 debacle, Gordon thought the Royals pressed too hard and bad things just snowballed. Not this time.
"We had two losses and we said, 'Whatever, let's go out and get a win,' and we salvaged the series," Gordon said. "So I hope we learned from it, and I think we did. Last year was last year and we're playing different now."
A big reason for that is the rebuilt pitching rotation. Ervin Santana delivered his second straight eight-inning performance. It came the day after James Shields threw a complete-game two-hitter, but lost, 3-2.
"To get innings like we did from these guys the last two days is huge for the team," Getz said.
After Kelvin Herrera pitched a perfect ninth for the Royals, left-hander Darren Oliver took the mound for the Blue Jays. He retired Jarrod Dyson on a long fly and had a 1-2 count on Getz, who drilled a ball toward the right-center field gap. Right fielder Emilio Bonifacio closed in quickly and slid after the ball, deflecting it to center fielder Colby Rasmus. He got the ball to the infield quickly and held Getz to a double.
"I thought it was a sure triple," Getz said. "I saw a lot of space, then no space. But [Bonifacio] laid out and he could've easily missed that, too."
Up came Gordon, who'd taken a called third strike from reliever Brett Cecil in the seventh inning with the potential tie-breaking run on third base. Gordon's history against Oliver wasn't good (2-for-12) but he was determined to redeem himself.
"[Cecil] made a good pitch -- a cutter in -- and he froze me, and I just came up the next time against Oliver, another lefty, and just said, 'Hey, if it's anywhere close to the strike zone, I'm swinging and putting the barrel on the ball,' " Gordon said. "And that's what happened."
Sure enough, Gordon drilled Oliver's first pitch into right field and Getz was home easily ahead of an off-target throw.
Gordon is on an 11-game hitting streak and his average is up to .373.
"You've got to have somebody that's consistent, and Alex is about as good as you can get offensively," Royals manager Ned Yost said. "He had an opportunity two innings before with a runner on third and struck out, and for him to come back in that situation and win the game for us was big."
The Getz-Gordon connection didn't surprise Blue Jays manager John Gibbons, the former bench coach for the Royals.
"They are good players, man," Gibbons said. "I watched those guys for three years. They're scrappy and they'll battle you."
So will Santana. He gave up a first-inning run that was tainted by a Dyson error in center field, enabling Melky Cabrera to reach third. He scored on a groundout. Santana gave up a solo home run to Edwin Encarnacion in the sixth.
Meanwhile, Dyson made up for his miscue by leading off the third inning with a triple against Brandon Morrow and scoring on Alcides Escobar's sacrifice fly. The Royals got even, 2-2, in the bottom of the sixth when singles by Billy Butler, Eric Hosmer and Lorenzo Cain produced a run.
Yost stayed with Santana in the eighth inning even after he'd issued a two-out walk to Encarnacion to create a two-on jam. The manager puts Santana in the category of a veteran pitcher able to pitch his way out of such a predicament.
"They don't panic," Yost said. "They continue to stay focused on making pitches and they have the ability to make that pitch. ... They have the ability to stay calm in situations and continue to make tough pitches."
Santana did, striking out J.P. Arencibia to preserve the tie.
"I was sticking with him," Yost said. "I felt he was still throwing the ball good. I felt like he was going to make big pitches and that's exactly what he did."
Santana, who dropped his ERA to 2.45 over his three starts, was appreciative.
"When the manager has confidence in his starting pitcher, it's good," Santana said. "You know that you're not going to be scared he's going to take you out. So I like it."
Yost liked heading off to Atlanta and starting an eight-game road trip with a winning record at home.
"We're happy. Toronto's a tough team. It's a team that a lot of people predict to win the East," Yost said. "They've got great pitching over there and I think our offense can hit good pitching, but they pitched great in this three-game series and to win the homestand, 4-2, was good for us."
The victory enabled the Royals to stay even with Detroit in first place in the American League Central. Both have 7-5 records.
It's a much better start than all those losses in the Royals' inglorious getaway of 2012.
"We went through a pretty nasty skid there," Getz said, noting a fresh outlook for 2013. "It's good for the team, it's good for the fans. It just kind of helps the energy for Kansas City."
Dick Kaegel is a reporter for MLB.com. This story was not subject to the approval of Major League Baseball or its clubs.