Marlins walk off behind Coghlan's infield single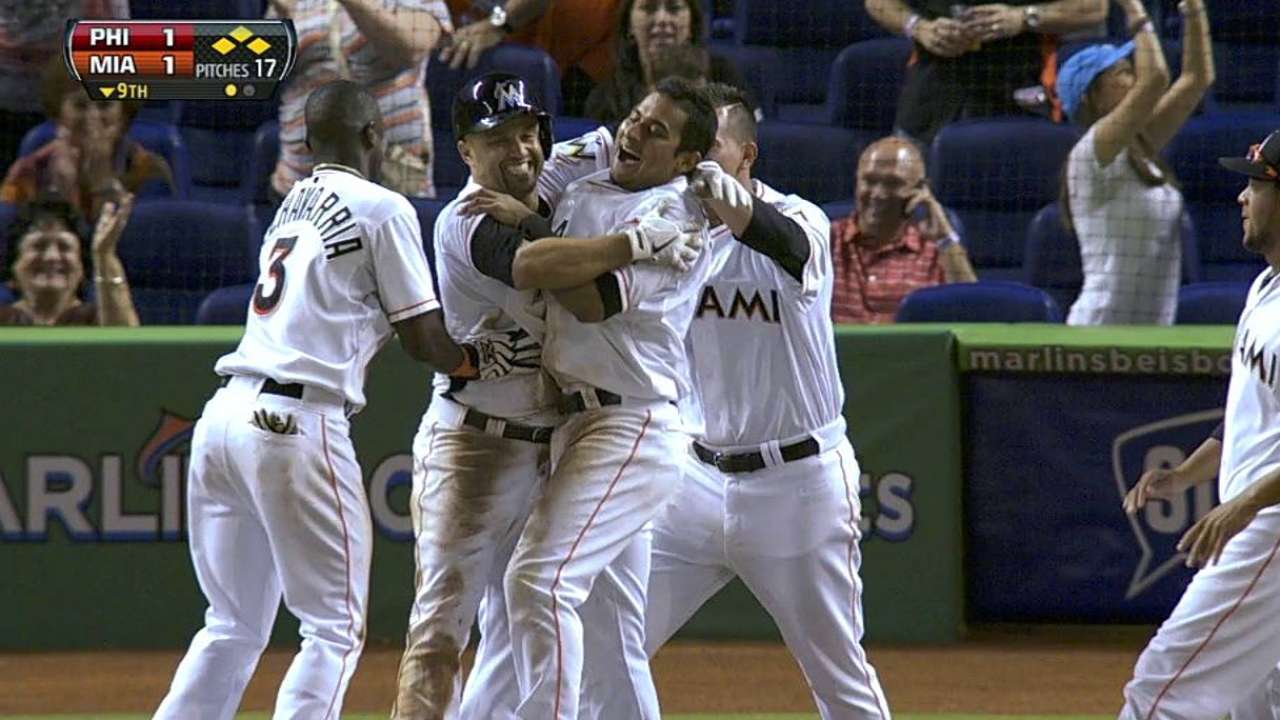 MIAMI -- On a night 20-year-old pitching phenom Jose Fernandez dazzled, former rookie of the year Chris Coghlan came through for the Marlins.
Coghlan delivered a walk-off infield single in the ninth inning on Saturday that lifted the Marlins to a 2-1 win over the Phillies in front of an announced crowd of 20,037 at Marlins Park.
Coghlan, the 2009 National League Rookie of the Year, slapped a hard grounder up the middle that wasn't handled cleanly by second baseman Chase Utley. When Placido Polanco slid home safely, the Marlins snapped their six-game losing streak.
"I think it's huge, just for the morale," Coghlan said. "We've lost a lot of tight games. Our record obviously shows that. I think it's big any time you get a win, it doesn't matter how you do it."
Coghlan was 1-for-14 on the season because of the hit, and he was a late addition to the lineup, getting the starting nod in center field after Justin Ruggiano was scratched because of a tight right groin.
"He was a late addition to the lineup," manager Mike Redmond said. "We talk about opportunities. It was a big at-bat. Sometimes you can win games by walks. You can win the game by putting the ball in play. Tonight, you saw that. He was at 0-2, tremendous at-bat to put the ball in play. Utley has trouble with it, and we win a ballgame."
Saturday's game mirrored how the Marlins have played most of the season. They received strong pitching, and struggled to mount any offense on a night Giancarlo Stanton missed his second straight game due to a left shoulder bruise.
The difference is the Marlins actually had some breaks go their way, especially in their half of the ninth.
Phillippe Aumont walked Polanco to open the ninth inning, and Greg Dobbs ripped a single that skipped off the glove of first baseman Kevin Frandsen, putting runners at the corners with no outs.
Aumont struck out Austin Kearns, bringing up Coghlan, who fell behind two strikes in the count before delivering his first career walk-off hit.
For a young team, the Marlins are looking for any kind of spark.
"It's been just down, especially being as young as we are," Coghlan said. "I think it's adjusting and learning how to get up for the next game. All of us want to win. I think it's just something that we've got win to keep our morale up, and we've got to keep going."
The Marlins were able to pull out a win on a night where Fernandez continued to live up to his billing. In his second big league start, and first at home, he was simply sensational.
Fernandez silenced the Phillies in six scoreless innings, striking out five while allowing two walks and two hits. He even collected his first Major League hit, an RBI, which gave Miami a short-lived one-run lead.
"It was fun. Every time I'm out there, I'm trying to enjoy it," said Fernandez, who had about 25 family members and friends at the game. "I love pitching. It was fun to pitch here in Miami in front of the crowd. It was a really good feeling. Hopefully, it's going to keep happening, and I'm going to keep enjoying it."
Fernandez displayed a 96 mph fastball, and collected strikeouts on players including Ryan Howard with an 82 mph curveball.
"He's good. He's got good stuff," Phillies manager Charlie Manuel said. "I was surprised he got his breaking ball and threw his changeup and got it over like he did. That impressed me as much as his fastball. His fastball is good. He's young. He's good. He's got a chance to be very good."
Fernandez, who made the leap to the big leagues without pitching higher than Class A, is showing tremendous poise and potential. According to ESPN Stats, the right-hander is the first pitcher 20-years-old or younger to allow one run or fewer and three hits or fewer in his first two Major League starts since Rudy May of the Angels in 1965.
"It was great," Redmond said. "It's exactly what we needed in his first start at home. He executed some great pitches against a tremendous lineup."
The Marlins have Fernandez on a schedule to throw between 150-170 innings, so he was lifted after 85 pitches.
Fernandez has given up one run in his first 11 big league innings (0.82 ERA) with 13 strikeouts. Yet, the rookie was unable to record his first big league win.
Philadelphia's Cole Hamels held Miami without a hit for 4 2/3 innings before Adeiny Hechavarria snapped an 0-for-17 slide with a triple. The first Miami hit of the night also set up the first run. Because his pitch count was at 68, Fernandez remained in the game to bat, and the 20-year-old slapped an RBI single to left for his first big league hit.
Pumped up, Fernandez clapped his hand the first few steps out of the box, as he gave his team the lead.
"I was excited for him, seeing his energy and emotion when he got the hit," Redmond said. "As a manager, that's fun. It shows how much a guy cares, and how much a guy wants it."
About the only trouble Fernandez had in his six-inning performance was putting his jacket on after delivering his RBI single. With the roof closed at Marlins Park, the temperature was 72 degrees. After reaching base, a jacket was brought out to Fernandez, who fiddled for about a minute -- as Hamels watched and waited -- to get it to fit properly.
"It was weird. It was stuck," Fernandez said of his jacket malfunction. "It was funny. I laughed about it. Nothing I could do."
From the Marlins dugout, Redmond and the rest of the bench laughed as he struggled to tug the jacket over his head.
"The good news is Fernandez just got his coat off," Redmond joked with reporters after the game. "He had a lot of trouble getting it on. It took him longer getting it off."
Joe Frisaro is a reporter for MLB.com. He writes a blog, called The Fish Pond. Follow him on Twitter @JoeFrisaro. This story was not subject to the approval of Major League Baseball or its clubs.