Phillies unable to deliver big hits as Marlins walk-off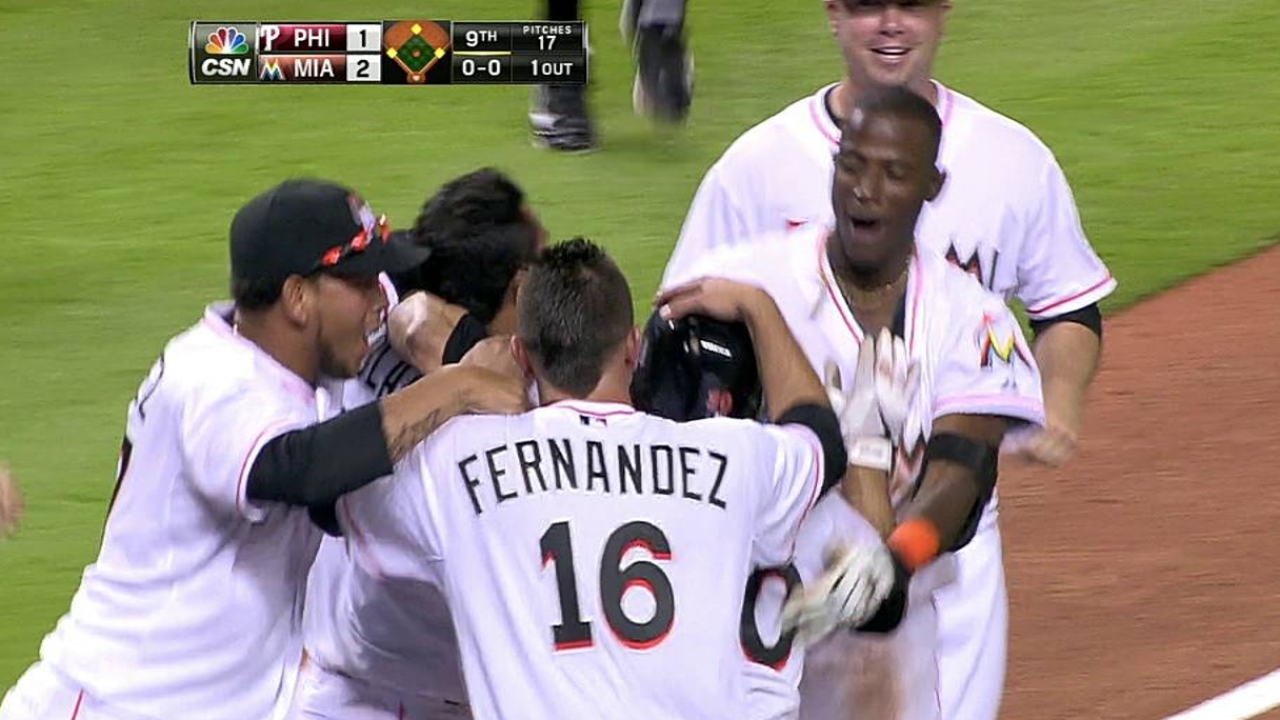 MIAMI -- The bottom of the ninth inning Saturday at Marlins Park will be dissected because the Phillies had a chance to send the game to extra innings, only to lose because they did not catch the ball like they normally do.
But in the end, Phillies manager Charlie Manuel summed up the reasons for their 2-1 loss to the Marlins perfectly.
"We couldn't get a big hit," he said. "We couldn't score the big run."
The Phillies have scored just two runs in the first nine innings in each of their first two games against the hapless Marlins. They scored twice in the 10th inning Friday in a 3-1 victory, but they never got the chance to keep the game going Saturday. The Phillies picked up five hits Saturday and just two against Marlins rookie Jose Fernandez, who threw six scoreless innings in an impressive home debut.
"We didn't hit the kid," Manuel said. "He took them to a good place in the game, really. We didn't hit him. That was the bottom line."
Still, the Phillies had a chance, even when things looked bleak in the ninth. Phillies right-hander Phillippe Aumont walked Placido Polanco to start the inning and Greg Dobbs followed with a hard-hit ground ball down the first-base line. Kevin Frandsen, who was playing first base after the Phillies pinch-ran for Ryan Howard in the eighth, could not keep the ball in front of him. The ball ended up in right field to put runners at the corners with no outs.
"Why shouldn't I have?" said Frandsen, asked if he thought he should have made the play. "It's a tough play. I tried to keep it in front of him, but I didn't."
But Aumont struck out Austin Kearns for the first out, and with the infield in, Chris Coghlan hit a chopper to Chase Utley. But Utley could not handle the ball on the hop, and by the time he recovered to pick up the ball, Polanco had scored to win the game.
If Utley handles the ball cleanly, it's a different story.
The Marlins improved to 2-9, while the Phillies dropped to 5-6.
"I tried to pick it clean on the in-between hop," Utley said. "I wasn't able to pick it clean. I told myself if it's hit hard, we can probably turn a double play. If it's soft you've got to go for the plate. I just wasn't able to pick it clean. You got the ground ball that you were looking for. I just wasn't able to come up with it."
"Oh, we can make those plays," Manuel added. "We definitely can make those plays."
If there is anything worth taking from this game, it's that Phillies left-hander Cole Hamels showed some improvement, albeit against a mediocre lineup that has scored just 19 runs in 11 games. But Hamels entered the night with a 10.47 ERA following his first two starts, so he will take any positives he can from the effort. He allowed three hits, one run, three walks and struck out five in six innings.
"Still really trying to get ahead of hitters early," Hamels said. "I was able to make an improvement there, but I'm still not able to get that first-pitch strike. Ultimately, it's what I need to do. I've made strides in the right direction, but I've got a lot of work to do to get that executed."
Hamels had a no-hitter through 4 2/3 innings when Marlins shortstop Adeiny Hechavarria tripled to right-center field in the fifth. Fernandez followed with a single -- the first hit of his very brief big league career -- to left to score Hechavarria to give the Marlins a 1-0 lead.
Fernandez, 20, dazzled. He allowed just two hits, two walks and struck out five, keeping the Phillies hitless after Freddy Galvis' two-out single to right field in the second. He struck out Howard on a 3-2 curveball to strand a runner on second in the sixth.
"I think he wasn't expecting to see that curveball 3-2 out of a young guy," Fernandez said. "I threw him like six fastballs in a row. I think he was sitting on fastball again. When I got the ball back the first thing that came to my mind was throw him a curveball down the middle."
The Phillies scored their only run in the seventh on a gift from the Marlins defense. Miami right-hander A.J. Ramos had runners on first and second with one out when Erik Kratz hit a routine ground ball to Hechavarria. It should have been an inning-ending double play, but after Herchavarria flipped the ball to second base, Donovan Solano threw the ball into the stands to allow Domonic Brown to score to tie the game, 1-1.
It was a huge gift, but they could not take advantage and turn it into more. That has been the story during the first two games of this series.
Todd Zolecki is a reporter for MLB.com. This story was not subject to the approval of Major League Baseball or its clubs.