Reds lose Cueto, then game, in fifth inning vs. Bucs
Right-hander exits with triceps pain before bullpen allows winning run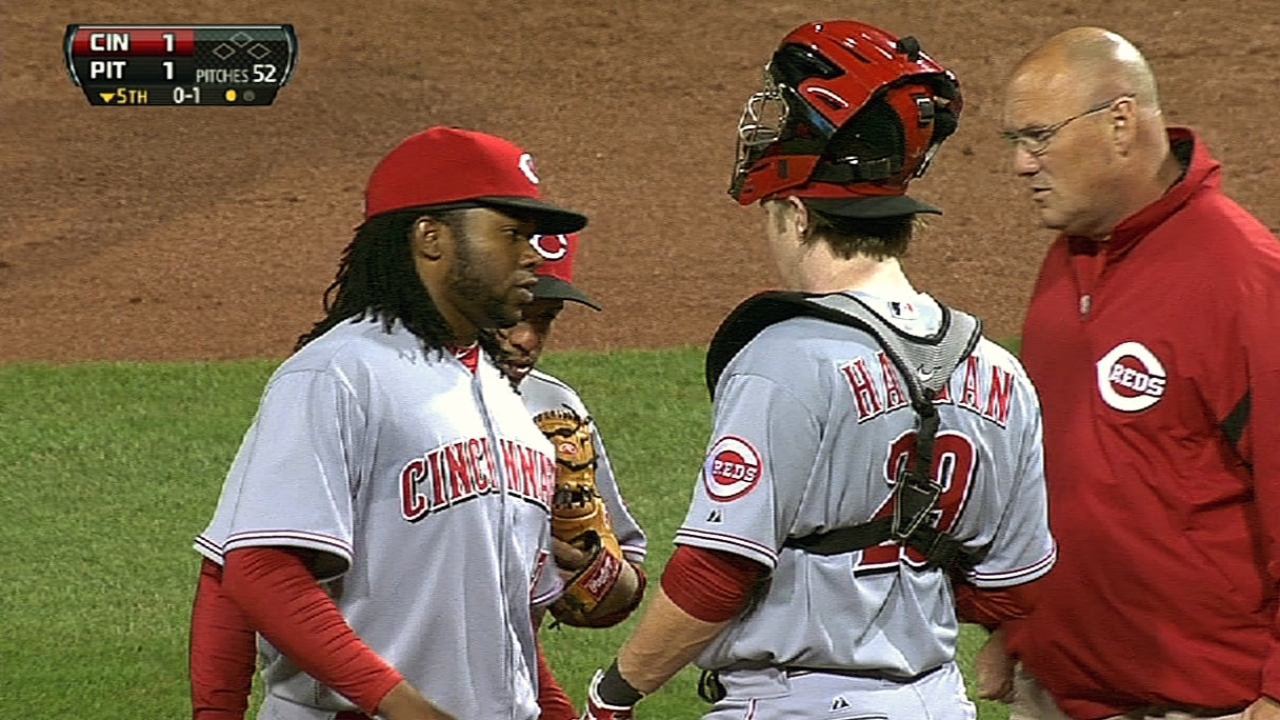 PITTSBURGH -- The Reds were getting a stellar outing from right-hander Johnny Cueto on Saturday night before he left the game with one out in the fifth inning with right triceps pain. The Pirates went on to down the Reds, 3-1, in front of 25,118 at PNC Park.
"We don't know much yet," Reds manager Dusty Baker said. "It's not anything in the elbow and not anything in the shoulder. It's in the belly of the triceps. We are going to send Cueto back to Cincinnati on Sunday to get examined by Dr. Timothy Kremcheck."
The loss was the fourth in a row for the Reds, who fell to 5-6 on the season.
Cueto cruised into the fifth inning, allowing one run on two hits, before he exited after throwing a pitch to Travis Snider. He threw 52 pitches, 35 for strikes. The Reds removed Cueto in a precautionary move after he experienced the pain and threw a practice pitch.
"I believe that when I threw a changeup to Alvarez, I felt something," Cueto said. "I felt something sharp in my arm."
The right-hander is concerned about his health.
"I feel worried because I was feeling really well," Cueto said. "I didn't want to come out of the game, I was pitching so well that I really wanted to stay in that game tonight."
Right-hander Alfredo Simon entered in relief and immediately ran into trouble. He gave up back-to-back singles to Snider and Clint Barmes. With two out, Starling Marte stroked an RBI single, knocking in Snider and giving the Pirates a 2-1 lead.
Simon pitched two innings and gave up two runs on three hits, taking the loss. The Pirates scored an insurance run charged to Simon in the seventh, when J.J. Hoover gave up an RBI double to pinch-hitter Jose Tabata, allowing an inherited runner to score.
"Simon gave us what we needed," Baker said. "We needed some innings and that's why we let him hit there, because we needed some innings because I was probably operating on a 21-man team, because I had a couple of other guys in the bullpen that weren't available. [Logan] Ondrusek went 1 2/3 yesterday and Sam LeCure wasn't feeling quite up to par. So he gave us what we needed."
Pittsburgh lefty Jeff Locke went five innings and was tagged for one run on four hits. Locke got the win, evening his record at 1-1.
"He [Locke] competed. He had to, all night," Pirates manager Clint Hurdle said. "We had two three-up, three-down innings. We were pitching out of the stretch all evening. But he was still able to make pitches, had a couple balls hit at people. That's the way it worked.
"Our persistence in pitching inside paid dividends, as well. When you're feeling that ball in as a hitter, it just isn't quite as comfortable."
Locke threw 87 pitches and only two drew swings-and-misses. The Reds had a rough night at the plate, stranding 11 baserunners and going 0-for-10 with runners in scoring position.
"We had plenty of opportunities," Baker said. "We just didn't execute. When you have three men on second base with nobody out and don't advance them, it's tough to win like that. When you're not scoring and you're not hitting, you really have to execute."
Pittsburgh received shutout bullpen work from Justin Wilson, Jared Hughes, Mark Melancon and Jason Grilli to preserve its lead.
Grilli, who notched his fifth save, had to close it out against the heart of the Reds' batting order. He walked Joey Votto, but was able to induce a Todd Frazier pop out to end the game.
"I'd rather face Frazier," Griili said. "Not that I wasn't aggressive [with Votto], I just fell behind."
The Reds jumped out to a 1-0 lead in the top of the third inning. Zack Cozart smacked a solo home run to left field -- his third home run of the season.
The Pirates broke through against Cueto in the bottom of the fourth inning. Andrew McCutchen drew a two-out walk and scampered home on an RBI double by Garrett Jones that tied the score at 1.
The Reds will try to salvage one game of the three-game series when they face the Pirates on Sunday afternoon.
George Von Benko is a contributor to MLB.com. This story was not subject to the approval of Major League Baseball or its clubs.