Ryan's rare slipup opens door for Rangers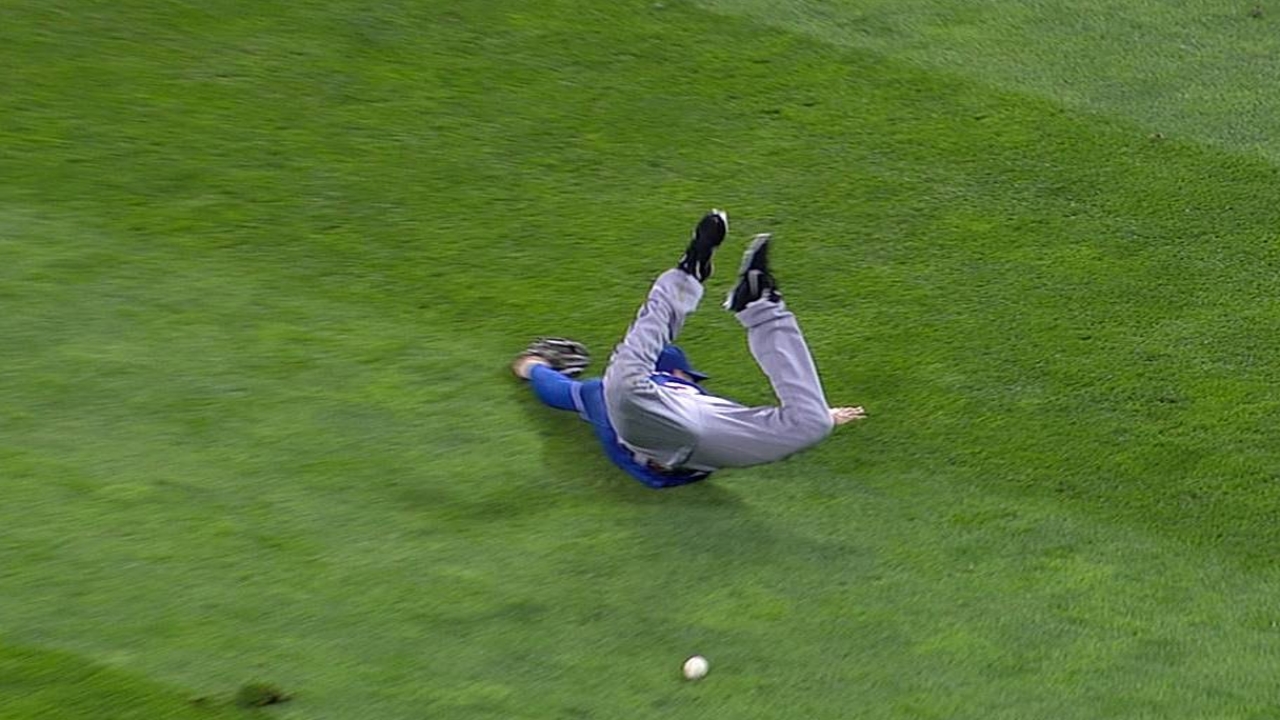 SEATTLE -- For Mariners shortstop Brendan Ryan, it's probably not much of an exaggeration to say that he hates making errors.
"More than anybody on the planet," he said, "I can promise you that."
Ryan made his first of the season in the sixth inning on Saturday night, opening the door for the Texas Rangers to come back for a 3-1 victory over the Mariners.
The Rangers would win the game with a two-run eighth inning, as Elvis Andrus broke a 1-1 tie with a two-out RBI bloop single down the right-field line. He later scored on a Adrian Beltre single.
The Mariners seemed to have the formula for victory. They took 1-0 lead in the fifth and starter Joe Saunders had the Rangers befuddled.
Kelly Shoppach started the Mariners' rally with a ground-rule double that bounced into Edgar's Cantina behind the left-field wall. Dustin Ackley knocked a single through the right side and Shoppach held at third.
Ryan struck out and Endy Chavez lifted a flyout to left, too shadow for Shoppach to tag. Jason Bay, on a 1-2 count, then blooped a fly ball to shallow center. Center fielder Craig Gentry just missed it on a diving attempt and Shoppach scored.
But the Rangers responded immediately in the sixth with a strange run. Leury Garcia opened with a single to right, his first big league hit. Ian Kinsler bounced an easy grounder to shortstop Ryan, poised to turn two. But he booted the ball, the Gold Glove finalist's first error in 43 chances.
"I don't like to say bad hop, tough hop," Ryan said. "The second bounce is always the worst, it changes the spin. It seemed like it skipped then the next bounce, it really jumped. I didn't get any glove on it."
Manager Eric Wedge said, "Obviously, Brendan Ryan is one of the best shortstops in the game. It's a double play ball and it changed the complexion of the inning."
And, perhaps, the complexion of the game.
Andrus advanced the runners with a sacrifice bunt. Beltre was intentionally walked, bringing up Nelson Cruz. Cruz hit a line drive to first baseman Justin Smoak, who dropped the ball, picked it up and threw to second for the forceout. Kinsler was then tagged out in a rundown between second and third, but not before Garcia raced home to tie the game.
"It all happened so quick," Smoak said. "I should have caught the ball, first of all, but Beltre coming back to the bag kind of blinded me. I threw to second because I thought it was our only chance to get something out of it.
"There were a lot of things I could have done there, throw it home, tag Beltre since he was there, then tag first. All those things run through your head. ... Your first instinct is to throw to second."
Wedge said he wasn't sure Smoak could have come home because it would have been a long throw.
"When something like that happens, it's off the radar, man," Wedge said. "It's not something you can ever design or practice. He reacted. He got the out at second base.
"Under normal circumstances, bases loaded, no outs, to get out with one run you're please with it. But late the in the ball game, it's tough."
If Ryan turns the double play, Saunders keeps the Rangers off the board as well as limits his pitch count, which could have kept him in the game longer.
He threw 98 pitches in seven innings, allowing one unearned run on three hits and two walks, while striking out two. He is 7-0 with a 1.71 ERA in 11 career starts at Safeco Field.
"He was tough on us as usual," Texas manager Ron Washington said. "He busts the ball inside, good changeup, uses his offspeed stuff well. We were fortunate to scratch one run off him and it kept us in the ballgame."
With Saunders out, the Rangers jumped on Carter Capps (0-1) with the two-run eighth.
Joe Ortiz (2-0) worked two innings to pick up the victory. Joe Nathan picked up his fourth save.
"One bad hop to Ryan kind hurt us," Saunders said. "You can't do anything about that. It's just bad luck. I just tried to limit the damage as best I could there. It's just unfortunate we came up with the 'L' tonight."
Bob Sherwin is a contributor to MLB.com. This story was not subject to the approval of Major League Baseball or its clubs.