Ryu delivers solid start, three hits in win over D-backs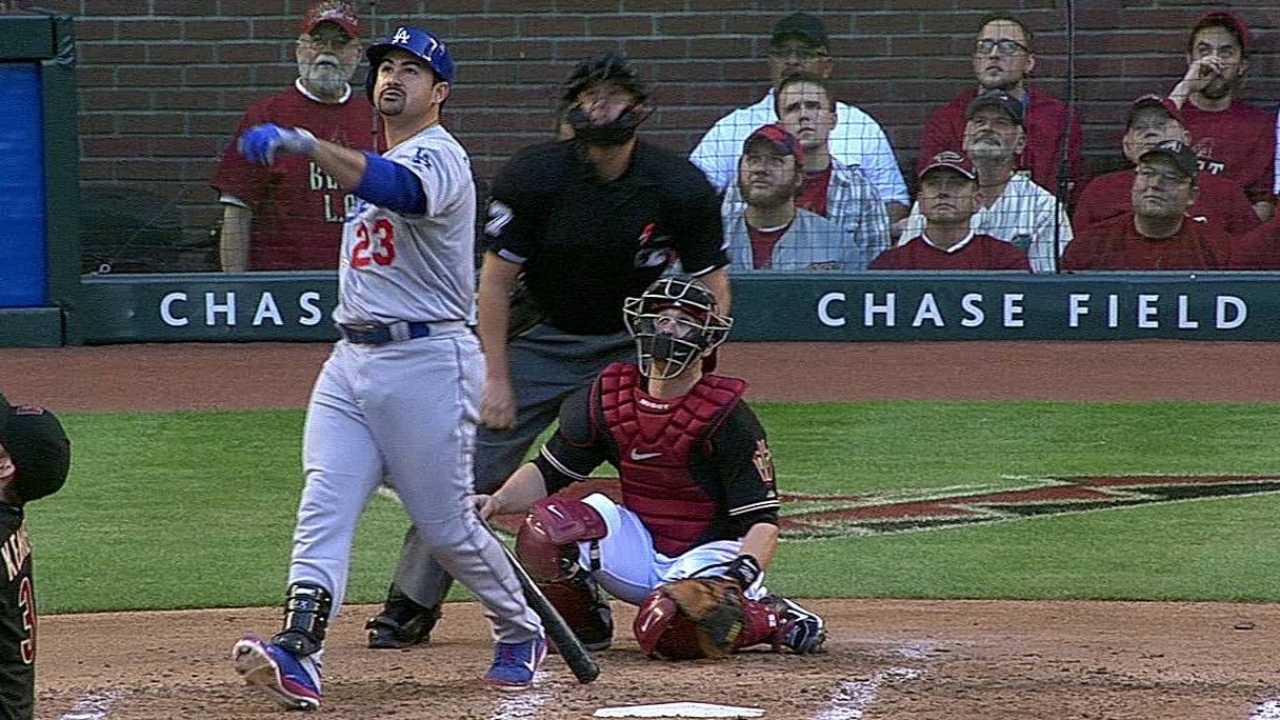 PHOENIX -- Hyun-Jin Ryu ripped his first three professional hits, and didn't pitch badly either, as the Dodgers hung on to beat the Diamondbacks Saturday, 7-5, snapping their six-game losing streak at Chase Field.
"I told Kersh he's just been replaced as pinch-hitter," manager Don Mattingly said, referring to home-run hitter Clayton Kershaw.
So, Kershaw, who's the better hitter?
"Today he is," said Kershaw, who's never had a three-hit game in the Major Leagues. "Everybody has a day."
Ryu said Kershaw is still the better hitter because he already has a home run this year. Ryu never hit in the Korean League because it uses the designated hitter. He said he was "surprised" with his hitting and "lucky." He said he didn't think he even had a three-hit game in high school.
Opposing pitcher Ian Kennedy couldn't believe it happened against him.
"The pitcher got three hits," said Kennedy. "That's ridiculous."
Although the bullpen almost let it get away, the Dodgers built a five-run lead with clutch hits, getting RBIs from every hitter two through six. Adrian Gonzalez had three hits, including a homer and two RBIs and Matt Kemp had a two-run single.
"I've been saying we've had a lot of traffic on the bases and I felt we were going to score," said Mattingly. "Tonight we got more of the big hits from a lot of different guys."
Meanwhile, Ryu continued to show he's no fluke on the mound, raising his record to 2-1 with his 100th professional victory, 98 across the Pacific. He was charged with three runs (two of them scoring after he left) in six-plus innings, striking out nine while impressing as much with his arsenal of pitches as his bat.
"He's got four good pitches and he used them all," said Arizona first baseman Paul Goldschmidt. "Fastballs to both sides of the plate, his changeup is really good as well and kept guys off balance. He threw it in just about every count. The slow curveball kind of slowed guys down too and then the hard slider he was throwing into righties and away to lefties starts out looking like his fastball, so he did a good job keeping guys off balance and locating his pitches."
That repertoire, and Ryu's knowledge in how to use it, made an impact on newly acquired catcher Ramon Hernandez, familiar with Ryu only from watching video.
"He can throw his off-speed pitches any time he needs it," he said. "He knows when he has to throw a strike and when to make them chase. It got to the point with a left-handed hitter at 2-0 and he wanted to throw a change-up. I've never seen that before and he threw it for a strike. Then he throws 93-94 fastballs."
Hernandez made a few trips to the mound, although with him not speaking Korean and Ryu not speaking much English or Spanish, the "conversations" were brief.
"I would just go out there to calm him down and give him a breather," Hernandez said. "He put his glove up to his mouth but never said one word. He was just doing this (shaking his head yes)."
Ryu's fastball was mostly 91 mph, picking up a tick or two from his first two starts. More noticeably, he threw more short-breaking sliders and often for strikes, so he didn't need to overuse the change-up, which is his out pitch.
"It's improved over the last couple of games," Ryu said of the slider. "I'm utilizing it more, especially against righties. I'm just getting into shape the way I would in Korea. Back to my normal form."
Ryu's mother, father and brother attended the game, their cheering section expanded by the presence of "some random Korean people from Arizona," Ryu said, who turned out to be international students at Arizona State.
They saw Ryu double in the third inning, single leading off the fifth inning that led to a run, and single with two out in the sixth to start a rally that included a two-run single by Kemp and an RBI hit by Gonzalez.
Ryu came up for a fourth plate appearance in the seventh inning and nearly screwed himself into the ground with a spinning swing, only for Justin Sellers to be picked off first base by catcher Miguel Montero to end the inning and send Ryu back to the mound.
The last Dodgers pitcher with three hits in a game was Randy Wolf on Aug. 9, 2009, also at Chase Field. The last one to go 3-for-3 was Carlos Perez on June 26, 1999.
Mattingly has frequently spoken about Ryu's confident nature, but Ryu wouldn't bite when asked if he was always confident he would succeed in the Major Leagues the way he did back home.
"It's really hard to say," he said. "I came here with the purpose to challenge myself and compete at this level."
Ken Gurnick is a reporter for MLB.com. This story was not subject to the approval of Major League Baseball or its clubs.