Gio, Nats have no answer for Braves in series finale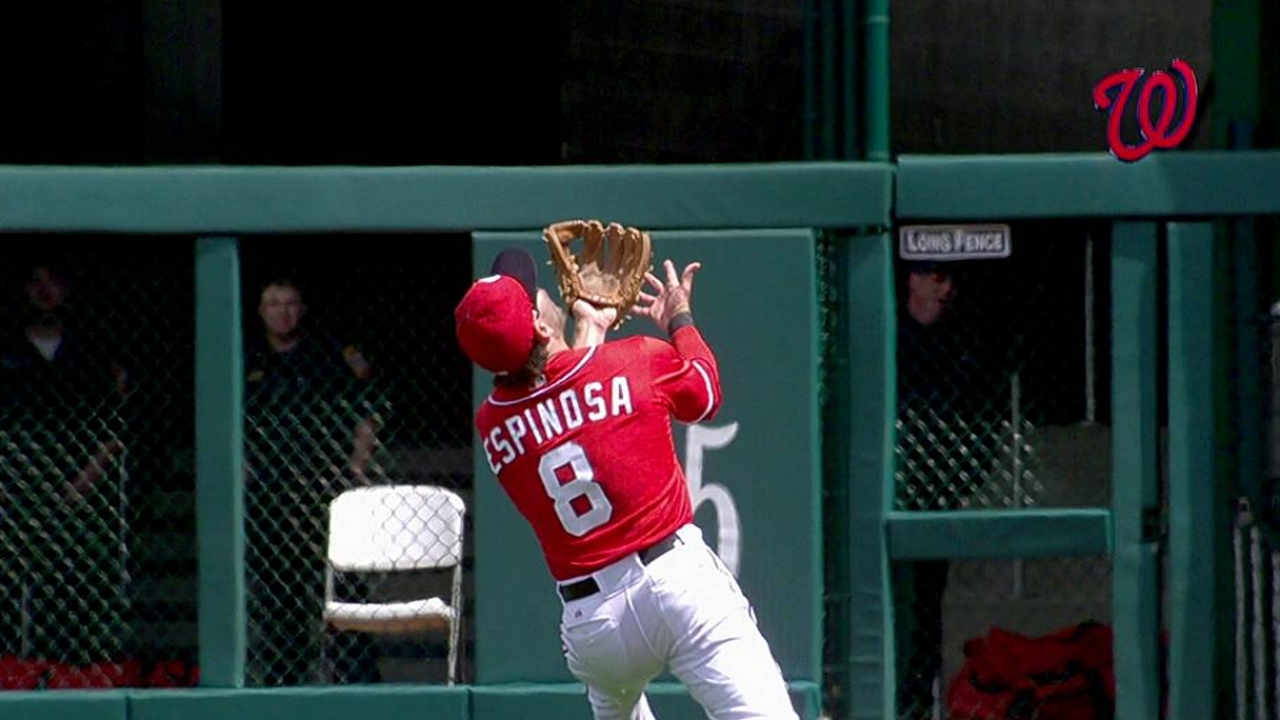 WASHINGTON -- The Nationals entered the 2013 season as the team to beat in the National League East. The Braves had other ideas this weekend, as they pounded the Nationals, 9-0, in front of 39,389 fans at Nationals Park on Sunday afternoon. The Braves swept the three-game series and improved their record to 11-1, while the Nationals dropped their record to 7-5.
"It was good to make a statement early. Let them know we're going to be tough to beat. That was a great win for us," said Braves shortstop Andrelton Simmons.
The Nationals rely on pitching, and it has been inconsistent so far this season. In 12 games, the Nationals have allowed 59 runs. Last year, the team allowed 29 runs in its first 12 games. To make matters worse, third baseman Ryan Zimmerman continues to have problems on defense, making three throwing errors in his last three games.
"It was just a tough day, but you are never as bad as you look when you lose, you're never as good as you look when you win. That's the way I look at it," manager Davey Johnson said.
Left-hander Gio Gonzalez had his worst game as a member of the Nationals. He pitched five innings and allowed seven runs on seven hits. The last time Gonzalez allowed seven runs in a game was Sept. 14, 2010, against the Royals while a member of the Oakland A's. He lasted two innings in that game.
Gonzalez was angry and frustrated throughout the game. He was often seen shaking his head or yelling at no one in particular. The frustration started in the first inning, when Atlanta scored three runs. Chris Johnson highlighted the scoring with a two-run single.
"I wasn't attacking the strike zone, leaving every pitch up and falling behind on a good team. That's all it was," Gonzalez said. "I was falling behind and giving [my team] too much to come back from."
The Braves then used the long ball against Gonzalez. Justin Upton hit a solo homer into the right-field bleachers, while Andrelton Simmons hit a three-run shot over the left-field wall to make it a 7-0 game.
"They are a good-hitting lineup. If you make bad pitches, you are going to get hit," Davey Johnson said. "[Gonzalez] threw a lot of pitches early. You can't do that."
Said Braves outfielder B.J. Upton: "It's important to get off to a fast start, especially against those guys. They're a very good ballclub, and the goal is to pretty much not let Gio get settled in. If he can get settled in, he can be pretty darn good."
The Nationals did little on offense, collecting just four hits against left-hander Paul Maholm, who hasn't allowed an earned run this season. Washington had a runner in scoring position only twice in the game. The club's biggest chance to score occurred in the eighth inning. The Nationals had runners on first and third with one out, but Roger Bernadina struck out. Reliever Luis Avilan entered the game and walked Bryce Harper, but Zimmerman grounded out to Avilan to end the inning.
"Maholm was just spotting his fastball good. He has a good changeup, variety of offspeed stuff, cuts the fastball to the right. He just pitched a good ballgame," Davey Johnson said.
The Braves continued their onslaught by scoring two runs in the sixth inning off left-hander Zach Duke. Maholm scored on a sacrifice fly by Jason Heyward, while B.J. Upton was sent home on a sacrifice fly by his younger brother, Justin.
Even though the Nationals were swept by the Braves, Davey Johnson and second baseman Danny Espinosa warned that season is far from over.
"It's early. Things happen for the best" Johnson said. "We should have won the first game, we were right there on the second one, we got waffled today. I don't put too much stock in it. ... But it's a whole lot of battles to win this war. [Losing] a series … sometimes it's a walkup call."
Espinosa said it's time to move on and reminded that Washington plays Atlanta 16 more times this season.
"I still don't think that they are the better than us. They are hot right now," Espinosa said. "They have come back on people. They are playing well. It doesn't last forever. So, I'm not worried about it. I'm going to be real confident the next 16 games."
Bill Ladson is a reporter for MLB.com and writes an MLBlog, All Nats All the time. He also could be found on Twitter @WashingNats. This story was not subject to the approval of Major League Baseball or its clubs.