Braves dominate Nats as win streak hits nine
Maholm's strong start to season continues, while homers key rout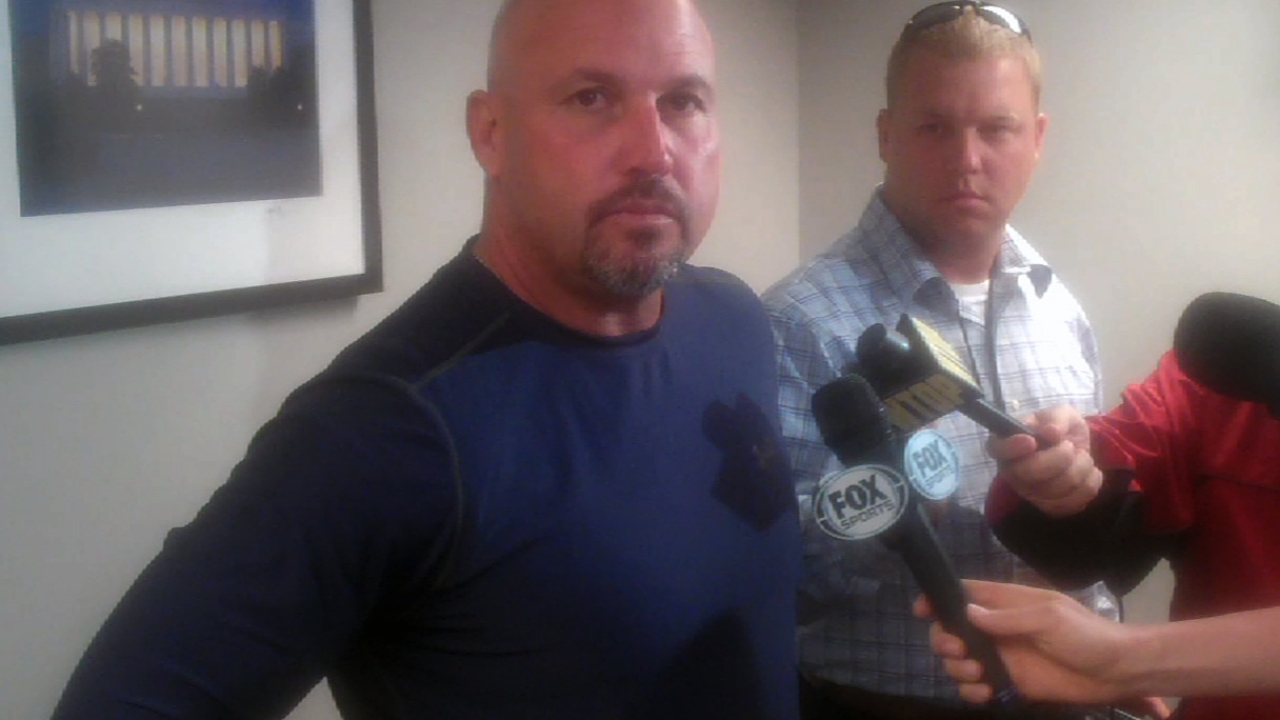 WASHINGTON -- As the Braves rolled through the first week-plus of this season, manager Fredi Gonzalez regularly said that his team had not yet clicked on all cylinders.
While that might have been true, such was not the case on Sunday afternoon as the Braves assumed the appearance of a powerful juggernaut and completed a three-game road sweep of the Nationals with a convincing 9-0 win.
"It was good to make a statement early," Braves shortstop Andrelton Simmons said. "Let them know we're going to be tough to beat. That was a great win for us."
Simmons' three-run home run capped a four-run third inning against Gio Gonzalez and served as the crushing blow for the Braves, who have won nine consecutive games for the first time since 2010. Through this successful run, they have served notice that they are more than capable of preventing the Nationals from capturing a second consecutive National League East title.
"I don't think they took us by surprise at all," Nationals center fielder Denard Span said. "We knew they were a good team coming in here, but they came in and gave us a good old-fashioned kick in the butt."
After taking advantage of some costly mistakes in the first two games of this series, the Braves improved to a Major League-best 11-1 with some assistance from some of their struggling stars, who showed some signs of life during this series finale.
Sure, there were more contributions from Justin Upton, who hit his seventh home run, and Paul Maholm, who ran his consecutive scoreless-innings streak to 20 1/3 innings by limiting the Nationals to four hits in 7 2/3 innings.
But the most encouraging development during this series finale might have come courtesy of B.J. Upton's first three-hit game since he signed a franchise-record five-year, $75.25 million contract in November. The veteran center fielder, who entered the game with a .105 (4-for-38) batting average, notched two doubles and a single.
"I've just been making adjustments," B.J. Upton said after raising his batting average to .163. "I've been working hard every day with [hitting coach] Greg Walker. I'm just trying to get things going in the right direction. Today is a start. We've got to just build off of that."
The Braves are hoping this blowout victory also provided a spark to Simmons, who entered the game with a .200 batting average (7-for-35) and Jason Heyward, whose sixth-inning RBI double snapped a 1-for-31 slump that had extended back to the second game of the season.
"The best is yet to come, I feel, for the offense," Heyward said. "It's a long season. We'll go through slumps. We're just trying to keep it simple and not try to do too much."
This series finale began in auspicious fashion as B.J. Upton hit Nationals starter Gio Gonzalez's first pitch of the game into the left-field corner to account for the first of his two doubles. His only previous extra-base hit through the season's first 11 games was his game-tying home run in the ninth inning of a thrilling win against the Cubs on April 6.
"It's important to get off to a fast start, especially against those guys," B.J. Upton said. "They're a very good ballclub, and the goal is to pretty much not let Gio get settled in. If he can get settled in, he can be pretty darn good."
Evan Gattis scored B.J. Upton with a double, and Chris Johnson capped a three-run first inning with a two-run single. Johnson, who has been playing first base in place of the injured Freddie Freeman, finished the afternoon with four hits and batted .481 (13-for-27) during the Braves' perfect six-game road trip.
The Braves continued their assault against Gonzalez during a four-run third inning that began with Justin Upton's home run over the right-center-field wall. The veteran left fielder's opposite-field shot served as his first home run in 18 at-bats. He had not gone more than six at-bats between any of his first six homers of the season.
Simmons' first home run of the season added to the fourth-inning uprising and increased the frustration felt by Gonzalez, who allowed seven earned runs and seven hits in just five innings.
"I still don't think they're better than us," Nationals second baseman Danny Espinosa said. "They're hot right now, they've come back on people. They're playing well. It doesn't last forever. So I'm not worried about it."
While the Braves could benefit from some more consistency on the offensive end, they certainly have little reason to complain about their pitching staff, which has compiled Major League-best 1.81 ERA. After grabbing a 4-0 lead in the first two innings of Friday's series opener, the Nationals scored just one more run in the final 26 innings of this series.
Maholm did not allow an earned run in the last 24 2/3 innings he completed during Spring Training and now has not allowed a run in his first three starts of the season. He limited the Nationals to two hits through Sunday's first seven innings and then handed the ball to Luis Avilan, who escaped a bases-loaded jam in the eighth inning.
The Braves have gained consistent contributions from their starting rotation and their relievers, who have stranded each of the 14 runners they have inherited this year.
Despite the early struggles endured by Heyward, B.J. Upton and Dan Uggla, the Braves have scored at least six runs in half of their first 12 games. But there is still a sense that the offense is capable of being even better than it has been.
"It's something I think we've all been waiting for all year," B.J. Upton said. "Obviously it's still early. But it's definitely good to see signs of it. We're going to keep grinding it out, working hard and taking it game by game."
Mark Bowman is a reporter for MLB.com. This story was not subject to the approval of Major League Baseball or its clubs.