Deja vu: Gallardo struggles, Crew shut out vs. Cards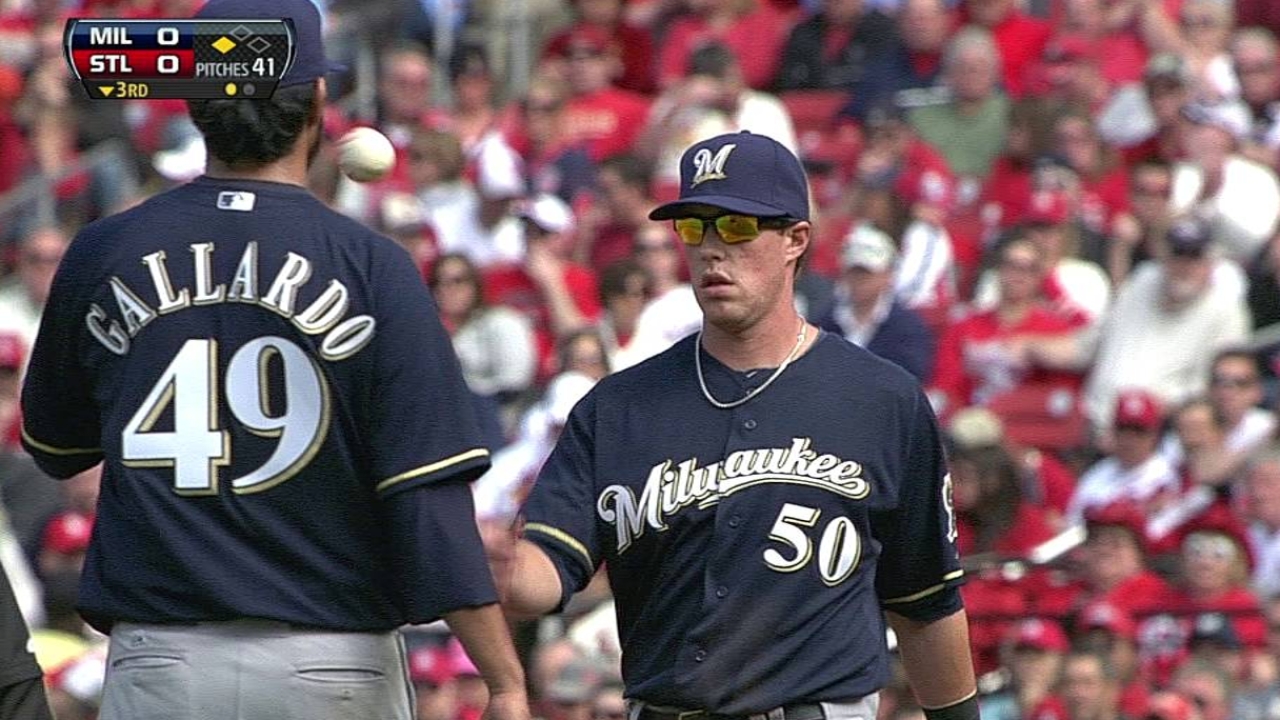 ST. LOUIS -- Yovani Gallardo has seen enough of the St. Louis Cardinals to last a lifetime.
The Milwaukee right-hander fell victim to his personal tormentors once again on Saturday afternoon, dropping an 8-0 decision before 44,696 at Busch Stadium.
Gallardo sunk to 1-11 lifetime in 16 starts versus St. Louis, including postseason play. His ERA of 6.86 against the Redbirds is by far his worst against any National League club.
"I know I haven't had very many good ones against them, and it's frustrating," Gallardo said. "There always seems to be something."
St. Louis right-hander Adam Wainwright went the distance and allowed just four hits as the Cardinals shut out the slumping Brewers for the second game in a row. Wainwright also went 3-for-3 at the plate and drove in two runs.
Milwaukee (2-8) has lost three in a row and eight of its last nine.
The Brewers have not scored in their last 25 innings, dating back to the second inning of a 6-3 loss to the Cubs on Tuesday. The scoreless run will sit at approximately 113 hours by the time the team takes the field on Sunday afternoon.
Gallardo, who dropped his first decision of the season, allowed seven hits and six runs (five earned) in his 5 1/3-inning stint. He is 1-10 with a 6.83 ERA lifetime against the Cardinals in regular-season play.
The 27-year-old appeared on the verge of reversing the disastrous trend Saturday. He gave up just one run on three hits over the first five innings, setting down the side in order three times. He retired the first six batters he faced.
"I felt good. I was making pitches," he said. "Everything felt a lot better. I was able to control my curve ball. Honestly, I haven't been able to do that for a while."
But Gallardo ran into trouble in the sixth as the Cardinals blew the game open with a seven-run, seven-hit explosion. Things seemed to snowball after Gallardo gave up an infield single to Wainwright to start the frame. Jon Jay followed with a poke to left and Gallardo hit Matt Carpenter on the elbow to load the bases. Matt Holliday then ripped a first-pitch line drive up the middle that pushed the lead to 3-0.
"That was the only hard-hit ball of the inning," Gallardo said.
Allen Craig followed Holliday's hit with a run-scoring single to make it 4-0. That drive ended Gallardo's misery for the day.
The Cardinals sent 12 batters to the plate in the frame.
St. Louis (7-4) jumped out to a 1-0 lead in the third on a one-out single by Wainwright over a drawn-in infield. David Freese began the inning with a two-strike double up the right-field line. He moved to third on a wild pitch. With one away, Wainwright lined a 1-2 pitch over the glove of a leaping Jean Segura at short.
The Milwaukee offense managed just two hits through the first six innings while the game was still in question. Ryan Braun struck out three times for the second day in a row.
"His neck is still bugging him," Milwaukee manager Ron Roenicke said of Braun, who missed last weekend's series against Arizona with neck spasms. "He's not picking up the ball real well the last two days. You can see from his swings that he's not his usual self."
The Brewers have come up empty in St. Louis with just six hits in the two games. They are 0-for-7 with runners in scoring position.
"I think the biggest thing right now is that we don't have everybody in our lineup," second baseman Rickie Weeks said. "But we are facing some pretty good pitching right now. Sometimes, you've got to tip your cap and move on."
Corner sluggers Corey Hart and Aramis Ramirez are out with injuries. The pair combined for 57 homers and 88 RBIs last season. Weeks broke out of an 0-for-21 slump with a bloop double in the seventh that provided the Brewers with one of their best scoring chances. But St. Louis shortstop Daniel Descalso ranged deep in the hole to throw out Martin Maldonado and end the threat.
"We're not swinging the bat well, and we need to do a better job offensively," Roenicke said. "We need guys on base. We're not putting any pressure on anybody."
Wainwright had a lot to do with the Brewers' offensive woes. He tied a career high with 12 strikeouts and improved to 9-6 against his NL Central rivals. He has a complete-game win in four of his last five home starts against Milwaukee.
"I don't know what it is about that team," Wainwright said. "I think they make me focus, because they have some guys that are really dangerous."
Weeks says his club is capable of reversing the current trend. Plus, he is quick to point out that the campaign is just two weeks old.
"It's a long season," he noted. "I hate to keep saying this, but it's still early. We've got 150 games left."
Steve Overbey is a contributor to MLB.com. This story was not subject to the approval of Major League Baseball or its clubs.