Dickey stymies KC for first win with Blue Jays
Bautista belts a big two-run homer to help set up sweep bid on Sunday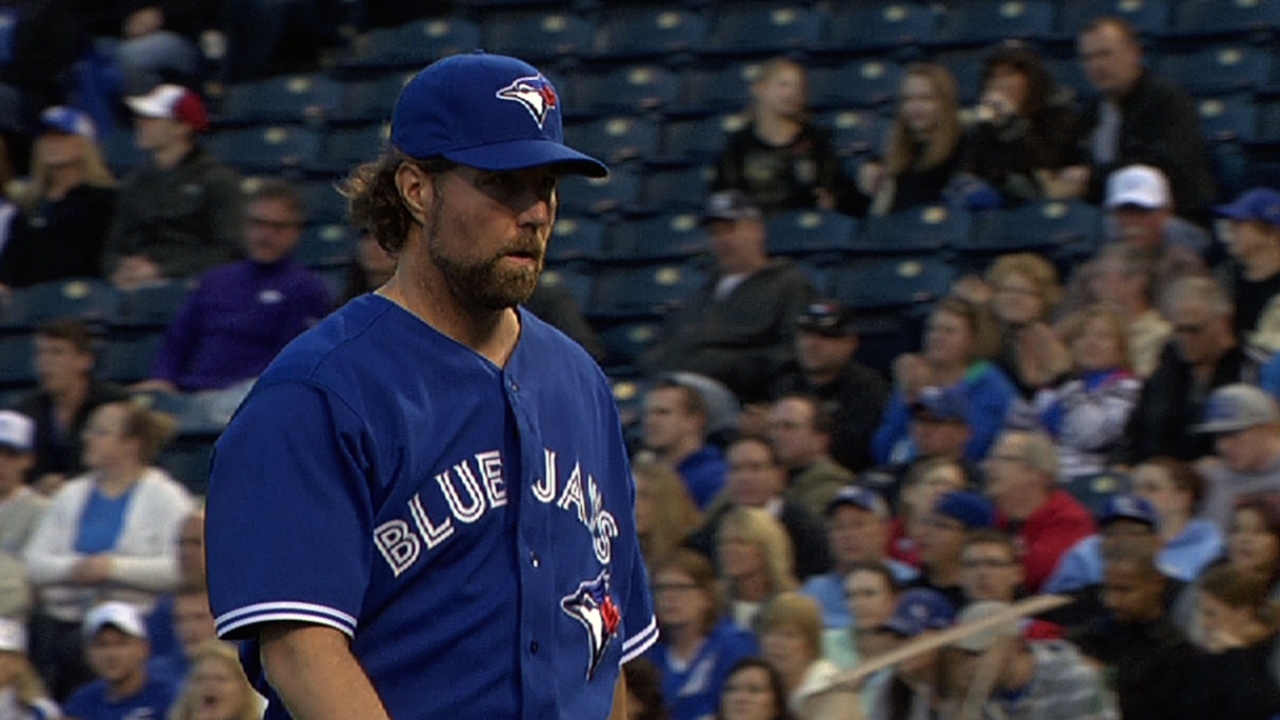 KANSAS CITY -- The Blue Jays have the first big dividend on the investment they made in knuckleballer R.A. Dickey.
Anxious to atone for a rough start in his last outing against Boston, Dickey bounced back by limiting the Royals to one run over 6 1/3 innings in a 3-2 Toronto win on Saturday night at Kauffman Stadium. The knuckleball was dancing and Dickey said it can get better.
"My posture was a little better for my mechanics tonight, and that's something I feel I can build on," Dickey said. "I still wasn't as sharp as I can be. I'm not all the way there, but I'm pretty close."
The Blue Jays (5-6) got a win on a night when they managed just two hits. When a team has more runs than hits, that means the execution has to be crisp in a lot of areas. That was the case on Saturday.
Center fielder Colby Rasmus made a highlight reel catch in the fourth inning before banging into the wall. The first Blue Jays run was manufactured through good situational at-bats and Jose Bautista put an exclamation point on the win with a two-run homer off Kansas City starter James Shields.
Dickey, who entered his third start with an 8.44 ERA, wanted to set a tone one night after the Blue Jays experienced the downer of losing shortstop Jose Reyes for approximately three months with a badly sprained left ankle.
"It certainly hurts to lose a player of Jose's caliber and personality," Dickey said. "But I think it also provides us an opportunity to really come together and collectively shoulder the burden. Sometimes, a situation like that can really cause a team to jell. Hopefully, that will be the case."
The Blue Jays called up shortstop Munenori Kawasaki to replace Reyes and Kawasaki's first performance was a winner. He handled his defensive chores flawlessly and battled Shields for a sacrifice fly to put Toronto on top in the third.
Maicer Izturis led off the third with a double and Henry Blanco moved him over by grounding to second. Kawasaki then followed with a fly ball to right that was just deep enough to prevent strong-armed Jeff Francoeur from throwing out Izturis at the plate.
Toronto went up 3-0 in the sixth, when Kawasaki walked and Bautista's 28th career at-bat against Shields resulted in his fourth homer off the lanky right-hander.
The Royals (6-5) didn't go easily. They got an RBI bunt single from Chris Getz in the seventh and an RBI single by Alex Gordon in the ninth. But with a man at first, closer Casey Janssen got Alcides Escobar on a fly to right to end the game for his third save.
"When you play those tight ballgames and win, it does wonders for you," Blue Jays manager John Gibbons said. "We had great pitching all the way around."
So did the Royals.
Shields went the distance with his two-hitter, but got a loss to show for it. He felt he made two mistakes. One was issuing a walk to Kawasaki prior to the Bautista homer. And then, Shields lamented the homer itself.
"I was trying to get the ball down and left it over the middle of the plate," Shields said.
Dickey might have known it was going to be his night when the Royals put two runners in scoring position with two outs in the first. Lorenzo Cain then hit a sharp liner, but it went directly at second baseman Izturis.
"It might have been two runs right there and been a different ballgame," Cain said. "His knuckleball was tough to read. It was going away from us and then two-seaming in on us."
As the Royals' bench coach from 2009-11, Gibbons saw the competitive spirit in the young Kansas City nucleus.
"They battle you," Gibbons said. "They keep coming after you."
Gibbons made the decision to lift Dickey in the seventh. Kansas City had a man at second with one out and Dickey had thrown 100 pitches.
"He had a great outing and we wanted him to end on a good note," Gibbons said. "I have all the confidence in the world in our bullpen and they came in and did the job."
Robert Falkoff is a contributor to MLB.com. This story was not subject to the approval of Major League Baseball or its clubs.