A's can't hold Tigers' red-hot offense; streak snapped
Anderson taken deep three times, tagged for seven runs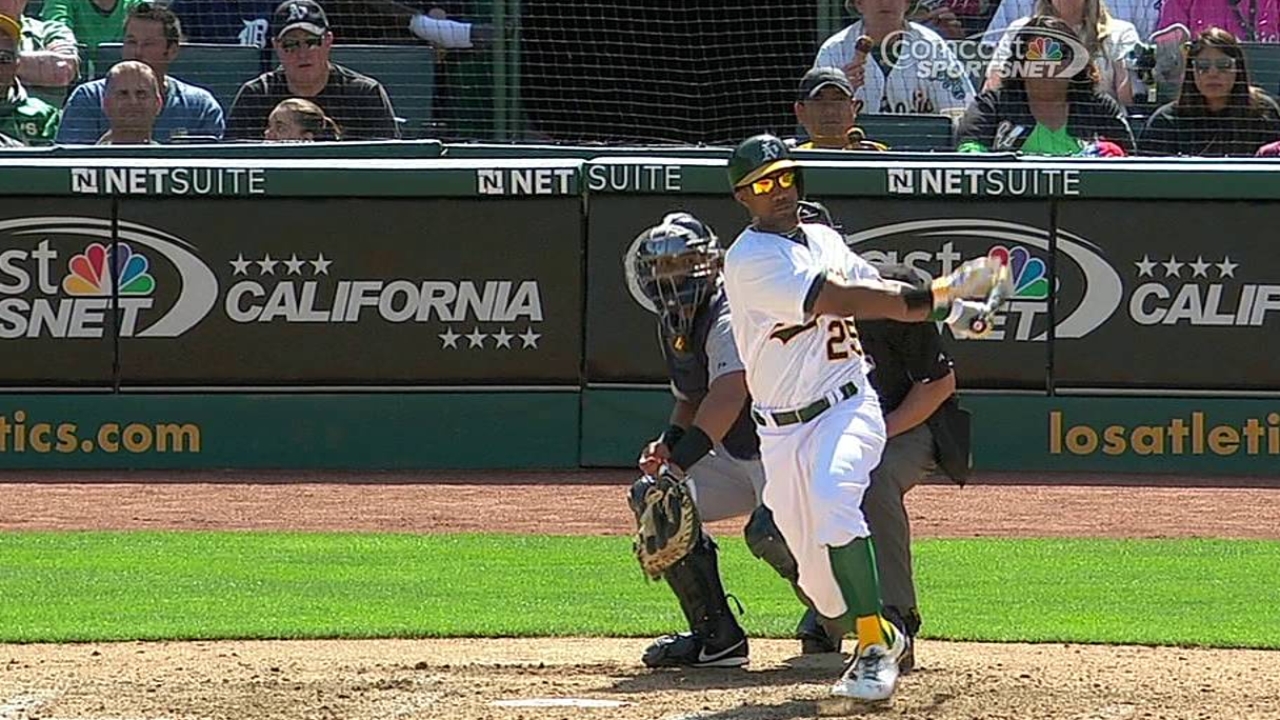 OAKLAND -- Brett Anderson had a tough time throwing his slider, and the Tigers made it even tougher on the Oakland ace.
Chris Young, playing because of injuries to both Coco Crisp and Yoenis Cespedes, drove in two runs, but it was not enough as the Tigers launched three home runs off Anderson to end the Athletics' nine-game winning streak Saturday, 7-3.
Jhonny Peralta delivered the big blow, slamming a three-run shot in the fourth inning. It was Peralta's first home run of the year. Torii Hunter and Prince Fielder also hit homers.
"I never really got into a rhythm," Anderson said." Solo home runs don't usually beat you, and the three-run shot hurt. I made mistakes."
He'd especially like to take a mulligan on his pitch that led to Hunter's homer, which was estimated at 463 feet, the second longest home run of the season.
"He kept fouling off slider after slider, so I tried to throw one lower than low and it popped out of my hand and into his barrel house," Anderson said. "He hit it 600 feet."
Anderson also indicated that Fielder and Peralta hit fastballs that weren't in enough.
"We were able to get good pitches and put good swings on them," Fielder said.
Fielder is 6-for-8 with a pair of walks and four RBIs in the first two games of the series, after going hitless in Oakland last year.
Anderson (1-2) was no match for Tigers starter Justin Verlander, who had a solid six-inning outing despite having to grind through some innings.
Even without table-setter Crisp and RBI man Cespedes, the A's managed to get the tying run to the plate in the form of Jed Lowrie, who batted for Andy Parrino with the bases loaded in the bottom of the eighth. Detroit reliever Joaquin Benoit caught him looking at a 2-2 pitch to end the inning.
"He did what he normally does," A's manager Bob Melvin said of Verlander. "Even though we weren't hitting him and they got a lead, we were still trying to grind on the pitch count some and get him out. We had a chance to do some damage off the bullpen ... and a couple times had some opportunities, and we just couldn't cash in as far as we would have liked to."
Derek Norris had two hits and drove in a run and Josh Donaldson had two hits, his fifth consecutive multihit game.
Anderson allowed seven runs on eight hits in 5 2/3 innings. He walked three and struck out two. The three home runs allowed matched his career high, and the seven runs allowed were his most since he gave up 10 runs against the Yankees on May 31, 2011.
Verlander, meanwhile, gave up a run on three hits. He walked three and struck out six.
"Obviously I would have liked to go longer than six," Verlander said. "Not executing on some pitches caused me to throw more than I had to."
Melvin was ejected by home plate umpire Andy Fletcher after Brandon Moss was called out on strikes to open the eighth inning. It was his first ejection of the season and the 26th of his career.
"It was kind of brewing as the game went on," Melvin said. "We got beat today, but we get frustrated at times too."
Rick Eymer is a contributor to MLB.com. This story was not subject to the approval of Major League Baseball or its clubs.