Reynolds' grand slam leads Tribe to victory
Swisher reaches base four times; McAllister picks up first win of year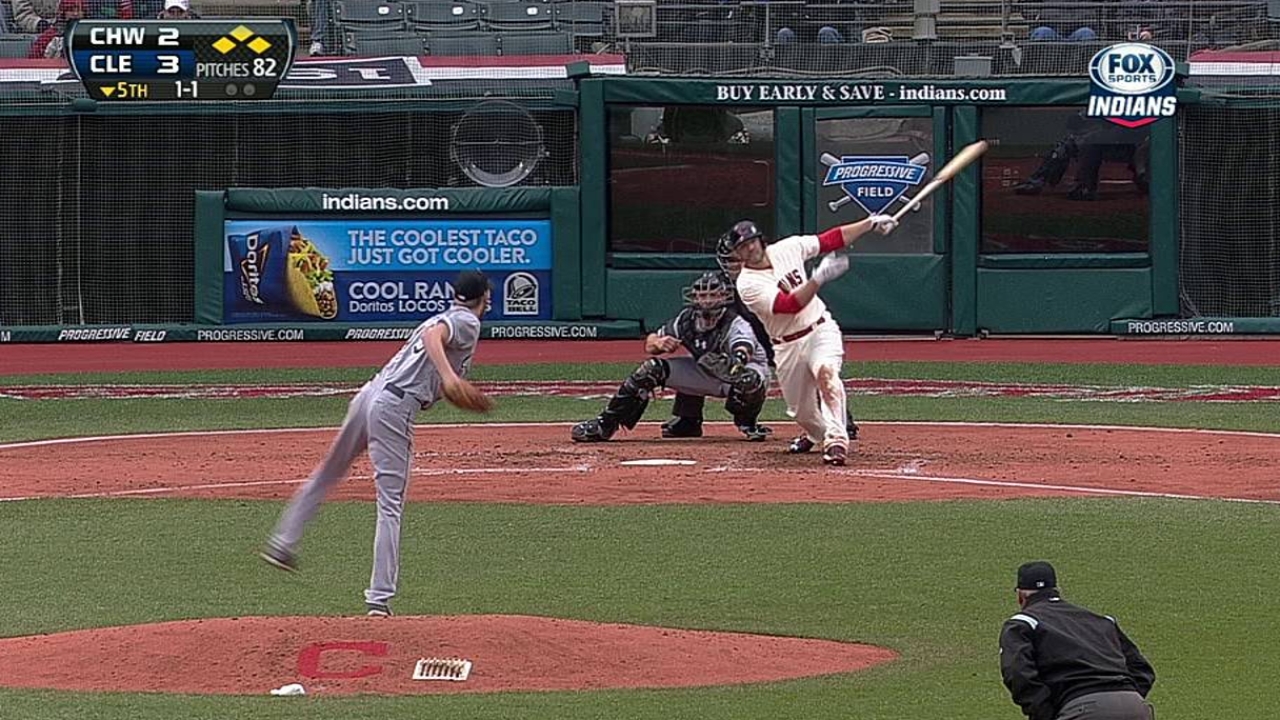 CLEVELAND -- The Indians haven't been dealt the most convenient hand so far this season, with rainouts and injuries fueling roster juggling and schedule reshuffling. They have, however, found a way to beat aces.
The Wahoos made White Sox southpaw Chris Sale the latest victim of their top-starter hex, depositing a trio of home runs over the outfield walls at Progressive Field in a 9-4 triumph on Saturday.
Sale surrendered eight runs on eight hits in 4 1/3 innings to an Indians lineup that had mustered only two runs in four days because of a pair of weather-induced postponements and a collection of cold Cleveland bats.
On Saturday, Mother Nature delivered the chilly, soggy conditions that have plagued Cleveland all week, but the Tribe's lumber warmed up.
"It was a tough, cold day," Indians skipper Terry Francona said. "But it doesn't feel so bad when you're winning."
The Indians have trumped the opposition in all three tilts against a team's premier pitcher. They tagged Blue Jays knuckleballer R.A. Dickey for four runs (three earned) in six innings on Opening Day. Last Sunday, they pounded Rays lefty David Price for eight runs on 10 hits in five frames.
Dickey, Price and Sale combined for 57 wins and two Cy Young Awards last season. The trio has combined for an 0-3 record and 11.15 ERA against the Indians this season, having yielded 19 earned runs on 23 hits in 15 1/3 innings.
"We've been able to put together some pretty good efforts against them," said right fielder Drew Stubbs. "This team is capable of doing a lot of damage offensively and I think it's a combination of catching us on a good day and them on a bad day."
First baseman Mark Reynolds had the most significant swing, splashing a fifth-inning grand slam halfway up the left-field bleachers. Catcher Yan Gomes capped the six-run frame with a two-run homer three batters later.
Reynolds atoned for his first-inning error, which he committed when he made an errant flip to Zach McAllister as the pitcher scurried over to cover first base on a routine grounder by Alex Rios. The mishap permitted Jeff Keppinger to score, and Paul Konerko followed suit two batters later by poking a single down the right-field line to plate Chicago's second run.
The knock on McAllister has been his inability to minimize damage when coping with shaky defense. He led the Major Leagues with 19 unearned runs last season and yielded two more in his first outing this season. The right-hander brushed aside Saturday's first-inning fiasco -- and the intermittent light rain and steady wind -- to eventually retire 11 consecutive batters, and 16 of 17. He departed with a comfortable lead, having limited Chicago to three runs (one earned) in 6 1/3 innings.
"The first couple innings, I was feeling for it a little bit," McAllister said. "After that, I had the mindset of just letting the ball go and trusting it was going to go to the right spot."
The Indians swiftly erased their first-inning deficit, as Nick Swisher, the hero in Friday night's walk-off win, lifted a two-run homer over the left-field wall. The homer, his first of the season, extended his hitting streak at Progressive Field to 20 games, which is tied with Michael Young for the longest streak at the park since it opened in 1994.
Swisher reached base all four times he batted. He doubled in the third when White Sox left fielder Dayan Viciedo ran out of room and backed into the wall as the ball caromed off the green padding just above his glove. Swisher then scored on a single by Reynolds, who tied a career high with five RBIs, four of which came on his majestic, fifth-inning swat.
"He's so strong," Francona said. "Hitting the ball to left field today was no easy task. He's so strong, and when he stays through the ball like that, it's so pretty to watch. You're always one swing away from spreading the game out or winning the game. That's what he brings."
In 20 2/3 innings against the Indians last season, Sale only ceded five earned runs. The eight he served up on Saturday marked a career high.
"Nothing more to really say than that was just a terrible, terrible day," Sale said.
Such is becoming the norm for the league's best hurlers against a remodeled Tribe lineup. The three contests against Dickey, Price and Sale were all laughers, as the Indians continue to turn aces into jokers.
Zack Meisel is a reporter for MLB.com. Follow him on Twitter @zackmeisel. This story was not subject to the approval of Major League Baseball or its clubs.