O's power out three home runs to top Yankees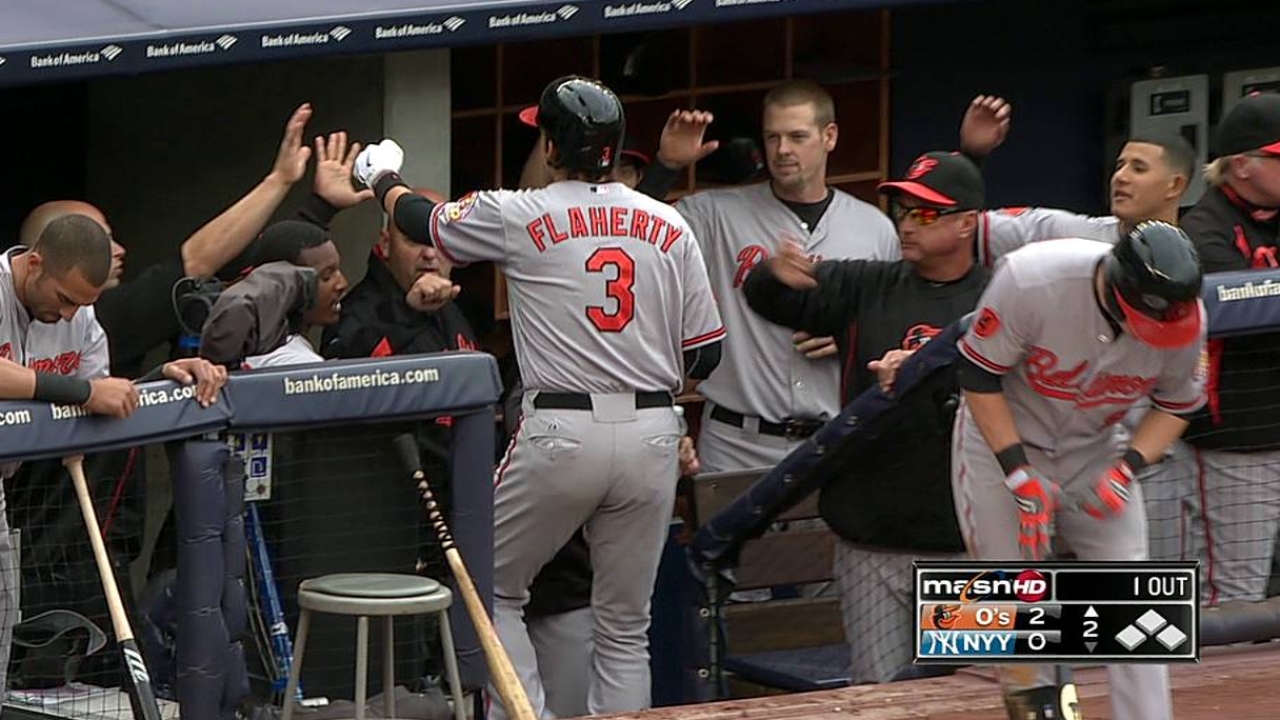 NEW YORK -- The Orioles' middle of the order carried the team through the first 10 games of the season. The rest of the lineup? Not so much, as Baltimore entered Saturday's game 1-for-33 at the designated-hitter spot -- the worst average in the American League -- with the bottom of the lineup leaving much to be desired.
So it was a welcome sight to get some thunder from down under, with Nos. 8 and 9 batters Ryan Flaherty and Nolan Reimold each hitting their first homers of the season as the Orioles (6-5) jumped on Yankees starter Phil Hughes and never looked back, cruising to a 5-3 series-evening victory.
The win -- which featured 11 hits by Baltimore -- was the kind of steady, pass-the-baton approach manager Buck Showalter has preached since Spring Training, with eight of the starting nine reaching base safely.
"That's what it takes to win a ballgame, not just two or three guys who are going to go out there every night and win it for us," said right fielder Nick Markakis, who connected for his second home run of the season in the third inning.
"As balanced as our lineup is one through nine, it makes it tough for the opposing pitchers, and I think pitchers realize that. I'd stack our lineup up against anybody's."
Buoyed by a solid outing from right-hander Jason Hammel -- who gave the Orioles their second consecutive quality start for the first time this season -- and another exceptional performance from the bullpen, the offense went to work. And it started with leadoff man Nate McLouth, who went 3-for-5, including a game-opening double that led to the O's first run.
Flaherty went deep the next inning, hitting Hughes' 2-2 pitch over the auxiliary scoreboard -- it was just his second hit of the season -- and Reimold broke the DH hoax, giving the Orioles their first extra-base hit out of that spot this season with a fourth-inning homer.
"That's the first thing I thought about when I got in," Reimold said of the much-talked about struggles from the designated-hitter spot. "We've still got a little work to do in the DH spot to make up for a slow start."
The Orioles' lineup did good work against Hughes. Starting because the Yanks had to shuffle their rotation due to Andy Pettitte having back spasms, Hughes was tagged with nine hits -- six for extra bases -- and exited to boos from the crowd of 41,851 at Yankee Stadium after McLouth's fourth-inning double.
"It's nice to be able to count on guys and have them not pitch around certain guys because you have guys right behind them that can do damage," McLouth said of getting the team's bottom of the order going.
"Some guys don't come out of the gate swinging the bat well, every year it happens, and you just got to be patient and not get frustrated."
Following a tough loss Friday night, the Orioles showed no signs of carryover, with Hammel setting the tone with a 95-pitch outing in which he allowed three runs (two earned) on eight hits and a walk.
"I still think there's room for improvement, but I feel everything coming around," Hammel said of his third start and second win this season. "I know when I'm going good. The slider and fastball command is much better. I was walking guys those first few innings the other games, and it just wasn't there. A step in the right direction today, and I feel pretty good about it."
Hammel ran into some trouble in the sixth, surrendering a one-out homer to Vernon Wells and putting a pair of runners on with a walk and a single. But he rebounded with a strikeout of Lyle Overbay, and then got Jayson Nix to pop out to preserve the lead.
"Ham's a tough character," Showalter said. "He likes to compete, and when he gets himself in a tight spot -- I thought he reached back for one of his better fastballs that last inning. I think he knew he was nearing the end. He wasn't saving his bullets.
"If we can get deep in the games with our starters, we've got a chance to have some fun this summer. I've said that all along. It just sets up everything, including the health of our team."
Following Hammel, lefty Brian Matusz worked around a bunt single from Brett Gardner to lead off the seventh inning, while right-hander Darren O'Day pitched around a pair of singles, striking out pinch-hitter Brennan Boesch to end the eighth. Closer Jim Johnson picked up his fifth save with a 1-2-3 ninth, needing just six pitches to put the finishing touches on the win.
"We're really spoiled," Hammel said. "Those guys down there, you hand the ball over to the bullpen right now, we honestly feel like it's game over. They shorten the game for us so much. I'd like to get deeper, seventh or eighth inning, and that will come, but they give us so much confidence."
Added Showalter of the win: "I can look at highlights tonight. I wasn't going to last night."
Brittany Ghiroli is a reporter for MLB.com. Read her blog, Britt's Bird Watch, and follow her on Twitter @britt_ghiroli. This story was not subject to the approval of Major League Baseball or its clubs.