Yankees can't rally after Hughes' brief start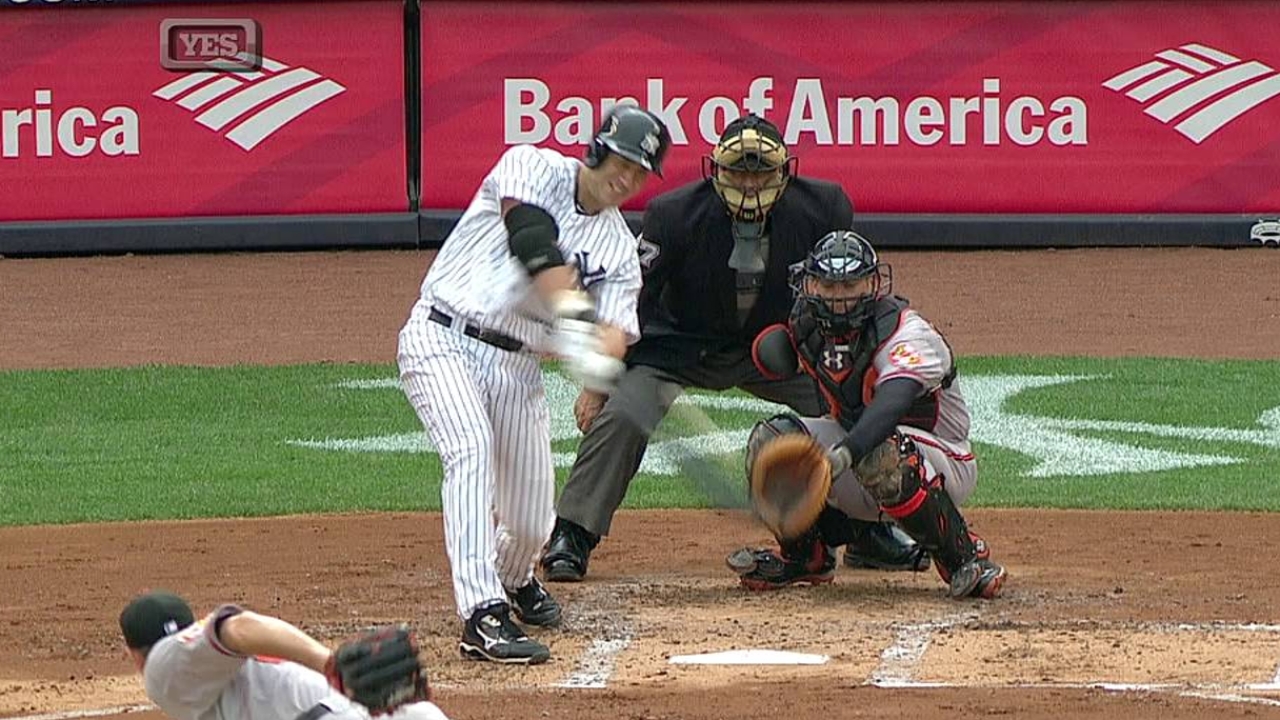 NEW YORK -- Phil Hughes was rocked in his brief outing facing the Orioles on Saturday, so much so that the Yankees' right-hander admitted he was having some difficulty recalling a few of the key specifics.
"It's bad when you can't remember all of the home runs," Hughes said, with a shrug.
There were three of them, and the Yankees could not recover after Ryan Flaherty, Nick Markakis and Nolan Reimold cleared the fences in powering the O's to a 5-3 victory over the Yankees in the Bronx.
Hughes allowed all five runs in just three-plus innings, watching six of the nine hits he allowed go for extra bases. Hughes also issued two four-pitch walks in the outing and seemed to be working without any real weapons as the Yanks' four-game winning streak ended.
"I can't remember the last time I was as bad as that," Hughes said. "Just not being able to locate the fastball, or any offspeed pitch for that matter. Anytime I did have to come in for a strike, it was out over the middle of the plate and just got hammered somewhere."
Adam Jones and J.J. Hardy also drove in runs for the Orioles, who had another potential run cut down as Ichiro Suzuki and Robinson Cano combined to gun down Nate McLouth at home plate after he ran through a stop sign on Manny Machado's second-inning single off the wall.
"When we get behind in the count, things like that can happen all the time," Yankees catcher Francisco Cervelli said. "When we miss location, this is the big leagues -- you pay. Sometimes they hit a base hit, sometimes a homer. Today, it was three bombs."
Hughes heard loud boos when manager Joe Girardi asked for the ball at the conclusion of his 60-pitch outing. David Phelps kept the game close with four innings of stellar relief work, but Girardi said that he wouldn't consider moving Phelps into the rotation at this point.
"I think it's really early to do that," Girardi said. "Phil had a pretty good year for us; he's had a couple of pretty good years as a starter for us. As far as [Ivan] Nova, he's had one start, and I don't think it's really fair to do that. No, I'm not really thinking of making any changes."
As a fly-ball pitcher, Hughes has been bit by the long ball in the past, including serving up a career-high 35 blasts last season and at least one homer in 31 of his last 45 starts at Yankee Stadium since 2010.
Hughes said that while he will never be a sinkerball pitcher, he must do a better job of locating his fastball when it rides up in the strike zone.
"I'm always going to be a fly-ball pitcher. I just have to be able to harness that," Hughes said. "When I'm on, I get a lot of pop ups and fly balls, which is great. But when I'm not, the ball seems to leave the ballpark."
The Yankees managed three runs in six innings off Baltimore starter Jason Hammel, who coughed up an early two-run lead but was able to hold New York mostly at bay the rest of the way.
Travis Hafner slugged his third homer in a Yankees uniform, a line-drive solo shot in the second inning, and Lyle Overbay took advantage of a Hardy throwing error later in the inning by dunking an RBI single into center field.
Vernon Wells added a sixth-inning solo blast off Hammel, who scattered eight hits in a 95-pitch outing. Hammel walked one and struck out four, winning for the second time in three starts this season and defeating the Yankees for the first time since Sept. 2, 2007, with the Rays.
"I still think there's room for improvement, but I feel everything coming around," Hammel said. "I know when I'm going good. The slider and fastball command is much better."
The Yankees took one last crack at the lead in the eighth inning, getting two men aboard against Darren O'Day, but pinch-hitter Brennan Boesch took three big swings and struck out to end the inning.
Boesch had replaced Jayson Nix, leaving the Yanks without a true shortstop since Eduardo Nunez is sidelined with a bruised right wrist, so Cano moved to shortstop and Cervelli played second base for the top of the ninth inning.
It was Cano's first big league appearance at a position other than second base, and Cervelli's second career appearance at second base. Neither had any chances, as David Robertson induced two outfield fly balls and a strikeout.
"It was weird -- the first time that I played there since 2002," Cano said. "But I know that was the situation, that I'm the only guy there. Whatever it takes to help the team, I will do."
Bryan Hoch is a reporter for MLB.com. Follow him on Twitter @bryanhoch and read his MLBlog, Bombers Beat. This story was not subject to the approval of Major League Baseball or its clubs.