Despite another Navarro pinch-hit homer, Cubs fall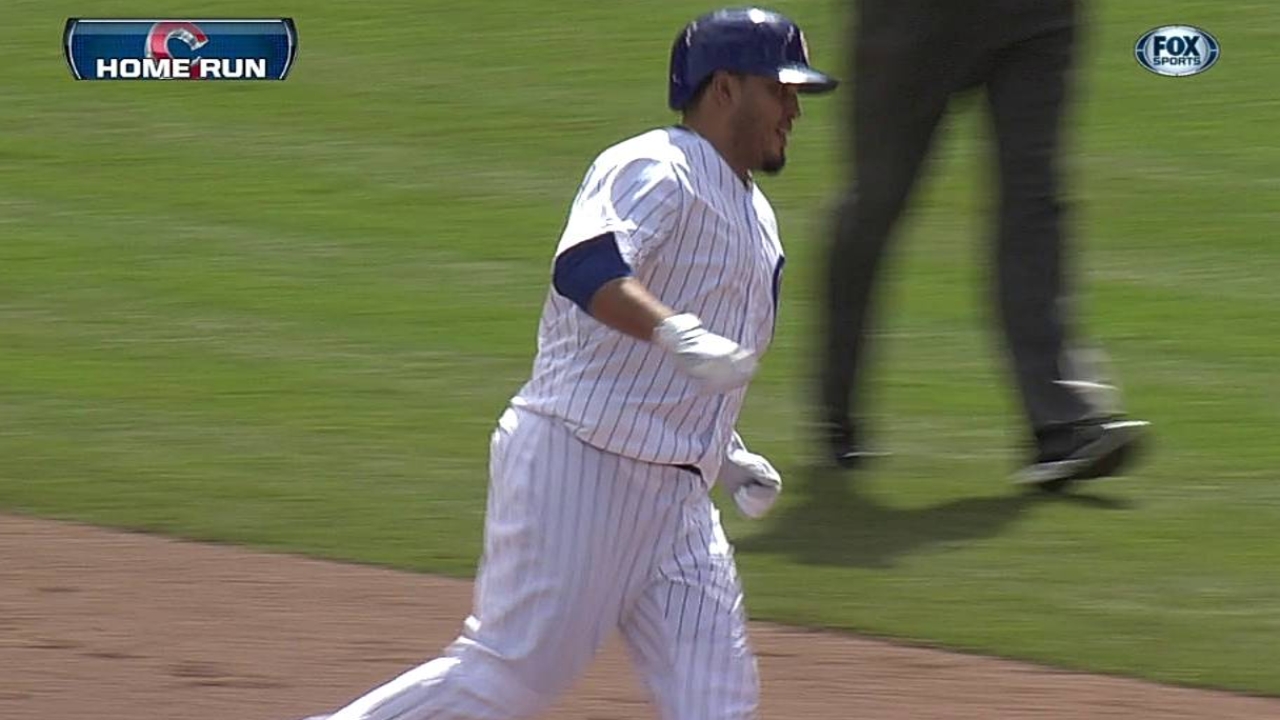 CHICAGO -- The Cubs got the news before Saturday's game that closer Kyuji Fujikawa was going on the disabled list, and the day ended with pinch-hitter Steve Clevenger lying on the ground at home plate in obvious back pain after swinging and missing at strike three to end their contest with the Giants.
In between, the Giants edged the Cubs, 3-2. It wasn't a good day.
"We're playing close games," Chicago's Scott Hairston said looking for a bright side. "Yesterday was a close game. Today was a close game. The Giants are a really good team. We're a good team, too. We'll just keep battling and hopefully come out on top tomorrow."
Dioner Navarro hit his second pinch-hit home run in as many games, but it wasn't enough as the Giants took a 2-1 lead in the four-game series.
Madison Bumgarner (3-0) held the Cubs to six hits over 6 2/3 innings, while Jeff Samardzija (1-2) took the loss, giving up two runs on seven hits over six innings. The right-hander, who was coming off a 13-strikeout start against the Braves, fanned five.
Samardzija kept the Giants in check until the fifth. Andres Torres doubled to lead off and scored two outs later on Gregor Blanco's single. Marco Scutaro singled to open the sixth, moved up on a wild pitch and then scored on Pablo Sandoval's single.
"You play a team like that, and you have to get ahead in the count," Samardzija said. "They work the count and they make you throw a lot of pitches. They stay short and have a game plan."
San Francisco added another run in the seventh against Michael Bowden, when Bumgarner reached on a sacrifice and eventually scored on Scutaro's single to make it 3-0.
With Fujikawa sidelined with a strained right forearm, Cubs manager Dale Sveum said they'll go to a closer by committee. Samardzija thinks the Cubs are set.
"We have a closer -- [Carlos] Marmol's our guy," Samardzija said. "He's had a slow start the last couple years. Marmol's our dude. He's got nasty stuff, and when he's in the zone, nobody hits him. With 'Fuji' on the [disabled list], we have to turn to Marmol.
"That's the least of our worries as a starter," he said.
We'll let Sveum handle that. He's also got to get the defense tighter.
"We threw a ball over the cutoff man's head when a guy was going to be out easy," Sveum said. "We threw a ball completely over two cutoff men's heads, and not even in the zip code.
"Major League players need to make those plays," Sveum said. "That's the bottom line."
With two outs in the Chicago seventh, Alberto Gonzalez singled, and Navarro followed with his home run. The switch-hitter, who was signed this offseason to be the backup catcher, led off the ninth Friday with his first career pinch-homer, which sparked a 4-3 comeback win.
The Cubs had runners at first and second in the eighth when Alfonso Soriano grounded out to third. Sandoval couldn't field the ball, but it deflected over to Brandon Crawford, who was able to throw Soriano out. Pinch-hitter Nate Schierholtz was intentionally walked to load the bases and Welington Castillo then hit into a double play.
Clevenger struck out to end the game, but fell to the ground after swinging and missing strike three. He stayed down for a few minutes at home plate as he was attended to by athletic trainer PJ Mainville. Clevenger had to be helped off the field.
"At that moment, everything else went out the window," Hairston said. "We really feel bad for him."
"I've seen it many times, but not that severe," Sveum said. "I've never seen somebody in that much pain. It was unfortunate, obviously. Hopefully, it's not bad."
Carrie Muskat is a reporter for MLB.com. She writes a blog, Muskat Ramblings, and you can follow her on Twitter @CarrieMuskat. This story was not subject to the approval of Major League Baseball or its clubs.