Scutaro, Bumgarner lead Giants past Cubs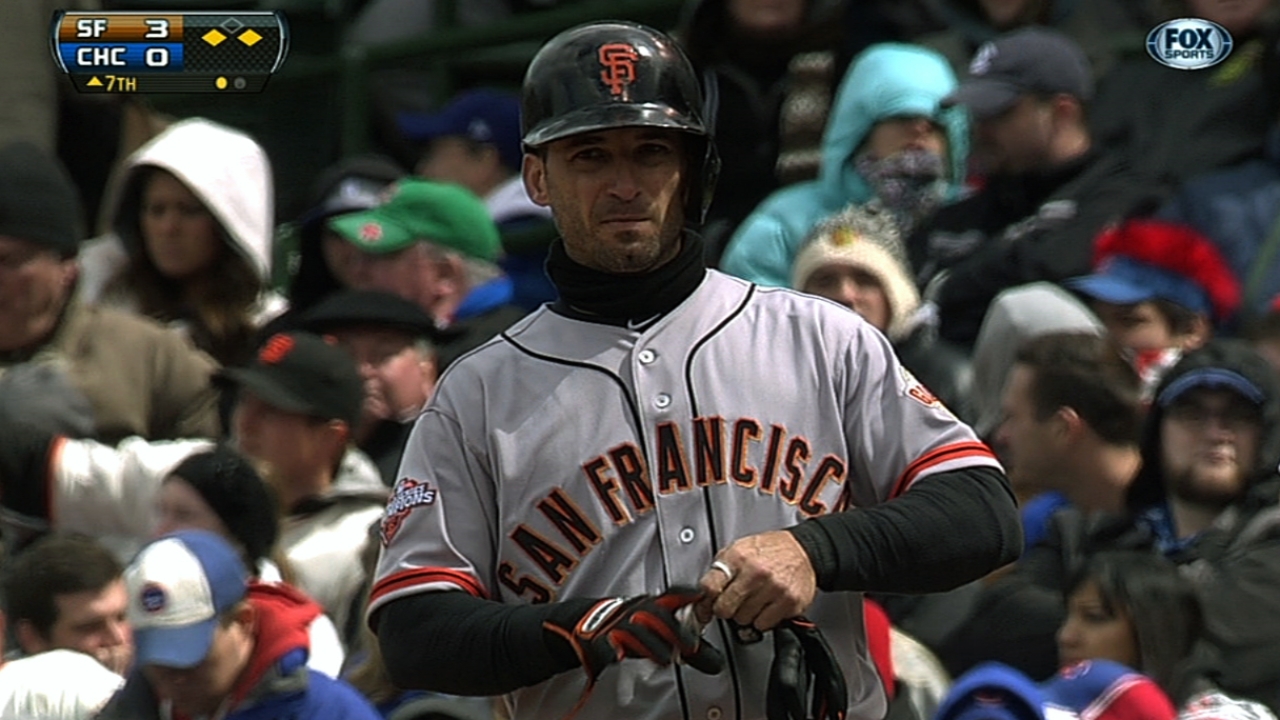 CHICAGO -- Santiago Casilla doesn't dwell upon the role he occupies. That's a great way to avoid stress and retire opposing hitters.
Whether Casilla appears in the sixth inning, the ninth inning, or somewhere in between, it's all the same to him. So he responded with an anxiety-free performance when the Giants used him as their backup closer for the first time this season in Saturday's 3-2 victory over the Chicago Cubs.
Giants left-hander Madison Bumgarner became the first National Leaguer to achieve a 3-0 mark by taking a shutout into the seventh inning. But after Chicago's Dioner Navarro hit his second pinch-hit homer in two days to narrow San Francisco's lead to a single run, Casilla worked the final two innings in impressive fashion. Inserted because regular closer Sergio Romo needed a rest, Casilla coaxed Welington Castillo's double-play grounder with the bases loaded to end the eighth, and struck out the final two Cubs he faced in a perfect ninth.
Overall, the Giants delivered an uneven performance, though they defeated Cubs ace Jeff Samardzija. They committed multiple baserunning mistakes, and relied on Marco Scutaro to provide most of their offense. Continuing to emerge from his early-season slump, Scutaro went 3-for-4, scored in the sixth and drove in a run in the seventh. He's batting .526 (10-for-19) in his last five games after a .111 start (3-for-27).
But San Francisco improved to 8-4 by thriving where it counted most. "Our pitching picked us up," Giants manager Bruce Bochy said.
This occurs frequently, as everybody familiar with the Giants realizes. Yet except for his stint last year as closer, when he saved a team-high 25 games as Brian Wilson's initial replacement, Casilla's efforts are often overlooked.
A blister on the middle finger of Casilla's throwing hand led to his removal from the closer's role. It didn't diminish his value in the Giants' estimation, however. They signed Casilla, who was eligible for salary arbitration, to a three-year, $14 million deal in the offseason.
Instead of admiring his checking-account balance, Casilla sought to improve. Left-handed batters hit .265 off him last year, far too high for his taste. That contrasted with the .197 average right-handed hitters mustered against him.
So Casilla refined his changeup and backdoor slider, which he sensed would keep left-handers off balance. Early results have been promising. Left-handed hitters are 1-for-9 against Casilla; right-handers are hitless in seven at-bats.
"I feel good now," Casilla said, "so I can throw whatever I want."
That approximated how Bumgarner felt, as he limited Chicago to five hits in 6 2/3 innings, until Navarro's homer ended his afternoon.
"For the most part, all my pitches felt pretty good," Bumgarner said.
Said catcher Buster Posey, "He's doing a good job of moving the ball around, pitching up and down. He's not giving the same looks."
Bumgarner occasionally needed defensive help, and received it, as the Giants turned two double plays behind him. Casilla reaped the same benefit.
After shortstop Brandon Crawford started the double play that concluded the eighth inning, third baseman Pablo Sandoval risked injury by tumbling into the stands to catch pinch-hitter Luis Valbuena's popup to open the ninth. Having bruised his left shin on a ballpark seat, Sandoval didn't rise to his feet immediately, prompting Bochy and head athletic trainer Dave Groeschner to dash across the field to check on him. "I couldn't feel my leg," said Sandoval, who briefly thought he was seriously injured.
The Giants collectively exhaled as Sandoval remained in the game.
"He might be a bigger guy, but he's pretty dang solid on defense," Bumgarner said. "He's a good player, regardless of size. I like having him back there."
Casilla needed no further defensive assistance, as he faced two more left-handed pinch-hitters -- David DeJesus and Steve Clevenger -- and fanned both. Clevenger injured his back with his final swing, collapsing in pain and creating concern among all witnesses, in the stands and on the field.
Chris Haft is a reporter for MLB.com. This story was not subject to the approval of Major League Baseball or its clubs.