Rosario's big night helps Rockies thump Padres
Homers, drives in three; Cuddyer goes deep, CarGo has three hits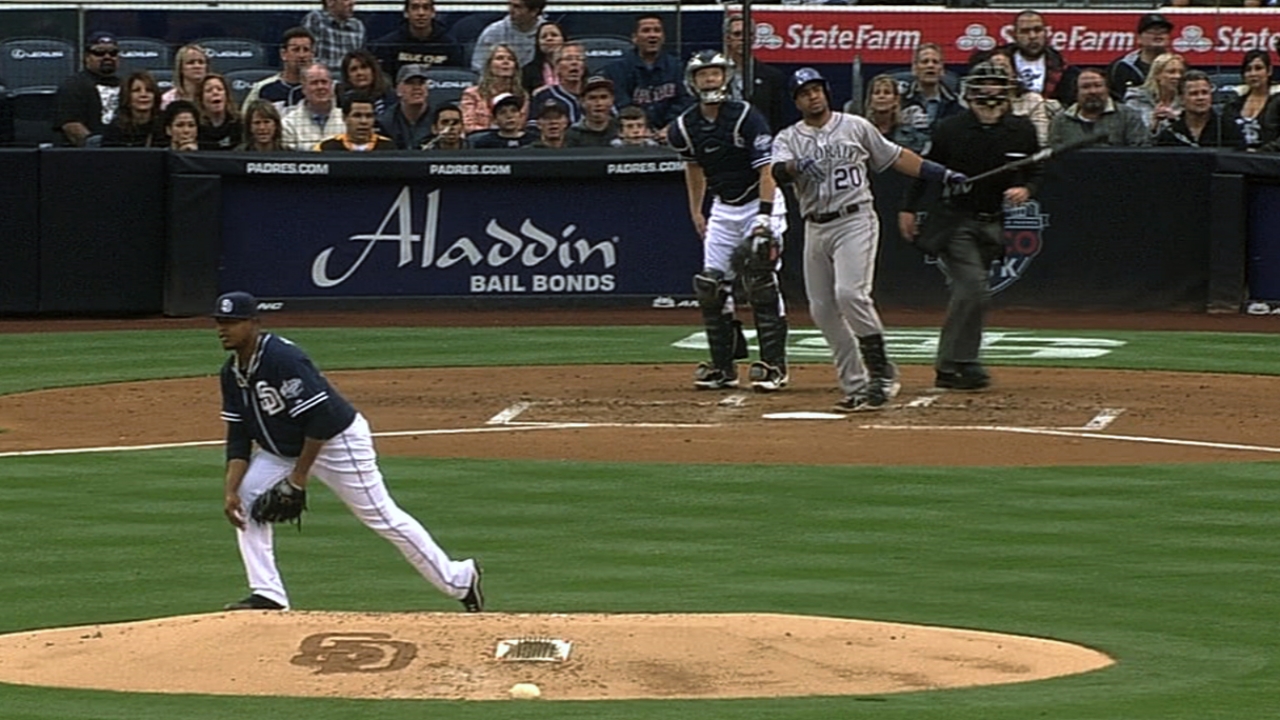 SAN DIEGO -- Remember when the Rockies swung big bats at home but seemed to carry mere twigs when they traveled? That is so last year.
Wilin Rosario and Michael Cuddyer smashed two-run homers into the upper deck in left field at supposedly pitcher-friendly Petco Park to lead the Rockies to a 9-5 victory over the Padres on Saturday. Colorado will go for a sweep of the three-game set, which would be its second sweep of the Padres this season, on Sunday afternoon.
Last year, the Rockies lost a club-record 98 games and were especially futile on the road, where they scored 272 runs -- 214 fewer than they scored at home. But this year's Rockies (7-4) are traveling with their heavy lumber. Rosario's fourth homer, off Edinson Volquez (0-3) for a 3-1 lead in the second, and Cuddyer's third, off Thad Weber in the fourth for an 8-2 advantage, raised the Rockies' road homer total to a Majors-leading 15.
"We play very good at the house, and we play very good on the road -- it doesn't matter," said Rosario, who had his first career four-hit game, drove in three runs and threw out a would-be basestealer for the fourth time in six attempts.
The Rockies also lead the National League in road runs with 43, and they're 4-4 away from Coors Field. The team's history has shown that if it produces its normal offense at home, a road record at or near .500 is good enough for contention.
Yes, the Padres (2-9) trotted out a lineup without the injured Chase Headley (fractured left thumb), Carlos Quentin (given a break two days after his fight with Dodgers pitcher Zack Greinke) and Cameron Maybin (working through swing issues), and Volquez's mechanical problems led to a 3 1/3-inning, seven-run (six earned) mess and an 11.68 ERA in three starts.
"You're going to have some rough starts, and Volquez has had his right from the start," Padres manager Bud Black said. "Let's hope he can get it straightened out. Right now his issues stem from ball-to-strike ratio, and getting ahead in the count. When you get behind, you can get in some trouble."
New Rockies manager Walt Weiss and hitting coach Dante Bichette, who wore purple as players and understood the difficulty of playing in a park and an atmospheric condition tilted heavily toward offense then having all that ripped away on the road, set out to develop a "Blake Street Bullies" persona. The Rockies would try to pound teams at home, then focus on fundamentals to scratch out enough runs to win when they traveled.
The defending World Series champion Giants controlled the Rockies' bats in two of the three games that the Rockies dropped in San Francisco this week. Otherwise, the offense has produced.
On Saturday, in addition to Rosario's work, Troy Tulowitzki drove in two runs, on a first-inning double and a sixth-inning sacrifice fly, Carlos Gonzalez had three hits with one RBI, and Josh Rutledge stole two bases and scored a career-high three runs. But the early power mattered most, especially after the Padres' Will Venable and Everth Cabrera (who finished a double shy of a cycle) each homered off reliever Edgmer Escalona in the seventh, and the Padres managed an eighth-inning run against Matt Belisle.
"It's tough when you have to go through that lineup," Weiss said. "Mistakes have a chance to leave the ballpark.
"It's nice winning this series after the first two games. Even though we won the series, try to get that game tomorrow, too."
Winning pitcher Jhoulys Chacin (2-0) labored through five innings and gave up two runs on four hits, with two walks in his first career start at Petco. The pitcher-favorable atmosphere that he'd heard so much about worked against him by taking his fastball and his sinker out of the strike zone. Still, he left the park with a 1.96 ERA through three starts, and he had an offense that gave him more than enough help.
"It's really nice," Chacin said. "If you can throw five, six or seven innings with even four runs, you still have a chance to win the game. That's pretty much what I was trying to do. I couldn't control my pitches, but it was nice to get through five innings."
Thomas Harding is a reporter for MLB.com. Read his blog, Hardball in the Rockies, and follow him on Twitter @harding_at_mlb. This story was not subject to the approval of Major League Baseball or its clubs.