Cabrera's highlights eclipsed by Volquez's struggles
Goes 4-for-5 with three RBIs; starter allows six earned runs over 3 1/3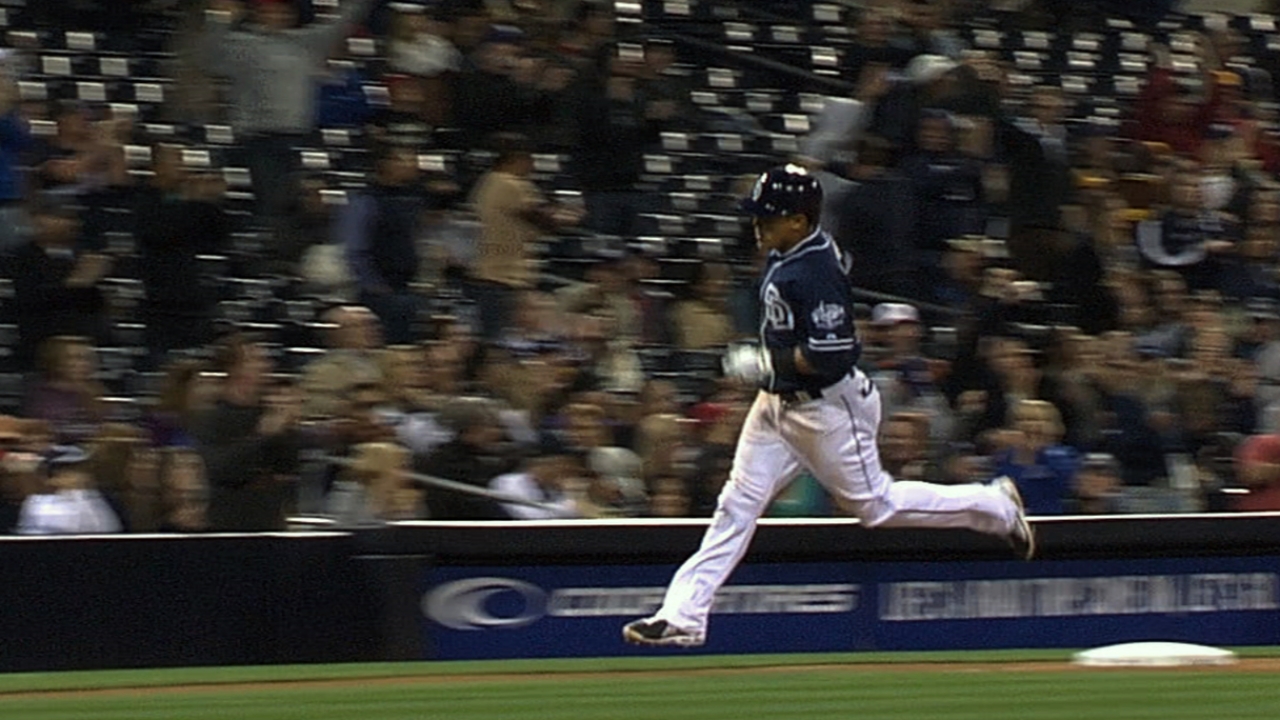 SAN DIEGO -- Despite warranted vocal dissent from Padres fans, Everth Cabrera gave the home crowd something to cheer about.
The Padres shortstop finished a double short of the first cycle in franchise history in an otherwise disappointing 9-5 loss to the Colorado Rockies on Saturday at Petco Park.
Cabrera's final attempt came in the ninth, with one out and the Padres down by four. He hit a hard ground ball into center field, one that held him at first base with his first four-hit game.
Cabrera's quest was the one reason for applause.
The Padres gave up runs early and often, and fell too far behind to mount a legitimate comeback.
The club's fourth straight loss and seventh in last eight games, dropped the Padres to 2-9.
It's been a difficult period where the Padres show flashes of life amid generally lackluster play.
"It's a collection of everything," Padres manager Bud Black said. "We're not pitching well, and we're not helping those guys with great defensive plays. For us to get going offensively, we need six or seven guys to get going at the same time. Up to this point, we haven't seen that.
"When you lose ballgames, that's usually what happens. Total team play isn't in sync. That's what you're seeing from us right now. Once it does, that's when the results get better. We have to sync up."
Padres ace Edinson Volquez has been out of sync all season.
Despite the Padres' desperate need for an extended start, Volquez could not give them one. He lasted just 3 1/3 innings and allowed seven runs (six earned) on six hits and three walks.
"You're going to have some rough starts, and Volquez has had his right from the start," Black said. "Let's hope he can get it straightened out. Right now his issues stem from ball-to-strike ratio, and getting ahead in the count. When you get behind, you can get in some trouble.
"It's important to string quality pitches and outs together, and Edinson hasn't been able to do that and hasn't been able to build any momentum during his first three starts."
Volquez is customarily wild early in games. In this instance, his command was inconsistent throughout. He was consistently behind in the count and Colorado made him pay.
Rockies second baseman Josh Rutledge scored on a double by shortstop Troy Tulowitzki in the first. Catcher Wilin Rosario plated two more in the second with a home run that reached the second deck in left.
Volquez's troubles continued with two runs in the third inning and two more charged to him in the fourth.
Padres reliever Thad Weber gave up a two-run home run to Michael Cuddyer to cement Volquez's line and add another to establish an 8-2 lead that proved insurmountable.
Some boos were meant for Volquez, but they focused on third baseman Jesus Guzman in the third inning. Guzman, making his second big league start at the position to get his bat in the struggling lineup, made two errors in the inning.
The crowd let him know, especially after a dismal start from Volquez and play worthy of the team's fourth loss in five home games.
Even Cabrera found a way to upset the 29,523 in attendance. He was caught trying to steal third base on his own with two outs in a 5-2 game.
Other than that, Cabrera, who went 4-for-5, was flawless. He made two excellent plays in the field. He hit a triple in the first innning, an RBI single in third, and a 410-foot home run to center in the seventh.
"It was good to see Cabrera taking some good, solid swings," Black said. "He was hitting line drives from the left side, which is encouraging. He's done some work with our hitting coaches and it's good to see it pay off.
"That's the type of hitter we envision Cabby to be. He has the strong, powerful player and has the capability to hit deep home runs like he did tonight, but that won't be his focus. He's successful hitting line drives and hard ground balls and he can use his speed to complement hard ground balls."
Scott Bair is a contributor to MLB.com. This story was not subject to the approval of Major League Baseball or its clubs.