Angels' slide continues in opener with new rivals
Record dips to 2-8 to match slowest start in club history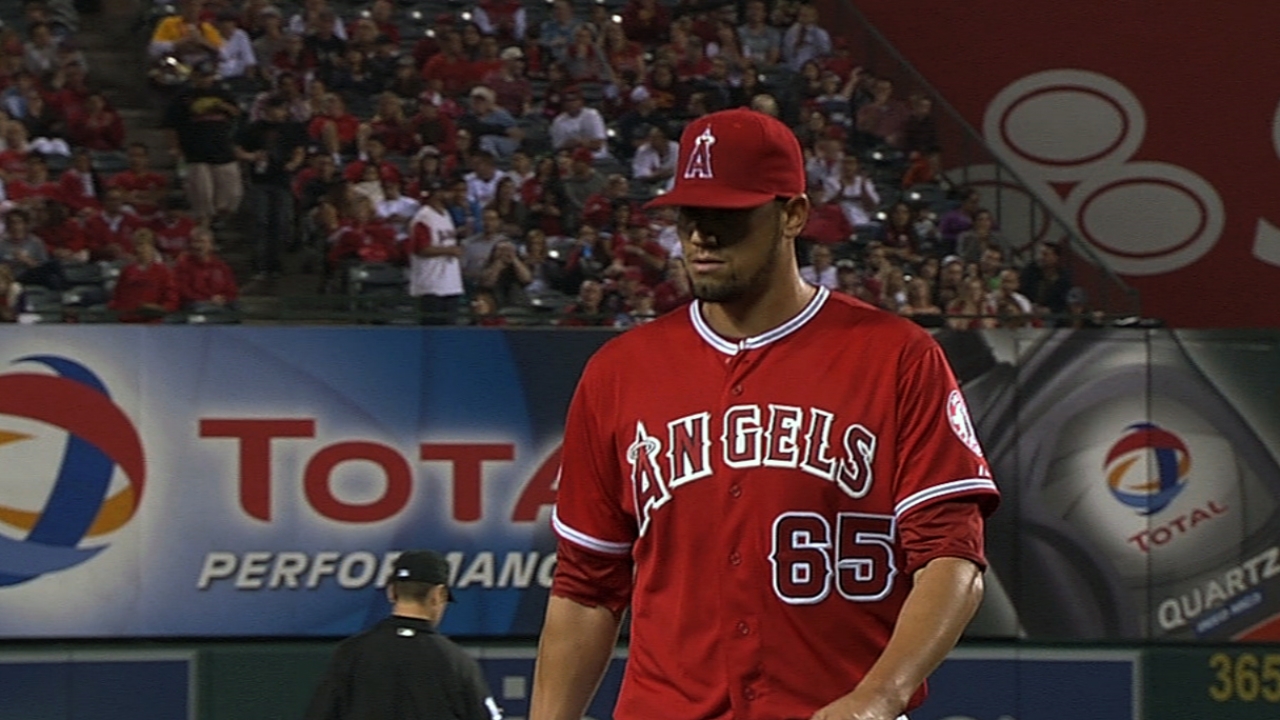 ANAHEIM -- Prior to Friday's game, Mike Scioscia was confident that the Angels would get back on track.
"No doubt," he said, "we're going to turn this around."
But the ensuing contest, a 5-0 loss to the Astros, provided no indications that a turnaround was on the horizon. For a second straight night, the Angels' offense was stifled by an opposing starter -- this time by Bud Norris. And as has been the case all season, their own starting pitcher -- in this case Tommy Hanson -- put them in an early hole, giving up all five runs in the first three innings.
The result was the Angels' fifth straight loss, putting them at 2-8 to start the season to match their worst start in franchise history (in the expansion year of 1961). For the first time since 2004, they've begun their season with four consecutive losses at home. The Angels have never started a year with five straight losses at home.
"It's really simple -- we're not pitching, and we're getting behind early," Scioscia said. "When you get behind early, it really gives the other team a chance to match up [and] use their bullpen. It gives their starter breathing room to pound the zone, change speeds at will and not worry about that one mistake."
In a 10-game stretch filled with lapses, Friday's contest ended with a pair of glaring mistakes. In the top of the ninth, Howie Kendrick misplayed a throw from the outfield on a simple base hit, allowing the runner to take second. And to end the game, Josh Hamilton forgot how many outs there were and was doubled off on a foul popup.
It may not have changed the outcome, but it might have served as a sign of where this team is right now.
"That's a mental mistake," Scioscia said of Hamilton. "I think as perfect as players try to play, as hard as they try to play, unfortunately mental mistakes are going to creep into the scenario. We have seen it on the other side, guys from other teams. Unfortunately, it got us tonight. Josh knows it. He's accountable and we're going to move on."
As has been the case in every game this season, the starting pitcher was unable to work deep into the game. Hanson was pulled after five innings, but his fate became obvious after a 37-pitch first inning, when he allowed three runs and allowed the first five batters to reach base.
"I've always been told that starting pitching sets the tone and I didn't set the tone," Hanson said.
It appeared Hanson and catcher Hank Conger had a few communication issues in the first inning, with Conger making three separate trips to the mound. Hanson declined to specify how much of an effect that may have had on his rocky first inning.
"I never make excuses, and I'm never going to throw anyone under the bus," Hanson said. "Hank and I haven't worked together very much, so today was a learning experience for the two of us. Toward the end, we got on the same page, but early on we were trying to feel each other out. There were a couple times we had to talk it over, but that happens when a guy's been catching you for years."
When the Astros crossed the plate three times in the top of the first, it marked the fourth time in the past five games the Angels failed to score first. Over the course of the season, they are now 0-7 when that happens.
"He got a lead, obviously he has good stuff, and he's going to go out and execute his pitches, and I don't think he's really worried about leaving stuff over the middle," Angels center fielder Peter Bourjos said of Norris. "He's going to attack the hitters, and that's what he did. He got ahead of guys and was able to put them away with his breaking ball."
Norris pitched seven scoreless innings and did not allow a runner to reach second base, one night after A's starter A.J. Griffin pitched eight innings of one-run ball.
"The leadoff hit-by-pitch isn't the way you want to start the game, but to come back and throw a fastball in and get a double play, it's big," Norris said. "When I'm pitching out of the windup with [Albert] Pujols and Hamilton, you feel a little bit differently considering the fact they're big boppers. A solo homer is not going to beat you as bad, especially when you have a three-, four-, five-run cushion. You're going right at them, attack, attack, attack."
William Boor is an associate reporter for MLB.com. This story was not subject to the approval of Major League Baseball or its clubs.