Norris in control as Astros strike first against Angels
Right-hander doesn't allow baserunner past first in seven innings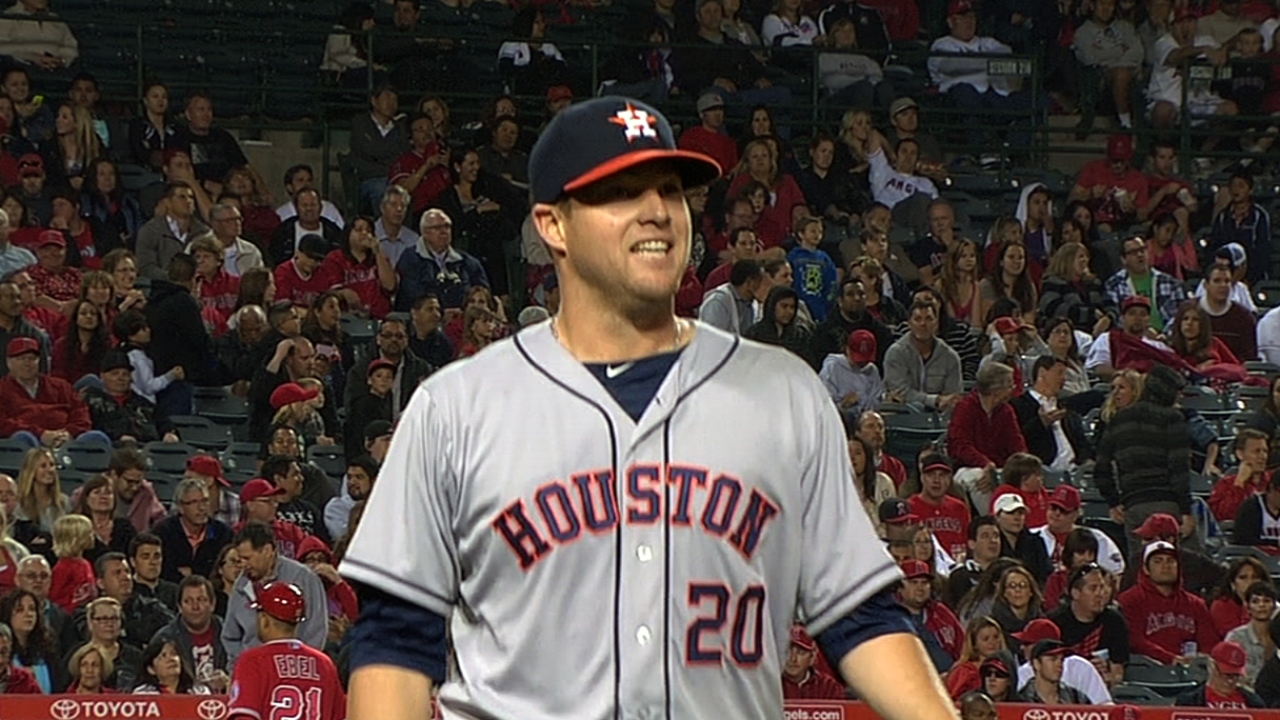 ANAHEIM -- The next thing you know the Astros are going to start letting their hair grow out, take some surfing lessons and start sleeping until noon. They've certainly done a good job making themselves at home on the West Coast early in the season.
California native Bud Norris gave the Astros their best starting-pitching performance of the season, throwing seven scoreless innings and benefiting from early run support to send Houston to its third consecutive win, 5-0, over the Angels on Friday night at Angel Stadium.
The Astros have followed up a six-game losing streak with a pair of wins in Seattle before taking the series-opener against their new American League West rivals.
"You always like to have an early lead and a little cushion, and these guys swung the bats," said Norris, who's 4-1 with a 1.14 ERA in his past five starts (including two in 2012). "They carried it over from Seattle and we're going to carry it over into tomorrow, too."
Much like they did in beating the Mariners with 24 runs in two games Tuesday and Wednesday, the Astros scored early, pushing three runs across in the first inning against starter Tommy Hanson (1-1). They built the 5-0 lead through three innings.
And the Astros were sharp defensively once again, with third baseman Matt Dominguez and shortstop Marwin Gonzalez sucking up everything on the left side of the infield and center fielder Justin Maxwell running down everything in center.
"The players are doing a great job of taking the game plan and executing it and really locking into the at-bats and keeping the line moving," manager Bo Porter said. "Then we're getting big hits once we get guys in scoring position."
Norris (2-1), who won his first road start of the season after going 3-12 with a 6.94 ERA in 18 starts away from home in '12, allowed three singles, hit one batter and walked two, but no one got past first base.
"Just a little more focus," Norris said. "Just getting my routine started earlier in the clubhouse as far as stretching to get myself ready to go out there and pitch. But then again it really goes down to the scouting report and locking in and knowing what we have to do to attack and get the thing done."
Norris kept the Angels' vaunted 2-3-4 hitters -- Mike Trout, Albert Pujols and Josh Hamilton -- in check. He started the game by plunking Peter Bourjos, but got Trout to hit into a double play, walked Pujols and struck out Hamilton.
"The leadoff hit-by-pitch isn't the way you want to start the game, but to come back and throw a fastball in and get a double play, it's big," Norris said. "When I'm pitching out of the windup with Pujols and Hamilton, you feel a little bit differently considering the fact they're big boppers. A solo homer is not going to beat you as bad, especially when you have a three-, four-, five-run cushion. You're going right at them, attack, attack, attack."
The Angels have lost four games in a row and seven of their last eight overall.
"It's just not clicking like we'd like it to," Pujols said. "We don't want to play like this, either, but it's part of the game. We just need to keep pushing, keep going, and try to do whatever it takes to come out of whatever we're going through right now."
The Astros set the tone early with their first five batters reaching to start the game. Maxwell doubled home Jose Altuve and was thrown out at third base trying for a triple. Consecutive singles by Jason Castro and Chris Carter and a walk to Carlos Pena loaded the bases for J.D. Martinez, who struck out.
Rick Ankiel followed with a two-run single to center field to push the lead to 3-0. Maxwell homered just left of center field in the second, and Ankiel added an RBI double in the third to score Pena and put the Astros ahead, 5-0. Ankiel's three RBIs give him the team lead with eight.
"Winning kind of cures everything, so to speak," Ankiel said. "You lose and there's a lot of finger-pointing and what did we do wrong and what went wrong and all of that. It's nice that the offense has come alive and the pitching has been strong the whole way through. Hats off to those guys and hats off to Bud Norris."
Altuve continues to be a sparkplug at the top of the order, going 3-for-5 and setting the tone. Maxwell, who's settling into the No. 2 spot, went 2-for-4 and is hitting .359 this year.
"It all starts with Altuve at the top," Maxwell said. "He got on base three times today and he really sets the tone from an offensive standpoint. We watch his first at-bat and everybody builds confidence from that, so it starts with him. I got a good pitch to drive in that at-bat."
Brian McTaggart is a reporter for MLB.com and writes an MLBlog, Tag's Lines. Follow @brianmctaggart on Twitter. This story was not subject to the approval of Major League Baseball or its clubs.