Sox celebrate first walk-off Victor-y
Facing five-man infield, veteran delivers clutch single to beat Rays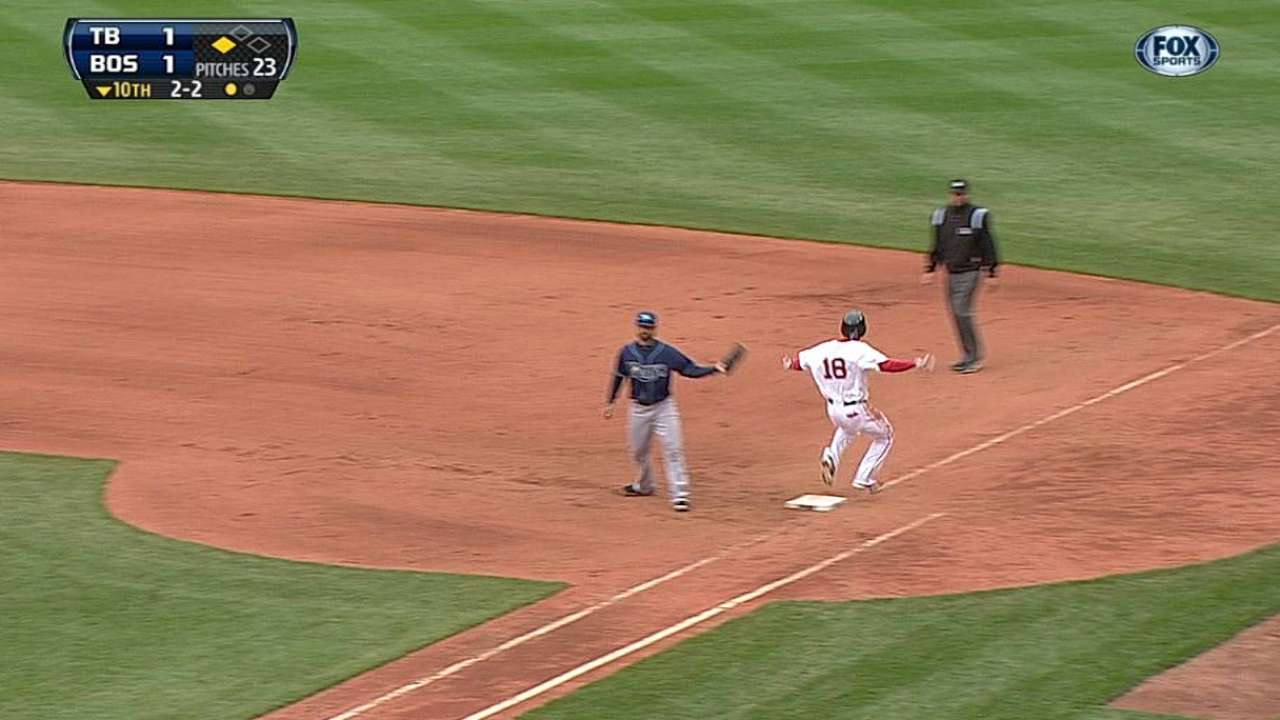 BOSTON -- It was a baseball game in its purest form, filled with a pitching duel between Jon Lester and David Price, vein-chilling managerial decisions, busy bullpens and a sparkly-clean third-base bag.
Only three runners touched it all game.
Joel Hanrahan suffered through his third appearance at Fenway and was lifted in the ninth after walking his first two batters in a tie game. Koji Uehara came on to get three straight outs and push it to extra innings.
A ground ball hit into a five-man infield proved the difference, as Shane Victorino got one between first and second and Jacoby Ellsbury scored from third to give the Red Sox a 2-1 win over the Rays in 10 innings on Saturday afternoon.
With one out, Ellsbury knocked a single to center field. He stole second and the throw from catcher Jose Lobaton sailed off the glove of Yunel Escobar, allowing Ellsbury to take third.
Rays manager Joe Madden called left fielder Matt Joyce into the already pulled-in infield to create a five-man wall across the grass. Victorino got just enough of a pitch from Brandon Gomes and Ellsbury scored the winner.
"That's the goal right there -- not to strike out," Victorino said. "Put the ball in play. I was in a 2-1 count and Jacoby took off. I could see him in my peripherals, so I took a strike. It worked out.
"I've been in that situation before, hitting the two-hole before and having [Phillies shortstop Jimmy Rollins] in front of me and having him be in situations where he would run late in the game on a 2-1 count. Hey, it worked out for us today."
First, it was a pitching performance worth watching again.
Price was coming off a disastrous outing against the Indians this past Sunday, when he made history while combining with former National League Cy Young Award winner R.A. Dickey as they each started a game that ended in a 13-0 loss. Price pitched five innings that day, allowing eight earned runs, the most he's allowed in a Major League game.
Price, however, always seems to bring his best stuff to Fenway. Entering the game, he had started seven times at the Boston ballpark, going 4-1 with an astounding 2.22 ERA in 44 2/3 innings.
Price again rolled through the Red Sox's lineup with a fastball that sat around 94 mph, a few ticks higher than he was registering during his first two outings.
With Price rolling, Lester had to match him.
"You start worrying about the pitcher," said Lester. "You're worrying about the wrong things, but obviously in the back of your mind, you know, 'I've got to keep these guys close and give them a chance to maybe put a big inning together against him.' That's what happened."
Coming off a season in which Lester set career highs with 14 losses, a 4.82 ERA and 25 home runs allowed, he might have been at his best Saturday, carving through the Rays' lineup, running into trouble only in the third inning. After Desmond Jennings led off with a single, Sean Rodriguez cranked a double down the left-field line to score Jennings.
Lester then retired the next 12 batters, gaining confidence with his changeup while keeping his fastball down in the zone.
With near-perfect pitching on both sides, the feeling that one mistake could be devastating became reality as Price allowed just his second home run at Fenway Park since Darnell McDonald took him deep two years and one day ago.
David Ross, who leads all active catchers in home run ratio by going deep about once every 20 at-bats, launched a changeup high and tight over the far left side of the Green Monster. Price had been brilliantly mixing his fastballs, cutters and changeups all afternoon, but he failed to execute with a full count and two outs, leaving this pitch over the heart of the plate.
"It was just a changeup, it was up ... middle outer third of the plate," Price said. "That's what good hitters do."
Price, looking to become the first left-handed pitcher to win back-to-back Cy Young Awards in the American League, pitched six innings and allowed just four hits and two walks while striking out eight. He threw 106 pitches, 69 for strikes.
Andrew Bailey pitched a one-two-three eighth inning, but Hanrahan, who allowed five runs in the ninth Wednesday as he blew his first save in a Red Sox uniform, walked the first two batters he faced before Uehara cleaned up the mess.
Junichi Tazawa pitched a scoreless 10th and Ellsbury won it in the bottom of the inning, taking off from third when Victorino put the ball in play.
Jason Mastrodonato is a reporter for MLB.com. Follow him on Twitter @jmastrodonato. This story was not subject to the approval of Major League Baseball or its clubs.