Corbin's strong effort paves way in D-backs' shutout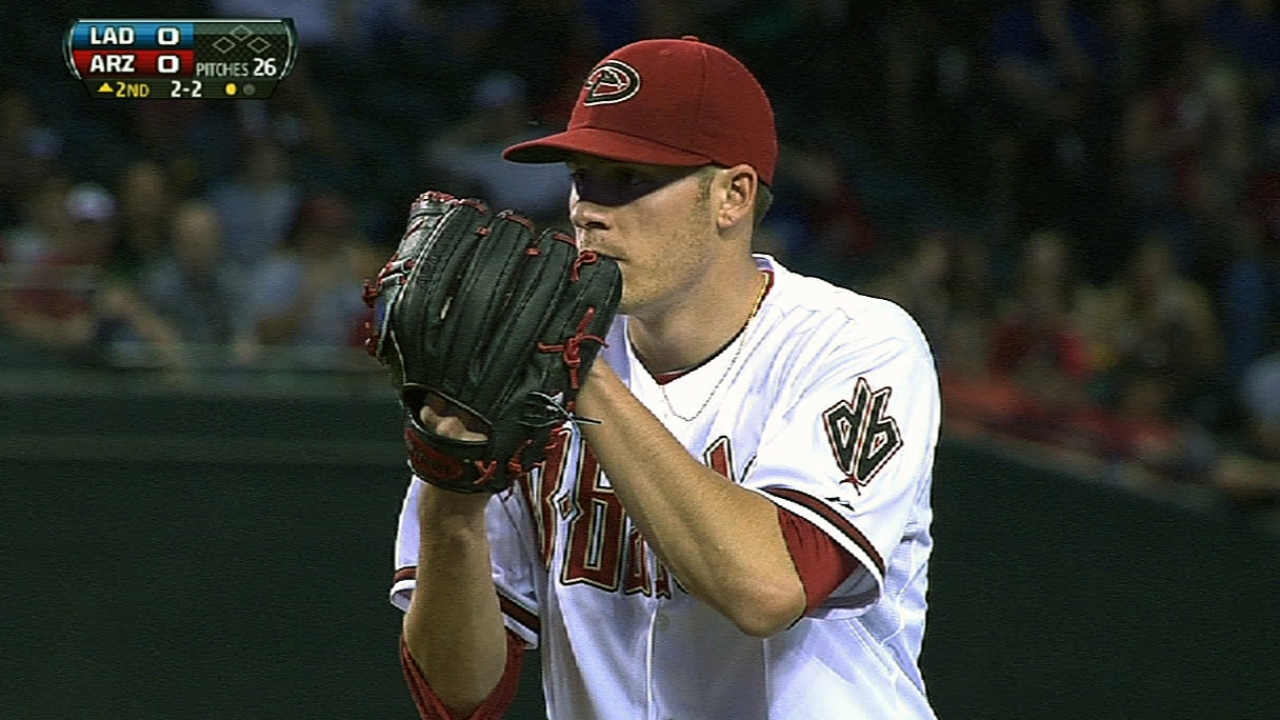 PHOENIX -- Matched up against arguably the best pitcher in baseball, the D-backs came to the ballpark Friday with a mindset fitting of the situation.
They knew they weren't going to score runs in bunches, but they also saw the moment as an opportunity to measure themselves against Clayton Kershaw, who entered the game having not allowed a run over his first two starts of the season.
Knowing there was little margin of error, Arizona parlayed strong starting pitching from Patrick Corbin with key situational baseball and top-flight defense into a well-fought, 3-0 victory over the Dodgers.
The victory marked the D-backs' fourth consecutive win over Kershaw dating back to last season. In the three most recent games, Arizona has shut out their division rivals.
"If you're going to beat a guy like that and a team like this, you have to play a perfect game," D-backs manager Kirk Gibson said. "And we did."
Pitching against a guy he has admired from afar throughout his career, Corbin stood toe-to-toe with Kershaw on Friday, tossing six scoreless innings before exiting the game with a high pitch count (106).
"I knew coming in it would be tough for us to get some runs, so I had to go out there and put up some zeroes," Corbin said. "They put some good at-bats on me early, and I just tried not to miss middle. They worked my pitch count up, I left much earlier than I wanted to -- but still, the outing felt good."
The first couple of times Corbin was asked about facing Kershaw, he tried to play coy, saying he didn't think too much about it. But after a while, the left-hander finally admitted the start had a little extra behind it than usual.
"He has proven he is one of the best pitchers in the game, and that's something I want to eventually become, so yeah, I was amped up to come in here and do well," Corbin said. "You ask any pitcher in here and they'd love to have Kershaw's arm. He's got some of the best stuff in baseball. You just know every time going out there facing him it's going to be a tough battle, but I kind of just wanted to go out there and be myself, that's the biggest thing I've learned."
The D-backs gave Corbin a lead in the fourth inning when Martin Prado went up in the zone and smacked a Kershaw fastball into left field. Gerardo Parra was running on the play and moved all the way to third on the hit-and-run. The next batter, Paul Goldschmidt, grounded into a double play, and Parra scored.
"I actually told him before he went up there that if we got to that count that we were going to do that," Gibson said of the hit-and-run. "That's no easy task on Clayton Kershaw, I tell you that. The ball was up, and it's hard to sit back against the guy, but that's one thing Prado can do."
The run ended Kershaw's career-best scoreless-inning streak at 23 dating back to last season, and Prado went on to record another hit later in the game to go along with two walks and a RBI.
To preserve the lead and the shutout, the D-backs sweated through a few sticky situations.
With two on and two out in the top of the fourth, Cliff Pennington appeared to throw out Justin Sellers at first on a ground ball, but the umpire ruled him safe and the inning continued with the bases loaded. Corbin, however, induced a groundout from Kershaw to end the threat without any damage being done.
"I think Patrick is a very competitive person, it's one of the reasons we liked him," Gibson said. "We just thought he had the makeup to excel in these situations. I said [when] he came into Spring Training he didn't worry about anybody else, he had confidence in himself. He has no problem executing things."
After Corbin's departure, Brad Ziegler threw a clean seventh inning before David Hernandez ran into trouble in the eighth. The setup man gave up a one-out single to Matt Kemp before throwing two wild pitches, allowing the tying run to advance to third.
Hernandez managed to escape the jam unscathed by striking out Carl Crawford, who entered the game batting .424, and forcing Andre Ethier to ground out.
"I made some clutch pitches, those are the situations that make this game fun," Hernandez said. "Not while you're doing it, of course, but after you get out of it. Just the adrenaline and excitement it brings, it's fun."
Still only ahead by one, the D-backs tacked on two insurance runs in the eighth on a pair of bases-loaded walks. Both runs were charged to Kershaw, who left after 7 1/3 innings.
J.J. Putz then pitched around a couple of baserunners in the ninth for his second save. The game ended on a slick double play executed up the middle by Pennington and Josh Wilson.
"I think we have a pretty good ballclub here, no one should sleep on us," Corbin said. "We may not have the big time names like the Dodgers or Giants, but we have a great group of guys who fight every day."
Tyler Emerick is an associate reporter for MLB.com. This story was not subject to the approval of Major League Baseball or its clubs.