Dodgers unable to back Kershaw vs. D-backs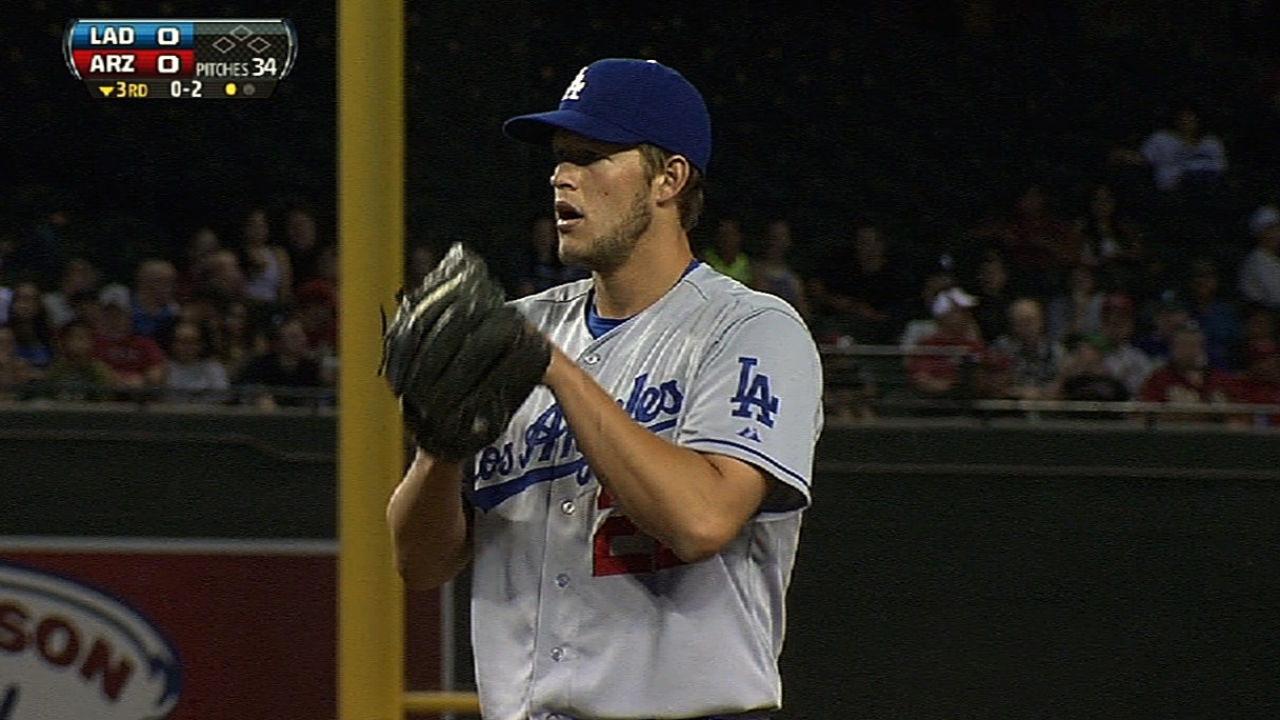 PHOENIX -- The burden on Clayton Kershaw was supposed to be eased this year, with another Cy Young Award winner in the rotation and an upgraded lineup to provide runs with which to work.
But in his third start of the season Friday night, it was all on Kershaw again. Zack Greinke will undergo surgery Saturday, Hanley Ramirez is still weeks away from returning and the lineup couldn't deliver a clutch hit in a 3-0 loss to the D-backs.
"You hate to waste a performance like that from Kersh," manager Don Mattingly said of Kershaw, who allowed one run going into the eighth inning despite a curveball he couldn't throw for strikes.
Maybe the Dodgers were victims of an understandable letdown after Thursday night's emotional brawl-marred victory in San Diego. "I don't know how to measure it," Mattingly said. "I felt a little like we had to turn the page and move forward. It's hard to measure something like that."
Here's how Kershaw measured it:
"Last night was very emotional. We were pretty upset about Zack getting hurt and angry at [Carlos Quentin] for acting the way he did. We got a good night's sleep. This is a different team. It's good for us. They've beaten us here. We've got to figure it out. It's a good test. We've got to pick it up. Chase Field -- I don't know our record, but it's not good."
The Dodgers were 3-6 in Arizona last year and have lost six straight at Chase Field.
Kershaw struck out nine, giving him 999 for his career, but he walked three and was up to 111 pitches when he was lifted with one out in the eighth, bases loaded, down 1-0.
"It was a battle for me tonight," Kershaw said. "Just a frustrating night, especially the eighth inning with a two-strike hit by [Jason] Kubel and a walk to [Gerardo] Parra. Obviously, we've got to score one to win. Me, personally, I could have done things different, and maybe it's 0-0 in the 10th."
Kershaw said something to Mattingly as he was being removed, clearly wanting to stay in the game.
"He's never happy when he comes out," said Mattingly. "Just the way it is. I don't expect him to be happy. But it's the third outing and I'm not leaving him in for 120."
Shawn Tolleson -- who pitched the night before for Triple-A Albuquerque and was called up earlier in the day to replace Greinke on the staff -- walked the only two batters he faced to force in runs that were added to Kershaw's account.
"He had been throwing the ball well and he's tough on right-handers," Mattingly said of Tolleson. "[Martin] Prado [the first walk] doesn't really know him. It didn't work out."
But the game was lost more with another 10 Dodgers runners left on base, as Arizona starter Patrick Corbin and the D-backs' bullpen overcame five walks and a hit batter.
Mattingly conceded he's "a little bit" surprised at his club's lack of production, but he maintained his mantra that as long as his hitters keep getting on base, eventually they'll start scoring.
Nonetheless, the Dodgers have already been shut out twice in the first 10 games. This game's lineup had Jerry Hairston leading off in left field instead of Carl Crawford, but that didn't work out.
Hairston, suspended one game earlier in the day for his part in Thursday night's fracas, went 0-for-5 despite hitting the ball solid, including on a game-ending double-play turned expertly by the Arizona infield.
Mattingly seemed to have found the perfect spot for Crawford, pinch-hitting for Juan Uribe with one out and runners on the corners in the top of the eighth against David Hernandez. But Crawford, who had been 3-for-5 lifetime against Hernandez, struck out and Andre Ethier grounded sharply to first to end the threat.
Arizona scored the only run it really needed in the fourth.
Parra led off with a single, and what followed was the key to the inning -- a hit-and-run line single by Prado right where shortstop Justin Sellers would have been if he hadn't been covering second base.
"He's a tough out when you don't have a breaking ball," said Kershaw. "He hits the fastball, and he did tonight. I kept trying to throw the curve, but for whatever reason it wasn't very good."
Kershaw minimized the damage by getting Paul Goldschmidt on a run-scoring double-play grounder. That was the first run allowed by Kershaw this season, and the first in 23 innings dating back to last year, a career high. The 19 scoreless innings to start a season are the most for a Dodger since Jim Gott's 19 1/3 innings in 1993.
Ken Gurnick is a reporter for MLB.com. This story was not subject to the approval of Major League Baseball or its clubs.