Quintana nearly flawless in seven, but White Sox fall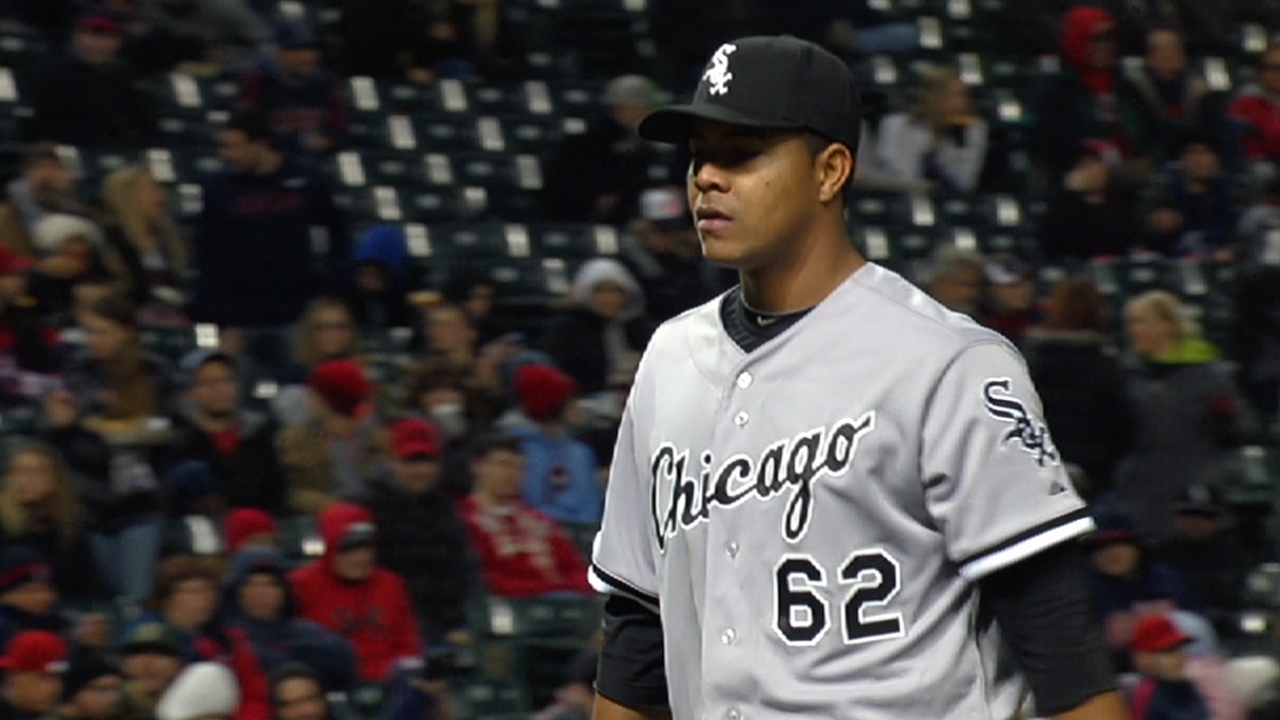 CLEVELAND -- The mound dominance exhibited by White Sox starter Jose Quintana and Indians starter Justin Masterson on Friday night at a frigid Progressive Field defined the idea that neither pitcher deserved to lose.
Unfortunately for the White Sox, it was Masterson who came away with the complete-game, 1-0 victory.
A fourth straight loss for the White Sox (4-6) came in the walk-off variety, as Nick Swisher's two-out single to right off of Jesse Crain (0-1) stayed just fair down the line, scoring Michael Bourn and setting off a celebration that might have been done to stay warm as much as to revel in the victory.
And while there were a few chances missed on this night by the White Sox, who are 9-for-62 hitting this season with runners in scoring position, all of the credit in the visitors' locker room went to Masterson (3-0).
"That's as good as I think I have ever seen him, just looking at the swings and how guys were reacting to stuff," White Sox manager Robin Ventura said. "He was great, and that's the story. His ball was moving all over the place."
"I was saying that on the bench after my first at-bat; I haven't seen very much, but that's by far the best I've ever seen him," White Sox first baseman Adam Dunn said. "He pitched good against us last time out. But he was throwing strikes, pitching to both sides of the plate."
Masterson yielded five hits over 113 pitches, striking out seven, walking just one and setting his career high by working into a 19th consecutive scoreless inning. But it was No. 18 that represented Masterson's greatest escape act of the night.
Conor Gillaspie, who had two of the five hits, doubled to left-center to open the eighth. Alexei Ramirez was called upon to bunt, but after fouling off the first attempt, he popped up the next one to catcher Yan Gomez. Hector Gimenez moved Gillaspie to third with a groundout to second, but Masterson struck out Alejandro De Aza swinging to end the threat.
"He had a base hit before, but you know [Masterson is] going to be running sinkers inside," said Ventura of calling on Ramirez to bunt. "You're not playing for multiple runs. You just need to get somebody on third and have a chance to get someone in there. It just didn't happen."
"Our problem is we're not getting a big hit to drive a run in," Dunn said. "It seems like it's been like that from the get-go. I know personally I've been terrible. I've had a lot of opportunities to open some games up but haven't been able to do it."
Quintana gave the South Siders a needed boost, marking the group's return to the American League after Washington's Interleague sweep and Quintana's first start since last Friday. The White Sox moved Dylan Axelrod up one day to face the Nationals, meaning Quintana got to match up against a team that he has now allowed two earned runs over 19 1/3 career innings.
Cleveland (4-5) managed just one hit in seven innings and 98 pitches off of the southpaw, a no-doubt-about-it double from Michael Brantley with two outs in the second. He was the only Indians baserunner to reach second off of Quintana, and Swisher, who got hit by a pitch with two outs in the fourth, was the only other Indians hitter to reach base against him.
"That's kind of the first time that I've really seen him in a starting role," said Swisher of Quintana, who fanned seven and was supported by two great running catches apiece form left fielder Dayan Viciedo and right fielder Alex Rios. "He was using his cutter, backdoor cutter, and using his changeup effectively. He was using his breaking balls well -- really mixing and matching. Him and the catcher were really on point tonight."
"It was very important," said Quintana through translator and White Sox coach Lino Diaz, referring to saving the bullpen. "I even thought about it early in the day, thinking I need to get a lot of innings. Thankfully everything worked out that way. I feel good about the day."
Paul Konerko's double off the left-field wall with two outs in the seventh represented the first White Sox baserunner to reach second against Masterson, but Konerko was stranded when Viciedo struck out. After the eighth-inning failure, the game was set up in the ninth for Swisher, the ex-White Sox outfielder.
Ventura had come out to talk to Crain before Jason Kipnis stepped to the plate with Bourn on third following his double, basically telling the right-hander to be aggressive and make his pitches, but not necessarily pick between Kipnis and Swisher. Crain threw three sliders outside the zone to Kipnis before intentionally walking him, and Swisher hit the next pitch to give Masterson the minimal but deserved support he needed.
"Tonight it was all his doing," Dunn said of Masterson.
"Someone was going to have to score to win that game," Crain said. "Unfortunately it came for them."
"In a situation like that, man, it felt like it was 20 degrees out there tonight, so you're not really trying to do too much," Swisher said. "Especially in that spot, it would've been a shame for us not to go out and give Masty that win that he deserved."
Scott Merkin is a reporter for MLB.com. Read his blog, Merk's Works, and follow him on Twitter @scottmerkin. This story was not subject to the approval of Major League Baseball or its clubs.