Masterson superb, rewarded by Swish walk-off hit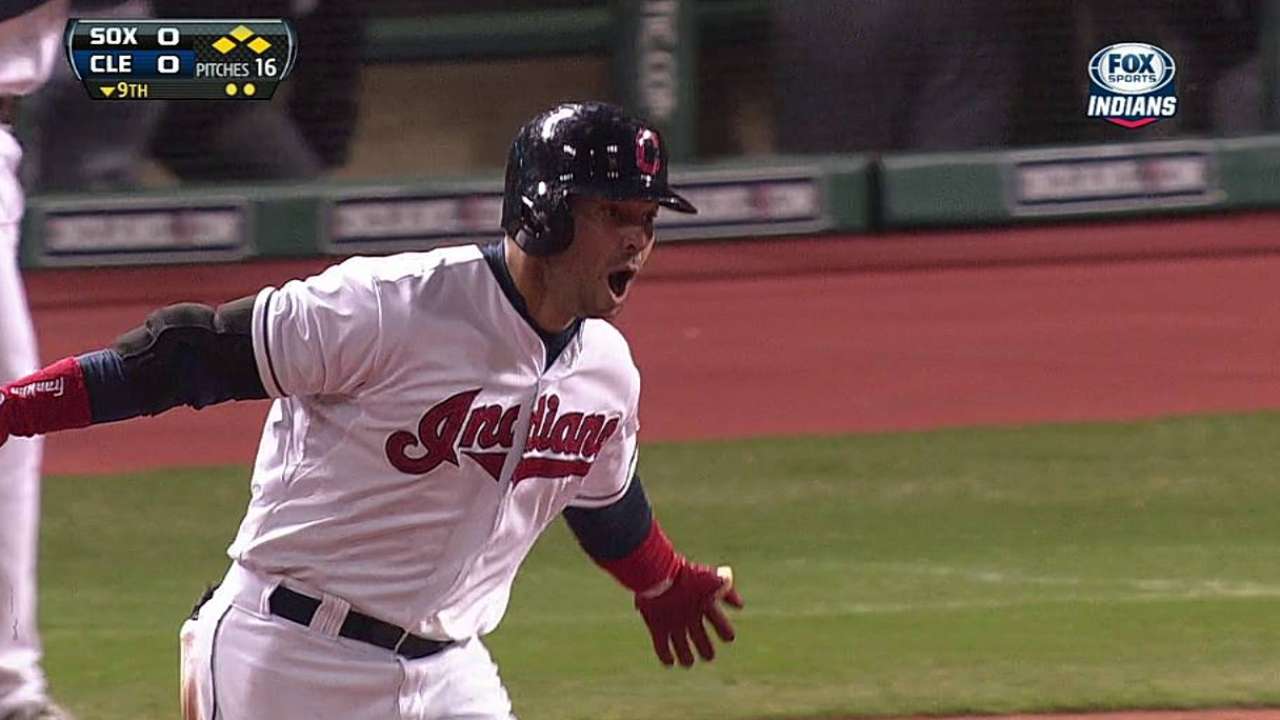 CLEVELAND -- Nick Swisher stuck out his tongue, spread out his arms and soared up the first-base line as the Progressive Field crowd roared. His single into right field made the Indians walk-off winners Friday night, bringing a happy ending to a cold night.
It was a prophetic base hit for the Tribe's biggest free-agent signing of the winter. Before his single gave the Indians a 1-0 victory over the White Sox, Swisher told Justin Masterson he would not let the pitcher's complete-game masterpiece go to waste.
"Swish told me he was going to do it," Masterson said. "And he went out there in the ninth and hit that game-winner for us."
Swisher provided the final exclamation point, but it was Masterson who deserved the spotlight after a tightly contested duel with White Sox lefty Jose Quintana.
True to his nature, Masterson did not credit himself much for his swift shutout of Cleveland's American League Central rivals. Instead, the preacher's son praised the Lord for giving him the breath of life, and then praised left fielder Michael Brantley for throwing out Alex Rios at second base in the first inning, when Chicago's right fielder caved to temptation and tried to turn a single into a double.
Masterson lauded the work of his catcher, Yan Gomes, and named just about every infielder, given their part in helping create 14 outs via ground balls.
Masterson left it to others to celebrate his stellar performance.
"I could say all you want me to," Indians manager Terry Francona said. "He threw an obscene amount of strikes. The two-seamer had some depth to it -- a lot of depth to it. The four-seamer had some ride and life. His breaking ball was very good, and he's attacking the zone. He's quick to the plate when a runner gets on. It was fun to watch."
It was less fun to stand in the batter's box, especially when facing a hard sinker on a frigid night.
"I'm glad I'm on this side, bro," Swisher said with a laugh.
Masterson scattered five hits in his 113-pitch effort, which included 81 strikes. The big right-hander ended the evening with seven strikeouts and only one walk issued -- a two-out free pass to Alejandro De Aza in the sixth that was rendered moot when Jeff Keppinger followed with a groundout.
Paul Konerko doubled off Masterson with two outs in the seventh, but Masterson struck out Dayan Viciedo to end the threat. One frame later, Conor Gillaspie led off with a two-base hit, but Cleveland's starter cruised along unfazed. That squandered chance for Chicago began with a popout on a bunt attempt from Alexei Ramirez and ended with the stadium's erupting after Masterson struck out De Aza.
"Masterson today, that's as good as I think I have ever seen him," White Sox manager Robin Ventura said. "He was great today, and that's the story. He was great. His ball was moving all over the place. Just looking at the swings and how guys were reacting to stuff, this was as good as I've seen him."
With his nine shutout frames, Masterson (0.41 ERA on the year) established a career best with 19 consecutive shutout innings. With the win, it marked the fifth time in the past nine seasons that a Cleveland pitcher began the season with a 3-0 record.
"It would've been a shame for us not to go out and give Masty that win that he deserved," Swisher said.
It has been a promising opening act for Masterson, who went 11-15 with a 4.93 ERA for the Indians in 2012.
"I know what happened last year," said Francona, who is in his first season managing the Tribe. "But whenever I've seen Masty in a Cleveland uniform, that's what I've seen. Whenever we faced him, it was the 95 [mph] with some ride. Right now, though, he's just throwing everything, and it's for strikes."
Brantley provided Cleveland with its lone hit against Quintana in his seven frames. In the second, Brantley doubled to center field with two outs, but the Chicago lefty -- already a thorn in the Tribe's side in his young career -- followed with a strikeout of Gomes to escape.
Swisher was hit by a pitch from Quintana with two outs in the fourth inning, but the lefty forced Mark Reynolds to ground out to wriggle free of another jam. Quintana, who now has a 0.95 ERA in his career against the Indians, cruised for the rest of his outing. The lefty ended with only one hit allowed and seven strikeouts, including three straight to open his seven-inning performance.
"He's got the little cutter in to righties," Francona said. "He was really commanding arm side with his fastball. And then he started getting comfortable, and he started flipping that breaking ball in on hitter's counts. He pitched a really good game."
The Tribe's final push came with reliever Jesse Crain on the hill.
Michael Bourn slashed a pitch down the left-field line for a one-out double to jumpstart the Indians' ninth. Two batters later, with Bourn standing on third base, second baseman Jason Kipnis refused to offer at a string of breaking pitches from Crain, who eventually opted for an intentional walk upon reaching a 3-0 count.
"I was so proud of that at-bat," Swisher said of Kipnis' effort. "In a situation like that, you know you're not going to get the best pitches to hit, and he really showed a lot of maturity in that spot."
Swisher was next, and he chose a more aggressive approach.
On the first pitch, Swisher yanked a fastball from Crain down the right-field line, where it dropped just fair. Bourn sprinted across the plate and then made a beeline for Swisher, who was being mobbed by Kipnis and other teammates. The mob grew, and bounced, and moved with its series of high fives, bear hugs and chest bumps.
"I ended up in right field," Swisher beamed. "I don't know how that happened."
The Indians were glad it did.
"Huge win for us," Swisher said. "Just awesome amazingness."
Jordan Bastian is a reporter for MLB.com. Read his blog, Major League Bastian, and follow him on Twitter @MLBastian. This story was not subject to the approval of Major League Baseball or its clubs.