Utley's triple in the 10th boosts Phillies past Marlins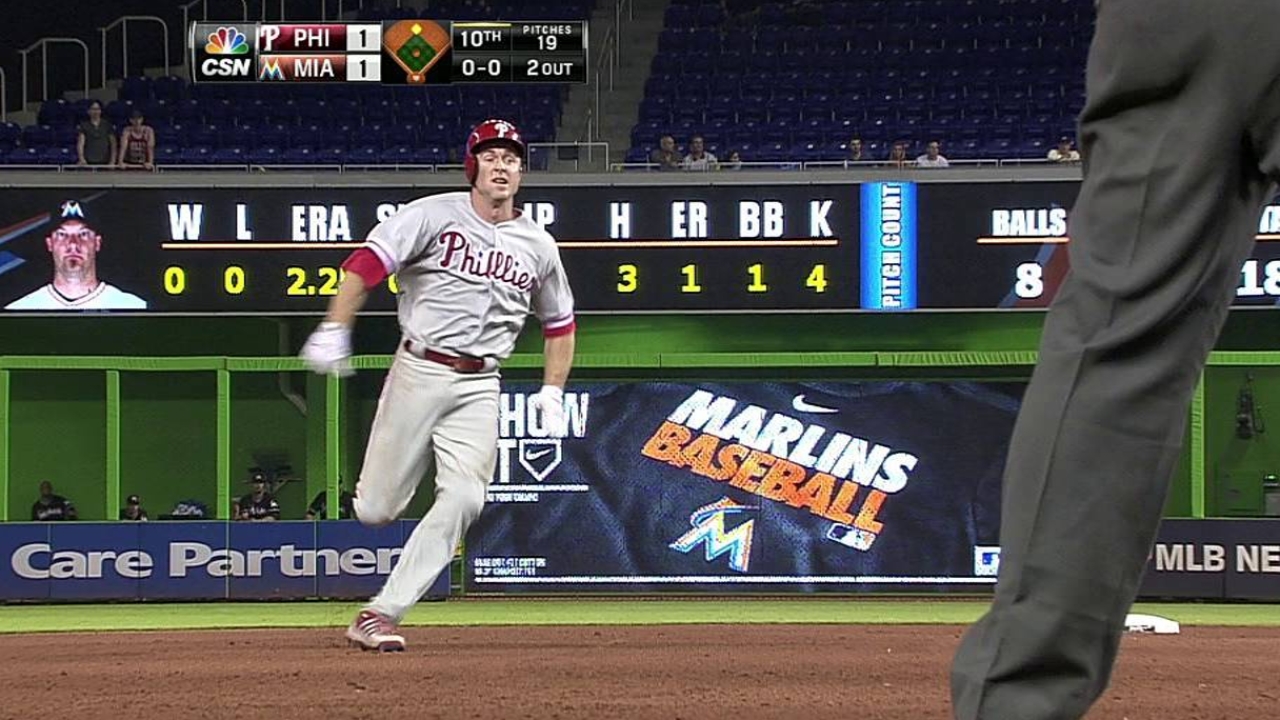 MIAMI -- Chase Utley is not one to make bold predictions about the future.
Leave those to Jimmy Rollins.
But Utley shared his optimism following Friday's 3-1 victory over the Miami Marlins in 10 innings at Marlins Park.
"I think it's going to be a fun summer," Utley said.
Utley could have a big hand in that. He helped the Phillies improve to 5-5 when he ripped a 3-2 changeup from Marlins right-hander Jon Rauch into the right-field corner for a two-out triple to score Ben Revere to give the Phillies a one-run lead in the 10th. Utley, who started each of the previous two seasons on the disabled list because of knee problems, is healthy and hitting .316 (12-for-38) with two doubles, two triples, two home runs and 10 RBIs in 10 games.
He has reached base safely in every game this season, and Friday was his second game-winning RBI.
"This is just what I've seen from the other side for so many years," said Phillies left-hander John Lannan, who allowed three hits, one run, one walk and struck out two in six innings. "He did have that [knee] injury. When you're playing hurt, it's hard, you know? But now that he's seems to be healthy he's back to the Chase that's kind of wreaked havoc during my games against the Phillies. It's good to be on this side of it now."
"Obviously, there is always room for improvement," Utley said. "But, yeah, I'm pleased that I've started the season, that's for sure. I think we're starting to play better baseball. In the last few games I think we're swinging the bats better. The weather is warming up. … I like our squad. We've improved offensively and our pitching is good. I think we'll continue to improve on all that."
Utley not only came up with the big hit, but he helped turn a critical double play in the eighth inning. The Marlins had runners on the corners with one out, but Donovan Solano hit a hard grounder to Utley, who flipped the ball to Rollins to begin the inning-ending double play.
"Solano, he can run a little bit," Utley said. "We were playing in a little bit. If something hard is hit at us, we were going to turn a double play. If it wasn't hit that hard, we were probably going to take a shot at the plate. Luckily enough, it was hit right at me. I was able to give Jimmy a decent feed and he was able to turn it."
The Marlins also had a runner on first with one out in the ninth, but Greg Dobbs hit a grounder to Rollins, who stepped on the bag and threw to first to end the inning.
Those double plays kept the game tied, giving the Phillies' offense a chance to redeem itself.
The Phillies were 2-for-12 with runners in scoring position entering the 10th inning. They scored their first run in the sixth when Domonic Brown doubled to left field to score Ryan Howard from third to give them a 1-0 lead. Otherwise, they came up empty, keeping the hapless Marlins in the game.
The Marlins had scored just 16 runs in their first nine games, and then just minutes before the game scratched slugger Giancarlo Stanton from the lineup because of a sore left shoulder.
That certainly didn't hurt the Phillies' chances.
"He's a great hitter," said Lannan, who has a 2.77 ERA and two quality starts through two outings. "That's the one guy, if he's in there, you kind of have to really pitch around. He's just a really good hitter, so when I saw that it kind of changed my approach."
But the Marlins tied the game in the bottom of the sixth, when Lannan hit Juan Pierre with a pitch. Pierre reached second when Rollins could not handle a ground ball from Solano. He scored on Placido Polanco's single to left.
The Phillies bullpen did an excellent job. Antonio Bastardo, Mike Adams and Phillippe Aumont threw a combined three scoreless innings to send the game to extra innings, when Utley came through with his heroics. Jonathan Papelbon then picked up his second save.
"Revere wasn't supposed to get on base and I let my team down," Rauch said. "Plain and simple."
Rauch shouldn't feel so bad. Utley has done that to plenty of pitchers in the past, just not as much over the previous two seasons.
"That hit tonight at the end there put him up on the totem pole," Phillies manager Charlie Manuel said about Utley. "He smoked it, really. He's played good. Of course, we need him. We need him to have a big season."
Todd Zolecki is a reporter for MLB.com. This story was not subject to the approval of Major League Baseball or its clubs.