Darvish solid, but remains winless at Safeco
Allows three runs over six innings as countryman Iwakuma gets win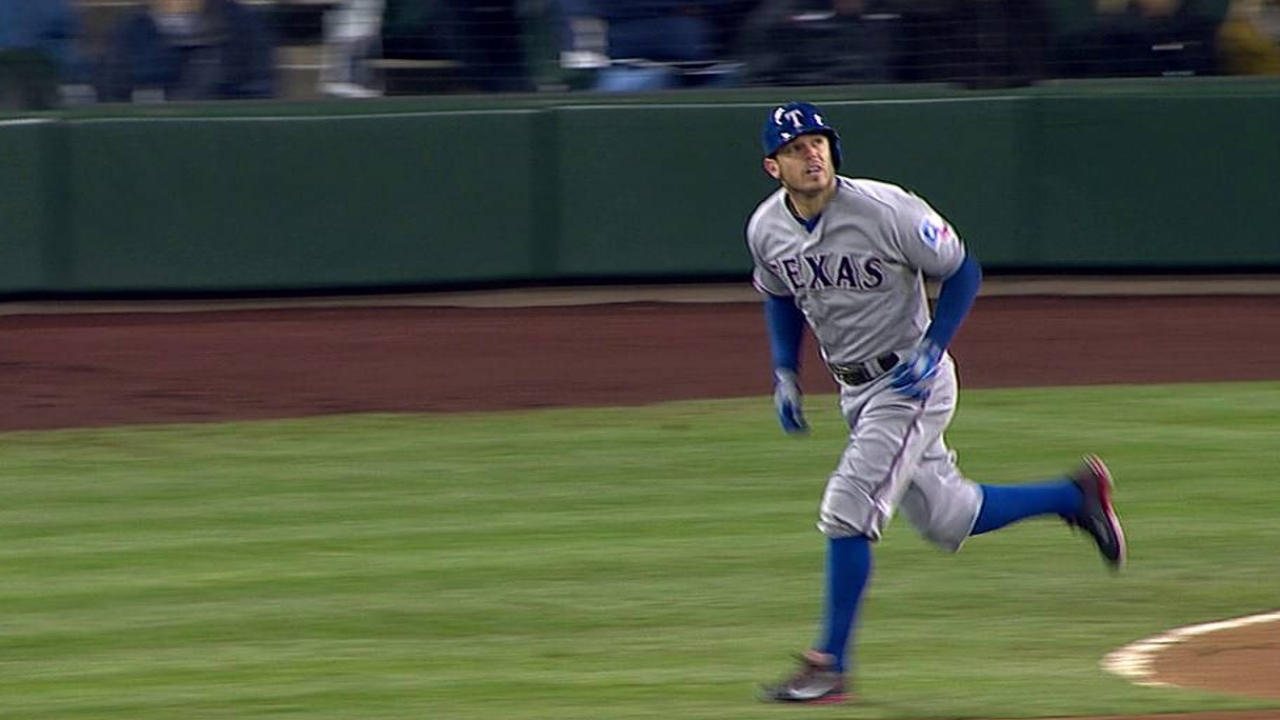 SEATTLE -- Yu Darvish just did not feel right on a cold Friday night in the Pacific Northwest. He said it had nothing to do with the weather, or a blister on his right ring finger.
The main thing was that Darvish had no command of his fastball. And by the time he started going to his other pitches, the Rangers were already three runs down.
That was more than enough for Mariners pitcher Hisashi Iwakuma. With the help of three relievers, Iwakuma beat his countryman in the 10th meeting ever of Japanese starters in the Major Leagues, pitching the Mariners to a 3-1 victory over the Rangers at Safeco Field.
Darvish gave up three runs in the first inning and the Rangers were never able to overcome that deficit. They had just six hits, including a fourth-inning home run by Ian Kinsler, and were 0-for-6 with runners in scoring position.
"It was not really the weather," Darvish said. "I didn't feel right my last outing and it carried over tonight. I was able to keep us in the game and that's good."
Darvish just missed throwing a perfect game in his first start against the Astros, but there has been no such suspense in his last two outings. He allowed two runs in the first inning against the Angels last Sunday and three in the opening frame against the Mariners on Friday.
"I just didn't have my stuff today," Darvish said.
Darvish abandoned the fastball after the first inning and relied on his vast array of breaking pitches to get through six innings. That part was pretty effective. Darvish did not allow a hit after the first inning, retiring the last 12 batters he faced.
"It was disappointing we lost the game, but I was able to do my job," said Darvish, who is now 0-3 with a 7.71 ERA in three career starts at Safeco Field.
"After the first inning, we didn't get a whole lot going," said Mariners outfielder Jason Bay, whom Darvish hit twice with pitches. "He was struggling with his fastball command, so he went with a lot of breaking balls. And the tough part with him is he's got a couple kinds of breaking balls and they're all good. It puts you in a tough spot. So it wasn't a surprise, but when it's in the zone, it's good."
Darvish struck out eight and threw 109 pitches, an indication that he had no trouble with his blister.
"His finger held up well," manager Ron Washington said after the game. "It's the same now as when he started. It didn't come into play."
Iwakuma, who allowed one run in 6 2/3 innings, is the one who had to come out of the game because of a blister on his middle finger. But that didn't seem to affect him either, as he allowed just three hits and a walk while striking out six.
"He was good tonight," Rangers designated hitter Lance Berkman said. "He had it going. He was throwing right to the corners of the strike zone. He had a good split working. I might have counted three splits that stayed up. Everything else was down in the zone and then out. He really threw a great game."
This is the second time that Darvish and Iwakuma faced each other. Darvish beat him last year in Arlington.
"I knew from the very beginning it was going to be a pitchers' game," Iwakuma said. "Knowing he's on the mound on the other side is always exciting, because he's a good pitcher."
Darvish started the game by getting Endy Chavez on a liner to right but then hit Bay with a pitch. Singles by Kendrys Morales and Raul Ibanez resulted in one run and, after Justin Smoak flied out, Kyle Seager grounded a double down the first-base line to bring home two more.
"He just had trouble with his command, mainly his fastball," Washington said. "He came back and put five zeroes on the board, but he just had trouble getting started early."
That's two games in a row Darvish has had that problem. The Rangers aren't sure when his next outing will be. If they stay in rotation, he's scheduled to pitch Thursday against the Cubs in Wrigley Field. But they have an off-day on Monday and that would allow them to push Darvish back a couple of days off.
They were originally considering that because of the blister. Now, it may be prudent to give Darvish time to figure out why he doesn't feel quite right and what has happened with his fastball.
"I know what the reason is," Darvish said without elaborating. "It will take a little while to make the adjustment, but I think I'll be ready for my next start."
T.R. Sullivan is a reporter for MLB.com. Read his blog, Postcards from Elysian Fields, and follow him on Twitter @Sullivan_Ranger. This story was not subject to the approval of Major League Baseball or its clubs.