Iwakuma tops Darvish in Mariners' victory
Allows one run in 6 2/3 innings in 10th meeting of Japanese starters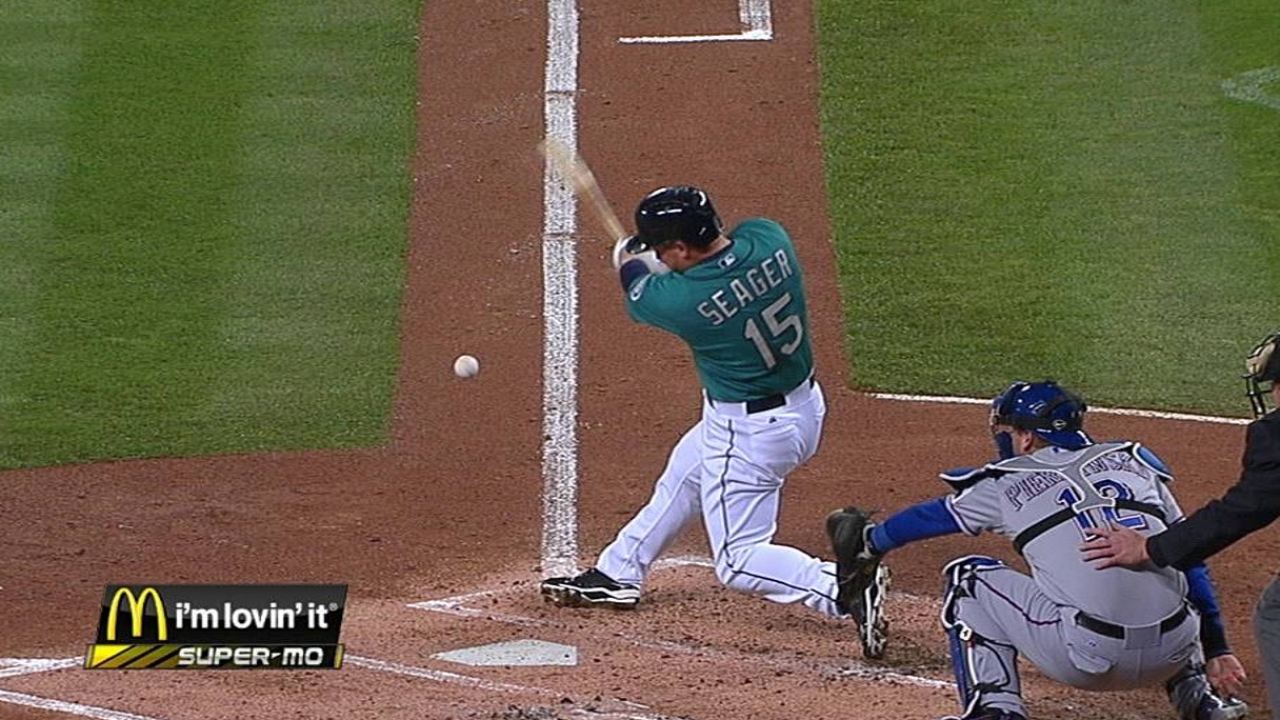 SEATTLE -- Hisashi Iwakuma outdueled Japanese countryman Yu Darvish on Friday as the Mariners snapped a three-game losing streak with a 3-1 victory over the Rangers at a chilly Safeco Field.
Iwakuma celebrated his 32nd birthday with 6 2/3 strong innings, allowing just one run on three hits as he improved to 2-0 with a 2.18 ERA in three starts.
"This was a big game," Iwakuma said through translator Antony Suzuki. "Obviously, we were on a losing streak and I wanted to stop that streak. And beyond that, I got to face Darvish, too, so it was very exciting. That was a very big win for us."
Iwakuma and Darvish had faced each other six times in Japan, but this was just their second meeting in the U.S., with Darvish winning the prior meeting last September in Texas. It was only the 10th meeting in Major League history between pitchers from Japan.
Darvish allowed just three hits in six innings himself, but all three came in a three-run first as the Mariners jumped to the early lead in front of 15,029 fans on a 46-degree night.
Kyle Seager led the Mariners with 86 RBIs last year, but had just one in the first 11 games before ripping a two-run double down the first-base line to highlight Seattle's quick outburst.
Seager is now 5-for-13 with seven RBIs against Darvish, who is 0-3 with a 7.71 ERA in three Safeco Field appearances since signing with the Rangers last year. Darvish has now allowed three or more runs in an inning 10 times in his Major League career and four of those have come against the Mariners.
"After the first inning, we didn't get a whole lot going," said Mariners right fielder Jason Bay. "He was struggling with his fastball command, so he went with a lot of breaking balls. And the tough part with him is he's got a couple kinds of breaking balls and they're all good. It puts you in a tough spot.
"Fortunately for us, a lot of the talk was about Darvish, but our Japanese pitcher was pretty good, too."
Darvish, who was one out shy of a perfect game in his 2013 debut against Houston, was far from perfect on this night. The 26-year-old right-hander hit Bay in the back with a pitch as the second batter of the game and the Mariners then jumped on him for three runs, with Raul Ibanez's RBI single preceding Seager's two-run double.
Darvish hit Bay again in the third.
"Flesh wounds," said Bay. "I've got a lot of padding in the butt."
Iwakuma was the one flirting briefly with perfection this time, as he zipped through the first three frames. Second baseman Ian Kinsler ended all that with a leadoff homer in the fourth on a fly ball that just sailed over the glove of a leaping Ibanez at the left-field wall.
Kinsler's blow was one of the first homers on this homestand that wouldn't have been a home run last season in the ballpark's larger dimensions, clearing the eight-foot fence where the 16-foot-high manual scoreboard used to reside.
"It is what it is, but I have to keep the ball down and that ball was up," Iwakuma said. "So I paid the price for it."
When Iwakuma walked Mitch Moreland in the fifth, it ended a streak of 18 innings without a walk to start the season. That is the second-longest streak to start a season in Mariners history, behind only the 22 1/3 innings by Cliff Lee in 2010.
But Iwakuma didn't allow another run, stranding Kinsler at third in the sixth with some excellent pitching, before manager Eric Wedge replaced him with two outs and the bases empty in the seventh as he reached 90 pitches.
Wedge said a blister on the middle finger of Iwakuma's pitching hand was a primary reason for his departure at that point. Iwakuma acknowledged the problem, but said he expected to be fine for his next start.
The Rangers didn't see any issues from their vantage point.
"He was good tonight," designated hitter Lance Berkman said after an 0-for-4 night with two of Iwakuma's six strikeouts. "He had it going. He was throwing right to the corners of the strike zone. He had a good split working. I might have counted three splits that stayed up. Everything else was down in the zone and then out. He really threw a great game."
Catcher Kelly Shoppach said Iwakuma's fastball and splitter were so effective that he never even got to the right-hander's off-speed pitch.
"We didn't even use his curveball," said Shoppach. "I couldn't find a spot to use it, everything else was so good. I'd be looking in the dugout to see who was coming up each inning, who's a possible guy to use that, just to show them something else. But the way he commanded every pitch to both sides of the plate was pretty special."
Charlie Furbush replaced Iwakuma with two out in the seventh and gave up a single to A.J. Pierzynski and walked Moreland, but Stephen Pryor came on to strike out pinch-hitter Craig Gentry on a 97 mph heater.
The Rangers threatened again with two singles in the eighth off Pryor, but the young right-hander got David Murphy to fly out to center to end that threat before Tom Wilhelmsen came on for his fourth save with a 1-2-3 ninth.
Wilhelmsen was mostly pleased to preserve the win for Iwakuma.
"He's outstanding. He's amazing," Wilhelmsen said. "To do it against a team like that, on his birthday, I couldn't be happier for him. He got us off the losing streak and hopefully we can get something rolling."
Greg Johns is a reporter for MLB.com. Follow him on Twitter @GregJohnsMLB as well as his Mariners Musings blog. This story was not subject to the approval of Major League Baseball or its clubs.