Phillips smashes two homers, but Reds fall to Bucs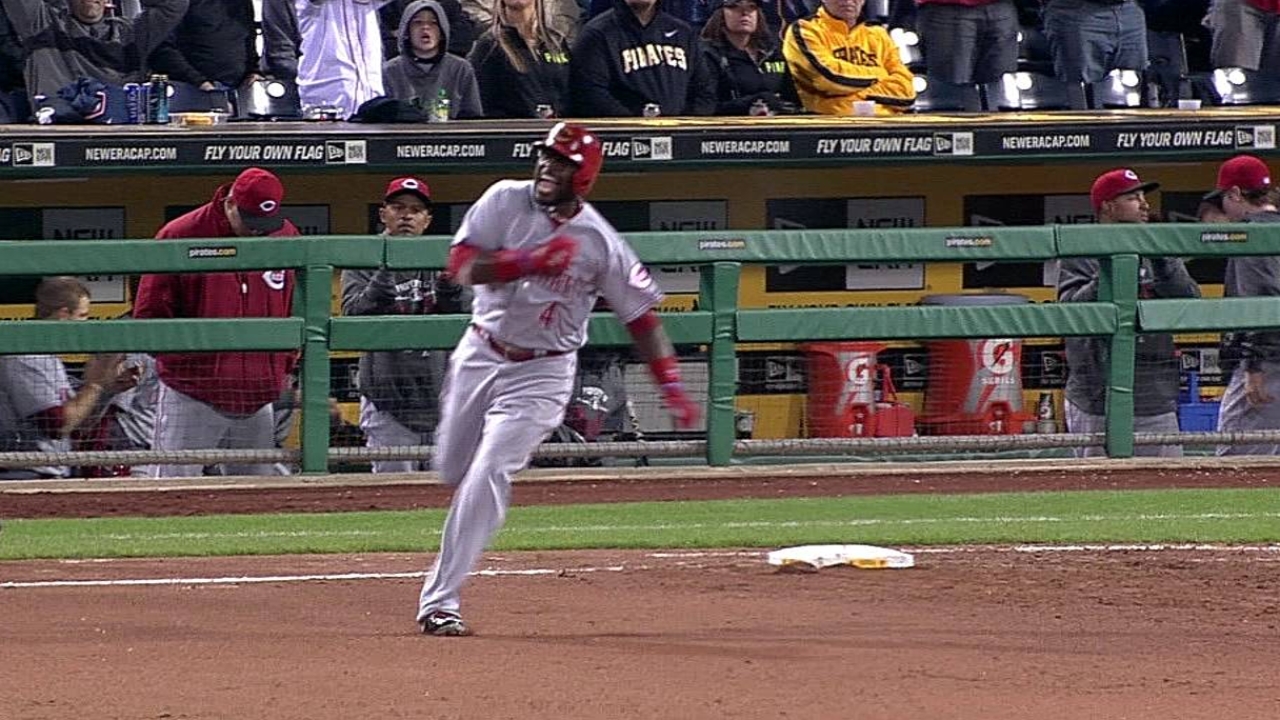 PITTSBURGH -- The Reds staged a late-inning rally, but Andrew McCutchen snuffed out the comeback as he stroked a leadoff home run in the bottom of the seventh inning, lifting the Pirates to a 6-5 win on Friday night at PNC Park in front of 24,366 fans.
"It's not like he gave up the home run to a slouch," Reds manager Dusty Baker said. "This guy is one of the best players in the league, and we had chances to come back late, so it's a little deflating, but you can't get deflated in the seventh. You've got to come back in the eighth and ninth, and we've got to put that behind us. We came back once and we were coming back again and we had action. We didn't stop. We were one hit away from tying that game up."
The Reds had tied up the score in the seventh on Brandon Phillips' second home run, but right-hander J.J. Hoover surrendered the game-winning blast to McCutchen, his second home run of the season. Hoover was tagged with the loss, falling to 0-3.
"It seems like he's making that one mistake out over the plate, and they are not missing," Baker said. "When you're not going good, that happens, and when you are going good, they pop those balls up and hit them on the ground, but they are not missing. Like I said, he gave it up to one of the best players in this league. He doesn't like it, but if you're going to give it up, give it up to the best."
McCutchen was patient enough to get good wood on Hoover's pitch.
"I was able to stay on it, and get it up," McCutchen said. "I know if I get myself in a hit position, I know am able to hit whatever pitch that may come. Just using my hands. All I'm trying to do, be ready to hit. I was able to get a good pitch and ride it out."
Pirates right-hander Tony Watson was nursing a two-run lead in the seventh inning when Phillips smacked the tying home run. It marked the 10th time in his career that he has hit two home runs in a game. Despite giving up the Phillips clout, Watson wound up getting the win.
After giving up five runs on 10 hits in six innings of work, Mike Leake got a no-decision.
"They put me in battle mode right away, unfortunately," Leake said. "Luckily, right before it was too late, I was able to kind of gather some things together and fight them off for a few more innings."
The first in a stretch of 20 straight games for the Reds, Leake did a good job of saving the bullpen.
"It was getting there, and one more hitter and we would have probably had to go to the bullpen, which you didn't want to," Baker said. "But Leake settled down and you take away that four-run inning, he pitched an outstanding ballgame, and he battled back, and he was throwing strikes and throwing double plays and throwing ground balls like he had hoped to start out with. We didn't win the game, but he saved our bullpen, and that's a big thing right now."
The Pirates got a solid outing from right-hander A.J. Burnett, who tossed six innings and allowed three runs on six hits. Burnett notched eight strikeouts and he left with a two-run lead, but he also got a no-decision.
"Burnett's pitch count got extremely high for him," Baker said. "I figured if we got another big inning, we could have him out by the sixth or seventh, which is to our advantage, and try and get in their middle relief. He can pitch, and he can pitch without his best stuff."
The Pirates jumped on Leake in the bottom of the first inning. Starling Marte led off with a single and stole second base. Neil Walker drew a base on balls. With one out, Marte was cut down at the plate on a fielder's choice ground-ball hit by Garrett Jones. Walker scored on a two-out RBI single by Russell Martin. The first RBI of the season by Martin gave Pittsburgh a 1-0 lead.
The Reds came right back in the second inning when Phillips deposited an 0-1 offering from Burnett into the center-field bullpen. It was Phillips' third home run of the season, and it tied the score.
Leake ran into trouble in the second inning. Travis Snider singled and went to second on a passed ball. Clint Barmes lofted a soft single to center. Burnett sacrificed, putting runners at second and third. Marte was hit by a pitch to load the bases. Walker laced a two-run single to center, and McCutchen followed with a two-run single down the left-field line. When the smoke cleared, the Pirates had plated four runs and had a 5-1 lead.
The Reds nicked Burnett for a run in the fourth inning, slicing the lead to 5-2. Jay Bruce and Jack Hannahan stroked back-to-back singles and Bruce scored on a groundout by Devin Mesoraco.
The Reds cut it to 5-3 in the top of the sixth inning. Hannahan singled and came around to score on a two-out double by Mesoraco.
Pittsburgh's bullpen shut the Reds down in the eighth and ninth innings. Right-hander Mark Melancon pitched a scoreless eighth and closer Jason Grilli tossed a scoreless ninth to pick up save number four.
George Von Benko is a contributor to MLB.com. This story was not subject to the approval of Major League Baseball or its clubs.