A's walk off in 12th for ninth straight win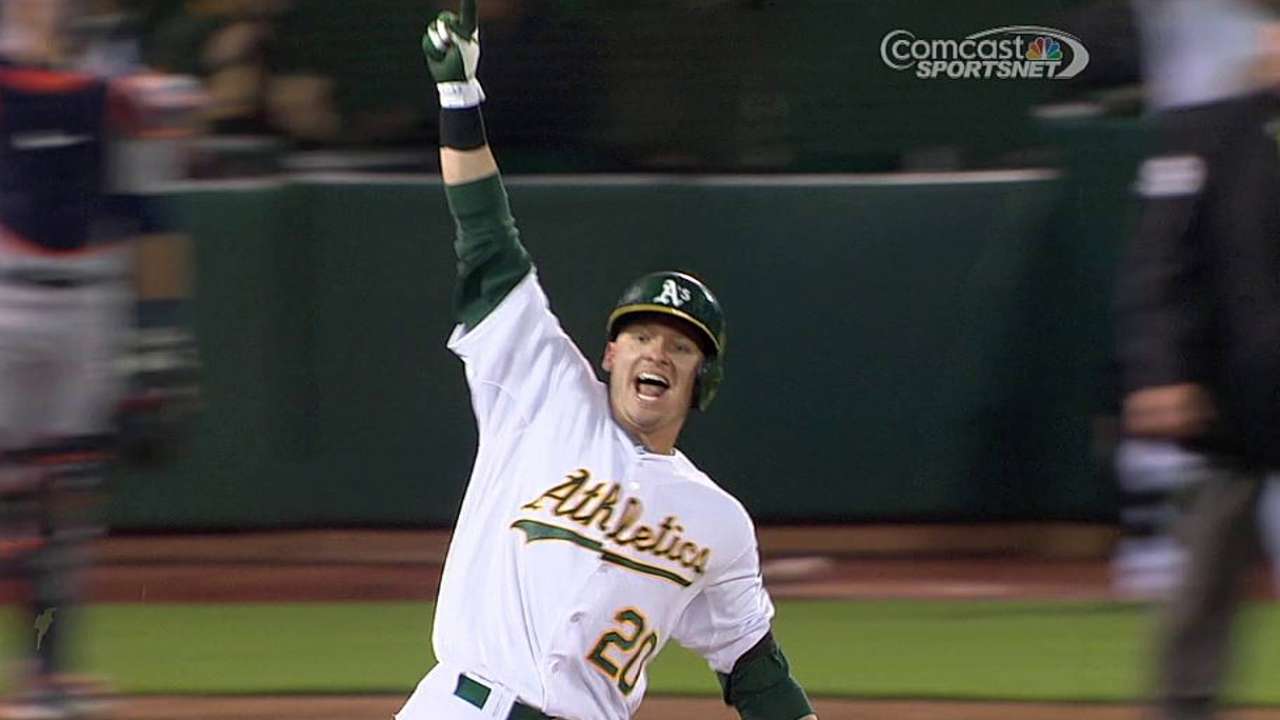 OAKLAND -- Josh Donaldson was a little bit nervous after his homer secured the Oakland Athletics' ninth straight win on Friday night. After all, it was his first Major League walk-off hit and he knew the pie was coming.
Donaldson, who scored the tying run in the seventh, went deep in the 12th inning to lift Oakland over the Detroit Tigers, 4-3.
"The streak is a streak, and I don't care about it," Donaldson said. "We're just trying to win the one game in front of us."
The nine-game winning streak, which began after a 0-2 start to the season, is the 14th streak of nine or more games in Oakland history.
"I was kind of nervous. I didn't know when the pie was going to come," said Donaldson, the latest Athletics player to receive the special treatment from Josh Reddick.
Donaldson hit a fastball from Brayan Villarreal into the right-field bleachers. The ball just cleared the fence.
"I didn't know if it was going out," the right-handed hitter said. "I've never hit one there. I was looking for a fastball. He throws pretty hard and I didn't want to be too aggressive."
Coco Crisp, a multiple-pie receiver, singled home the tying run in the seventh but had to leave the game after the ninth with a strained left groin.
Oakland reliever Chris Resop got one out in the 12th and earned his first win.
Bartolo Colon pitched seven strong innings, allowing only Prince Fielder's three-run homer in the third to mar an otherwise solid effort. He gave up eight hits, struck out five and did not walk a batter.
"The whole game I felt good except for that one inning," Colon said. "I was supposed to throw it to a different spot and I didn't get it there."
Fielder went 4-for-5, falling a triple shy of the cycle.
"It wasn't like we walked somebody," Tigers manager Jim Leyland said. "[Donaldson] hit it over the fence. You gotta tip your cap."
Colon retired seven of the final eight batters he faced, giving the A's the chance to erase an early deficit.
Tigers starter Max Scherzer allowed five hits over six innings, giving up two runs while walking one and striking out 11.
"Max pitched extremely well," Leyland said. "He was good. We just didn't add on."
A's relievers combined to throw five scoreless innings, allowing four hits with no walks and three strikeouts.
"We've seen it before," A's manager Bob Melvin said. "We feel like when we tied the game, we have a bullpen that can hold them down."
Eric Sogard doubled to open the third, stole third and scored when Scherzer threw the ball away trying to get him at third, making it 3-1.
Jed Lowrie opened the sixth with a double and Reddick followed with an RBI single to bring the A's within one. It was Reddick's first game since he injured his right wrist in Houston on Sunday.
Donaldson doubled to lead off the seventh to set up Crisp's game-tying hit.
"I've experienced a lot of magic, and I've always been the guy leading up to it," Donaldson said. "I feel like in a pressure situation, the best comes out of me."
Crisp has hit safely in each of the nine wins, hitting .390 (16-for-41) over that span. Lowrie has reached base in all 11 games this season.
Both Crisp (strained left groin) and Yoenis Cespedes (sore left hand) had to leave the game, forcing Melvin to abandon the designated hitter. Donaldson made sure a pitcher wouldn't have to hit.
"We lose two of our better players and we still go out with the idea of winning," Melvin said. "It doesn't matter who is on the field."
Rick Eymer is a contributor to MLB.com. This story was not subject to the approval of Major League Baseball or its clubs.