Tigers open West Coast swing with loss in extras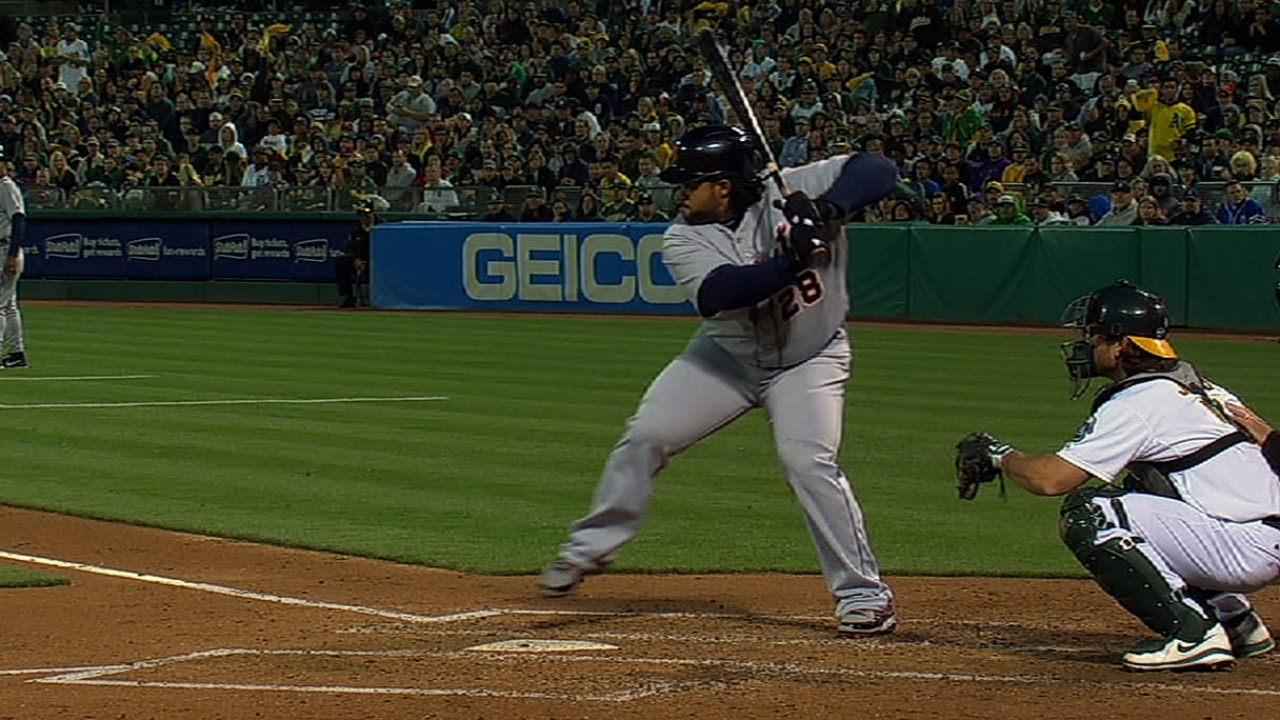 OAKLAND -- The West Coast may be drier and sunnier, but it is no more friendly
The Tigers learned that the hard way Friday night as they watched the Oakland A's come back from a three-run deficit to win, 4-3, as Josh Donaldson hit a home run in the 12th inning to extend the Oakland winning streak to nine games. It was Donaldson's first career walk-off hit.
"We got no complaints about that," manager Jim Leyland said. "The guy hit the ball over the fence. It wasn't like we walked somebody. The guy hit it over the fence. You gotta tip your hat to them."
Tigers reliever Brayan Villarreal started the 12th inning for the Tigers (5-5), and with one out on a 1-0 fastball, surrendered the line-drive shot, close to the right-field foul pole and 330-foot mark. Villarreal (0-2) took the loss, while A's reliever Chris Resop (1-0), who recorded one out, notched the win.
"I was looking for a fastball," Donaldson said. "He throws pretty hard. I didn't want to be overaggressive. ... I didn't know it was out because I never hit one over there."
Detroit just missed out on its own solo home run a half-inning earlier. Ramon Santiago faced reliever Jerry Blevins with two outs and on the first pitch knocked a slider to deep left-center, hitting near the top of the out-of-town scoreboard for a triple. Blevins exited, Austin Jackson worked the righty reliever Resop to a full count but flied out to center.
"It just happens," Tigers starting pitcher Max Scherzer said of Santiago's near-homer. "Baseball. That's why you play 162. I was watching the game. We were hitting some balls hard at people. [Santiago] hits it four inches away from a home run. That's just the way it goes sometimes. We played hard tonight. That's what you hang your hat on."
Though Scherzer said he didn't have the best command of his breaking pitches, he rebounded after a shaky first start striking out 11 while throwing 100 pitches (65 strikes) in six innings. He allowing five hits and one walk. Despite not getting a decision, he lowered his ERA from 7.20 to 4.91. Tigers pitchers totaled 17 strikeouts.
"I just didn't have good command of all my stuff tonight," Scherzer said. "When need be, I did execute in full counts and with runners on base. I was able to use my changeup."
When the going got tough, Scherzer just struck out the A's (9-2). With the Tigers leading 3-1 in the sixth, Jed Lowrie led off with a double to left. Josh Reddick, in his first game back from a sprained right wrist, singled on a grounder between the right infield gap to score Lowrie and made it 3-2. Scherzer then struck out three of some of the A's best bats in a row -- Yoenis Cespedes (fastball), Brandon Moss (changeup) and John Jaso (changeup) -- to end the threat.
Lefty reliever Drew Smyly started the seventh, struck out the first batter, then yielded a double to right-center by Donaldson. Smyly got pinch-hitter Andy Parrino to ground out, then on a 1-2 count surrendered Coco Crisp's broken bat single just over shortstop Jhonny Peralta to tie the game, 3-3.
Crisp, the A's center fielder, left the game in the 10th inning with a strained left groin.
Prince Fielder went 4-for-5 with a three-run homer and fell a triple shy of hitting for the cycle, but his teammates didn't have as much success against starting pitcher Bartolo Colon and the A's bullpen.
Colon worked efficiently and almost got away unscathed were it not for Fielder, especially his big blast in the third. Jackson and Andy Dirks singled before Fielder smashed a two-out home run over the left-center field wall on a 1-2 belt-high fastball for his third homer of the year.
With Fielder's homer accounting for the runs against him, Colon walked none in his seven innings, striking out five and scattering eight hits in 85 pitches (60 strikes).
The series opener was a rematch of last year's American League Division Series, which Detroit won in five games, and it was the first game of the Tigers' nine-game West Coast road trip.
Willie Bans is a contributor to MLB.com. This story was not subject to the approval of Major League Baseball or its clubs.