Nationals lose lead late, fall to Braves
Detwiler's seven strong innings, Harper's fifth home run not enough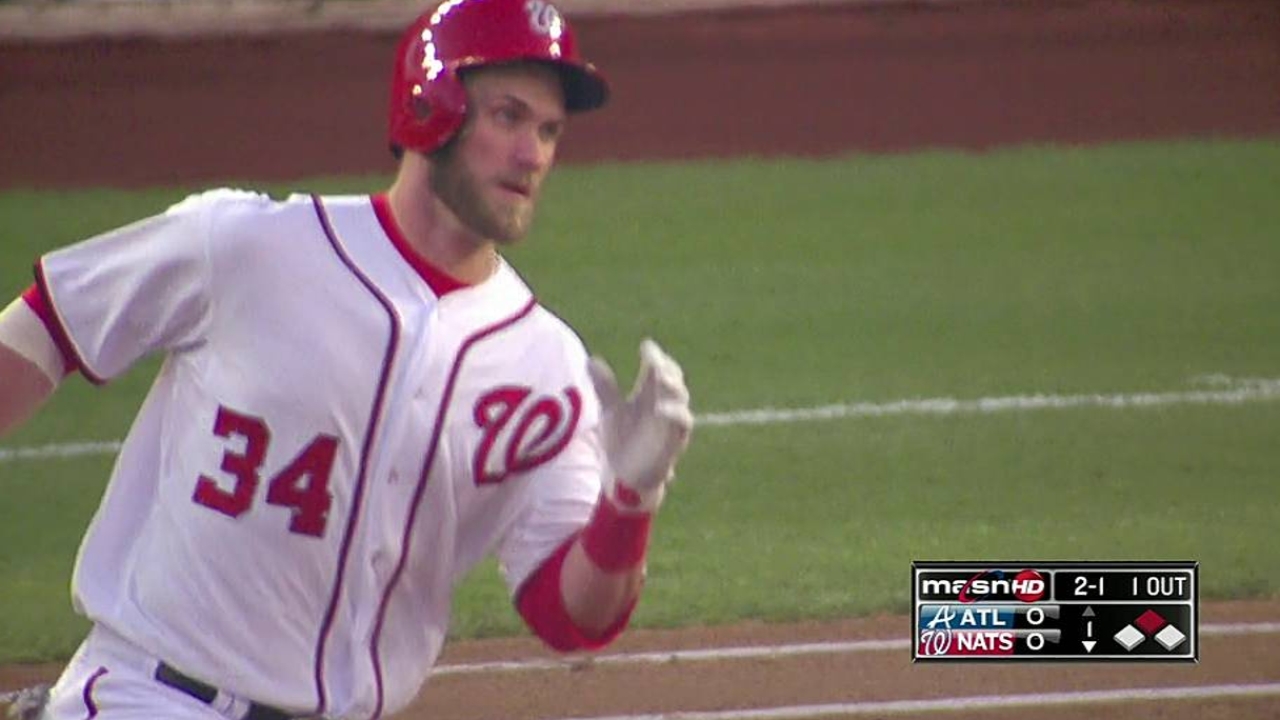 WASHINGTON -- The Nationals were without closer Rafael Soriano at Nationals Park on Friday night, and it proved costly as the Braves defeated the Nationals, 6-4, in 10 innings.
It was the battle for early-season National League East supremacy, and Atlanta is now two games ahead of Washington. The game was tied at 4 when reliever Craig Stammen allowed a two-run homer to Ramiro Pena to give the Braves their first lead.
"[These are] two good teams," Braves manager Fredi Gonzalez said. "There are not any easy outs up and down the lineup, and we haven't even started swinging the bats yet. We have good pitching staffs. Our pitching staff is solid and their pitching staff is solid. Obviously if Soriano was available, it might have been a different story. But we took advantage of that and snuck one in there."
Soriano wasn't available because he had pitched in three straight games against the White Sox. He also is dealing with a minor leg injury. Without Soriano on Friday night, Washington's relievers pitched three innings, allowing four runs on five hits and four walks.
"We are just not locating the ball -- all over the place," Nationals manager Davey Johnson said. "I have to take responsibility for using them or something. … We just didn't make the pitches. We didn't attack the hitters. We gave them momentum."
For much of the night, it looked like the Nationals were going to win the series opener, as outfielder Bryce Harper stayed hot at the plate and left-hander Ross Detwiler was dealing on the mound.
Harper put Washington on the board against right-hander Julio Teheran in the first inning. With Denard Span on second base, Harper hit a 2-1 pitch, and while it looked like he hit the ball off the end of the bat, he put enough power on it to hit his fifth home run of the season and give the Nationals a 2-0 lead. Harper finished 1-for-4 and is now hitting .400 on the young season.
Washington added two more runs the next inning. Kurt Suzuki scored on a single by Span, and Span scored on a single by Jayson Werth. Teheran settled down and pitched six innings and allowed just the four runs.
"We weren't as patient. He didn't have the great command. We were helping him early in the count on his pitches," Johnson said about Teheran. "We were a little over aggressive."
Detwiler had another solid outing, pitching seven innings, allowing one run on four hits and striking out five. His only blemish was a solo home run to Chris Johnson in the seventh.
"It's two games that Det pitched two great ballgames and came out with nothing. I feel bad about that," Johnson said.
Detwiler felt he had to pitch deep into the game because the bullpen was in need of a break. He went seven innings and threw his fastball 95 percent of the time.
"I felt strong in the end. I wish there were less three-ball counts so I could have gone deeper," Detwiler said. "The bullpen has been taxed the last few days. They have been working pretty hard. I was shooting for them to get the night off. I wish I could have gone deeper."
But the Braves made it interesting in the eighth inning with Tyler Clippard on the mound. He was able to get two quick outs, but had difficulty getting that third one. Before he knew it, Clippard had the bases loaded when Jason Heyward scored on a walk to B.J. Upton to make it 4-2. It didn't help that Clippard couldn't get his changeup over the plate for strikes.
After Clippard threw 34 pitches, Johnson decided to bring in Drew Storen to face Dan Uggla.
"I wasn't able to execute to get that final out," Clippard said.
On an 0-1 pitch from Storen, the sound of the bat indicated that the ball was hit hard by Uggla, but Span was able to catch the ball in deep center field.
With runners on second and third and one out in the ninth, Storen struck out Andrelton Simmons, but Heyward walked to load the bases. Justin Upton came to the plate and hit a grounder to third baseman Ryan Zimmerman, who went for the force at second, but threw the ball away trying to get Heyward at second base. Two runs ended up scoring and the game was tied at 4.
In retrospect, Zimmerman felt he should have held on to the ball and let Upton get on with a infield single.
"Tough play," Zimmerman said. "I think first base is out of the question. I'm not going to beat the guy at third. I thought if I turned and made a perfect throw, I had a chance to get the guy at second -- bang, bang. Obviously Heyward is fast. It's really tough as a competitor to catch the ball and throw it back to Drew and just have the bases loaded. In hindsight, that would have been the better play."
The bullpen has struggled early this season, allowing 23 runs in 30 2/3 innings. Does Johnson plan on making any changes? For now, the answer is no.
"They are going to be fine. They are a tremendous talent," Johnson said. "This is a tough one. There has been a couple for Det, we haven't held them. I take responsibility for that. That's my part of the game -- feeding the matchups. That's the tough part."
The Nationals and Braves face each other Saturday afternoon at Nationals Park.
"We have a 1 o'clock game tomorrow, which is nice. We can get back on it," Clippard said.
Bill Ladson is a reporter for MLB.com and writes an MLBlog, All Nats All the time. He also could be found on Twitter @WashingNats. This story was not subject to the approval of Major League Baseball or its clubs.