Friars blow late lead as bullpen falters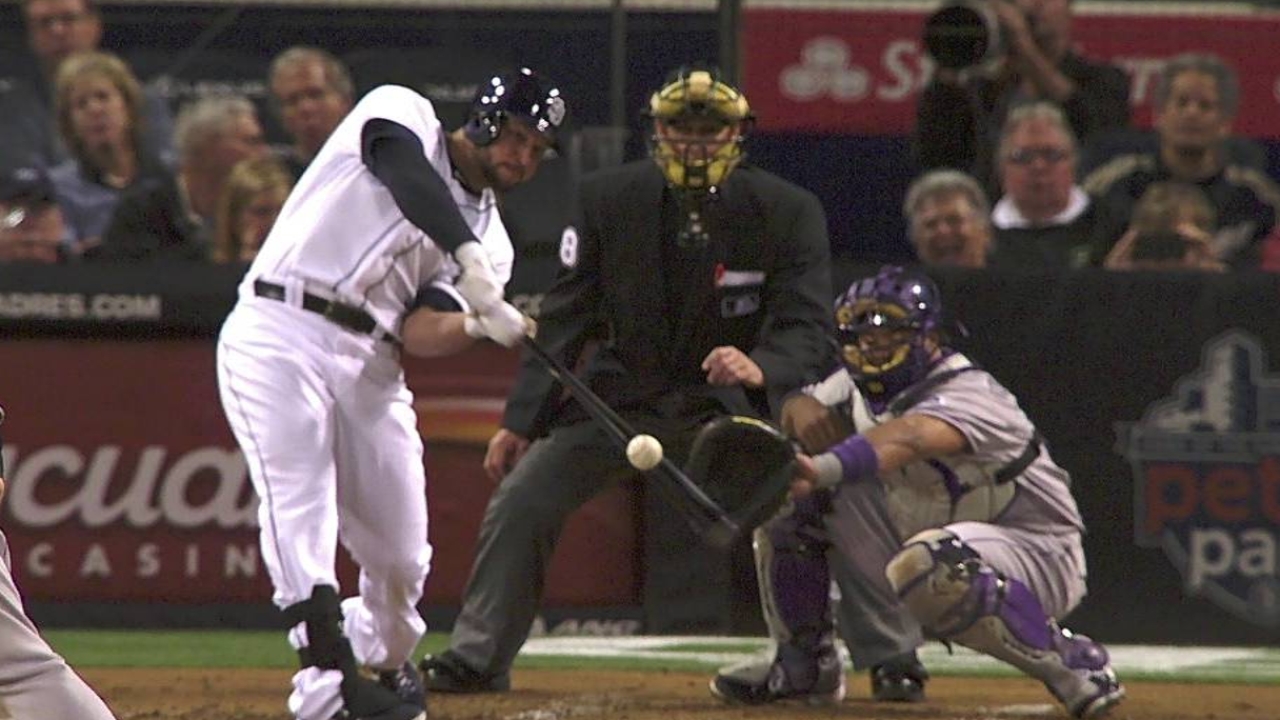 SAN DIEGO -- The 2013 season is 10 games old and the Padres are already in a bind following Friday's 7-5 loss to the Rockies at Petco Park.
Their best player, Chase Headley, is on the disabled list. Carlos Quentin has been suspended for eight games -- the ruling has been appealed -- for his part in a benches-clearing brawl on Thursday. Catching phenom Yasmani Grandal remains out while serving a 50-game suspension after testing positive for performance-enhancing drugs.
Starting pitchers can't seem to get through the sixth inning. The bullpen has been inconsistent and the offense has struggled to score runs.
After a stretch where nothing seems to be going their way, the Padres sit at 2-8.
The latest defeat was a heartbreaker.
The Rockies hit back-to-back home runs in the ninth inning off Padres closer Huston Street to secure the win. It was a game the Padres led 5-3 in the eighth inning, only to let victory slip away.
The Padres are five games back in the National League West due to inconsistency in all facets of play.
"As a group, we haven't seen a lot of consistency in one game," manager Bud Black said. "That makes it tough to win baseball games. The offense, defense, starting rotation and the bullpen have all been guilty of playing well in spurts, not so well in others.
"You need help from every area to win baseball games. Teams have to collectively do it together, and we didn't string it along."
On Friday, the bullpen blew up. Setup man Luke Gregerson gave up the lead in the eighth, although both runs allowed were unearned due to a Jedd Gyorko error at third on a potential inning-ending double-play ball.
Gyorko's miscue allowed the Rockies to tie the game at 5 going into the ninth. Then, Street got into trouble. Dexter Fowler's second home run of the game broke the deadlock and Josh Rutledge established the final margin of victory with a home run in the next at-bat.
It was another blow in a series of disappointments that is tearing away at early-season optimism.
"It's been a difficult start to the year," said first baseman Yonder Alonso, who hit a two-run home run in the first inning. "We've had our share of setbacks thus far, but there's no excuse for starting the season 2-8. It's tough when you're a key pitch or a timely hit away from winning a ballgame and it gets away from you.
"We have to play better. That's the bottom line. We just have to stay positive and keep grinding."
That's how the Padres built a late lead. They responded to Rockies' outbursts with offense of their own, and finally pulled ahead in the seventh inning on Nick Hundley's second double of the day.
The Padres catcher broke a 3-3 tie and drove in Gyorko, who scored on a close play at the plate. Hundley took third on the throw and scored an at-bat later on center fielder Will Venable's run-scoring single.
The Padres turned it over to Street and Gregerson, who squandered the lead.
"Anytime you get those guys in the game, you feel really confident," Hundley said. "I can't remember too many games where we let a game slip away. That's how good our bullpen has been. This just proves that everybody's human."
Padres starter Tyson Ross allowed three runs in 5 1/3 innings. He struck out eight and walked three and pitched well after a two-run first inning. He threw 34 pitches in that frame, but his efficiency and effectiveness improved as the game wore on.
However, Ross couldn't become the third Padres starter to get through the sixth inning this season.
The bullpen has been taxed in the early going, and finally broke against the Rockies.
The loss dropped the Padres to 2-8 for a second straight season. Last season's start snowballed and turned into a 17-35 record entering June. The team played better in the second half -- it was eight games over .500 after the All-Star break -- but never recovered from the slow start.
The Padres must reverse fortune faster if they hope to avoid a similar fate. That will prove difficult if Quentin's suspension is upheld, Headley takes time returning to form and the starting rotation can't eat more innings.
"It's been a rough start for us as a team, but we're going to bounce back," Hundley said. "Our confidence hasn't been shaken. We'll get on a roll soon here by playing more consistent, and we'll start winning some ballgames."
Scott Bair is a contributor to MLB.com. This story was not subject to the approval of Major League Baseball or its clubs.