Fowler's heroics lift Rox over Padres in opener
Center fielder blasts two long balls, including tiebreaking shot in ninth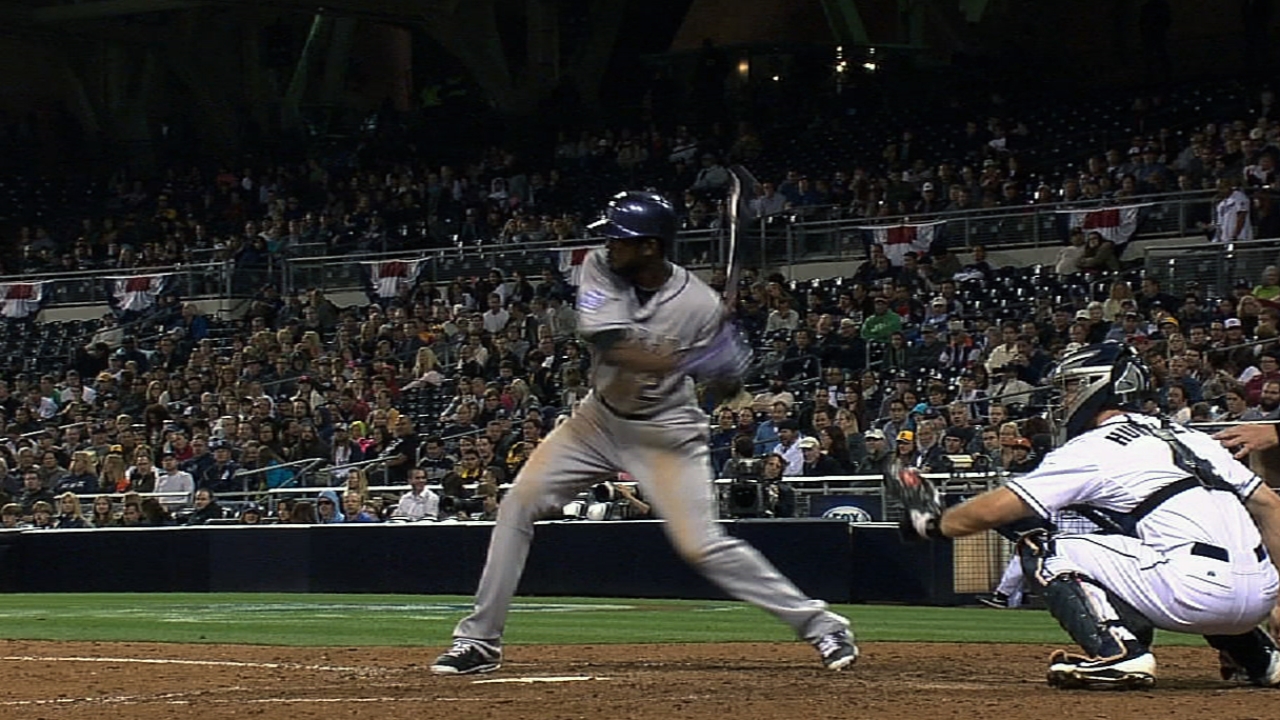 SAN DIEGO -- Rockies center fielder Dexter Fowler didn't need the smaller outfield dimensions at Petco Park to play the hero role on Friday night.
Fowler's fifth-inning homer barely cleared the distance where the old center-field wall was. His ninth-inning shot off Huston Street, for the go-ahead run in the Rockies' 7-5 victory was a no-doubter to right.
Fowler's fifth-inning shot off Padres starter Tyson Ross went about 397 feet, just beyond the spot where the center-field fence begins to angle sharply inward. The winner, which was followed by Josh Rutledge's solo shot off Street (0-1), gave Fowler two homers in a game for the second time in his career. He accomplished the feat on Sept. 5, 2011, against the D-backs.
"The first one I hit, I was like, 'That's way back,' and it barely went out," Fowler said. "The second one, I was like, 'I got that one.' But at this park, you never know. But I hit it well."
A seventh-inning fly ball to right also threatened to leave the ballpark. With six homers already, Fowler is well on the way to threatening last year's career-best 13.
"I knew he had power, but he's really been locked in, really swinging well," manager Walt Weiss said. "When he barrels it up, it goes a long way."
The Padres know all too well. Fowler also homered twice off them as the Rockies swept them at Coors Field in Colorado's home-opening three-game set.
"Dexter Fowler is on fire right now," Padres catcher Nick Hundley said. "That's perfectly clear. There are times when you help him out by leaving a pitch up in the zone, but you just have to tip your cap in the ninth. I mean, he takes a changeup down to deep right-center? That's just talent and good hitting."
Rex Brothers, who struck out two in the eighth, earned the win and set up Rafael Betancourt's fourth save.
The victory ended the Rockies' losing streak at three games and marked the end of another slump. Todd Helton entered 2-for-21 on the season, but went 3-for-4 with an RBI double off Luke Gregerson in a two-run seventh that the Rockies used to tie the game at 5. The runs were unearned due to third baseman Jedd Gyorko's fielding error on Michael Cuddyer's one-out squibber.
The season isn't quite a month old, but the game served as a test for a Rockies club that believes it is much better than the one that dropped 98 games last season.
Colorado had won five straight before being swept in three games by a Giants team that they haven't beaten in their past 10 meetings, both overall and at AT&T Park. Friday's game came close to serving up more disappointment.
Righty reliever Wilton Lopez, acquired from the Astros during the offseason after posting a 2.17 ERA last year, saw a tie game turn into a 5-3 deficit by giving up two runs on three hits, including Hundley's RBI double and Will Venable's run-scoring single, in the seventh. Lopez has a 12.46 ERA in five appearances
"He's going to be big for us," Weiss said. "We picked him up to pitch late in games for us, and he's been one of the best in the National League at that the last couple years. I still have a lot of confidence in him."
But Brothers (1-0) struck out two in a one-hit eighth, Fowler and Rutledge victimized Street and Betancourt pitched a perfect ninth.
"Any win on the road is big for us," Helton said. "Even after San Fran, it was a wakeup call for us, but it was no reason to panic. Who cares that we don't play well there? That could change.
"I just like the way we played today. We put it behind us. No big deal."
The Rockies scored twice on four hits in the first inning on one-out RBI singles from Troy Tulowitzki and Cuddyer. However, Ross fanned catcher Wilin Rosario and third baseman Chris Nelson to end the inning. Rosario and Nelson also fanned against Dale Thayer with two on and the score tied at 3 in the sixth. The Rockies struck out 12 times.
However, Rosario found offensive redemption by driving in the tying run with a ground ball to first in the eighth, after Helton's run-scoring double. Rosario also threw out two runners attempting to steal second. Nelson had a rough night offensively, but made three highlight-level defensive plays.
The defense helped make for a decent night for Rockies starter Jon Garland, although the three runs he gave up -- two in the first on Yonder Alonzo's two-run homer and one in the fifth -- came immediately after the Rockies had given him leads. Garland, who beat the Padres last Saturday, gave up five hits and struck out four against one walk in six innings.
"With this lineup, these guys have proven they can go out and hit," Garland said. "There are going to be some bumps and bruises along the way, but if they continue to do what they're doing well, it's going to put us in some really good positions."
Thomas Harding is a reporter for MLB.com. Read his blog, Hardball in the Rockies, and follow him on Twitter @harding_at_mlb. This story was not subject to the approval of Major League Baseball or its clubs.