Miller spoils Lohse's return with seven strong frames
Cards celebrate Musial as pitchers combine for two-hitter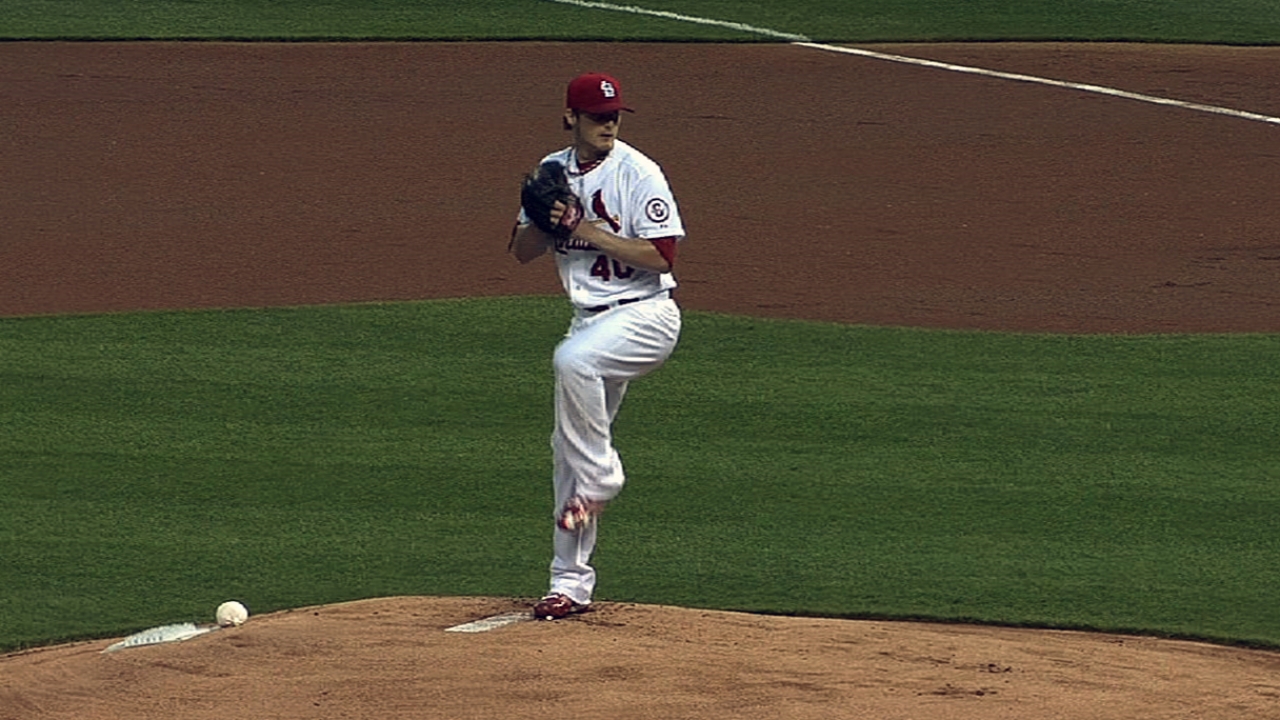 ST. LOUIS -- The scouts used to come by the dozens to watch Shelby Miller pitch as a high school senior back in 2009, making the trek to Morris Southall Field in Brownwood, Texas, to see what the hard-throwing right-hander pitcher was capable of.
On Friday night, a crowd of 42,528 at Busch Stadium watched as Miller allowed one hit and struck out eight batters over seven innings in his third career start, retiring the final 17 batters he faced in order.
The Cardinals turned the rookie pitcher's near-perfect performance into a 2-0 win against the Brewers, in a game the club dedicated to honoring the life and legacy of Hall of Famer Stan Musial.
"Obviously it's a good night to get a win, with the Stan celebration and stuff tonight and remembering him," Miller said. "It's a good win, especially for what was on the table. I think everybody's going to go home happy tonight."
The 22-year-old rookie stood in front of his locker, smiling slightly, when asked by reporters to evaluate his start -- his second of the season and his second at Busch Stadium.
"Overall, it was good," Miller said. "Earlier in the game I was throwing a lot of pitches and leaving the ball up and getting a lot of foul balls, but I finally settled in and started getting the ball down more and it took me deeper in the game."
Miller displayed the tantalizing talent that the Cardinals were banking on when they selected him out of high school with the 19th overall selection in the 2009 First-Year Player Draft.
"Shelby looked great," Cardinals manager Mike Matheny said. "I didn't know if he was going to be able to make it through the fifth inning there for a while. He was giving up 10-pitch at-bats it seemed like every other hitter. But then he kind of changed his sequences, moved into the bottom of the zone and started getting some quick outs. What a great job overall."
Miller (2-0), who won his season debut on Saturday at San Francisco, surrendered just two baserunners on Friday. He allowed a single by Norichika Aoki to lead off the game and hit Alex Gonzalez with a pitch with one out in the second inning. Of Miller's 113 pitches, 87 were strikes.
"Shelby absolutely dominated," said Cardinals third baseman David Freese. "He acted like a veteran to a T. It was fun to watch. Fun to play behind.
"Obviously he expects that out of [himself]. We expect that out of him. But to go out there and do it, that's special."
Miller outdueled Brewers' righty Kyle Lohse, who signed with Milwaukee as a free agent after going 55-35 in five seasons with the Cardinals. Lohse (1-1) allowed two runs on six hits and struck out two in seven innings.
"He was sharp," Matheny said of Lohse. "He really was. He didn't give the guys much. We did hit some balls hard that didn't get away from somebody. But we knew going in that he's going to keep them in the game. … He pitched the kind of game that we knew he was going to pitch."
The Cardinals (6-4), who have won three straight games and five of their last six, took an early lead with a run in the second.
Carlos Beltran led off the inning with a broken-bat single to right-center field. Yadier Molina followed with a double into the left-center gap that a diving Ryan Braun had in his glove, but couldn't corral. The next batter, Freese, plated Beltran with an RBI single up the middle to make it 1-0.
Molina added a solo home run, his second of the season, to left-center in the seventh inning to give the Cardinals some breathing room.
Trevor Rosenthal tossed a scoreless eighth inning and St. Louis closer Mitchell Boggs finished it off in the ninth for his second save in three chances. Boggs walked Aoki with one out and then allowed a single to Jean Segura before striking out Braun and Rickie Weeks to end it.
Nate Latsch is a contributor to MLB.com. This story was not subject to the approval of Major League Baseball or its clubs.