Lohse solid in St. Louis reunion; Brewers bats quiet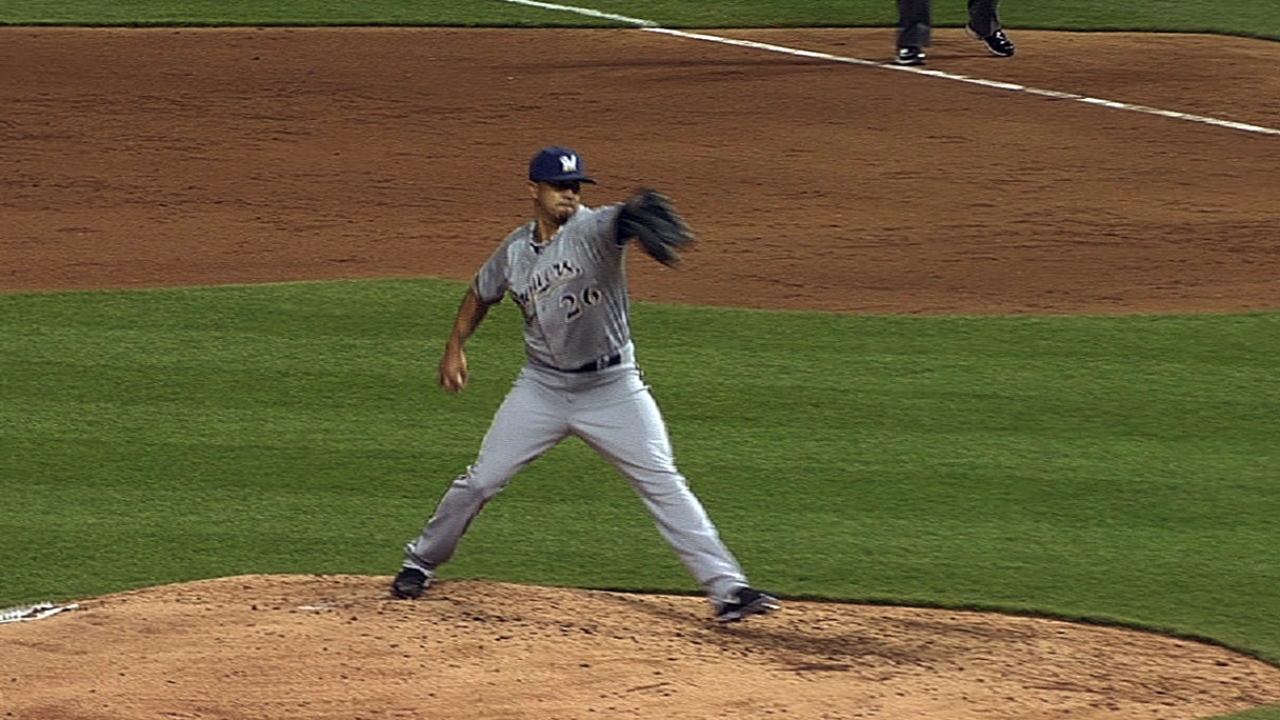 ST. LOUIS -- Milwaukee right-hander Kyle Lohse received plenty of attention from former battery mate Yadier Molina on Friday night.
Some good, some not-so-good.
First, Molina called time out to allow Lohse to soak up a 30-second standing ovation the St. Louis fans gave him as he came to the plate in the third inning of his return to St. Louis.
"That was nice," Lohse said. "So cool."
Then Molina turned mean, slamming a solo homer in the seventh inning to ruin the reunion and pace the Cardinals to a 2-0 win in front of 42,528 chilled fans at Busch Stadium.
The Brewers (2-7) lost for the seventh time in eight games after a 5-4 win over Colorado on Opening Day.
Lohse gave up two runs on six hits over seven innings in his return to Busch. He struck out two and did not walk a batter against his former team. Lohse compiled a 55-35 record with a 3.90 ERA for the Cardinals from 2008-12.
For the most part, the 34-year-old veteran enjoyed coming back to his old stomping grounds. That is, until Molina uncorked his second homer of the season, a 404-foot blast to left field that provided rookie right-hander Shelby Miller with all the necessary support.
Lohse turned in his second quality start in as many outings. He gave up one run over six innings against Arizona on April 5, but left tied 1-1 in a game that the Brewers eventually lost, 3-1.
On Friday, he threw well enough to win but came up empty again.
"It was tough, but that's the way it goes some times," Lohse said. "You go out there and do your part. A couple mistakes out there cost me."
Lohse threw 82 pitches, 59 for strikes. He retired 10 batters in a row from the second to fifth innings.
"Kyle threw the ball really well. That's a good offensive team," Brewers manager Ron Roenicke said. "He spotted the ball real well. His curveball was really good.
"It's a shame you get those kind of outings and you can't score."
Lohse was good, but simply no match for the Cardinals' newest in a line of hard throwers. Miller gave up just one hit during a seven-inning stint. He struck out eight and did not walk a batter.
Miller surrendered a leadoff single to Norichika Aoki on the sixth pitch of the game. Miller did not allow another hit over the final 107 pitches of his outing.
"His fastball was straight, straight as an arrow," Milwaukee catcher Jonathan Lucroy said. "But it was hard to get behind it. He was pounding away, pounding away, filling the zone with strikes."
Miller's fastball remained in the mid-90 mph range throughout most of the 44-degree night. His delivery and ball movement seemed to take the Milwaukee hitters by surprise.
"The ball would get there and then it would spin on you," shortstop Jean Segura said.
"He was just hard to hit," said Rickie Weeks. "We couldn't do anything with him."
The Brewers managed just two baserunners against Miller. Aoki stole second after the leadoff single, but Miller fanned Segura, Ryan Braun and Weeks to end the threat.
Milwaukee infielder Alex Gonzalez was hit on the hand by a pitch with one out in the second, but was stranded on first. Gonzalez left the game an inning later, and X-rays were negative.
That was the extent of the Milwaukee offense against Miller.
The Brewers managed a mild threat in the ninth against St. Louis closer Mitchell Boggs. Aoki drew a walk and Segura singled with one out to set the stage for a rally. But Boggs fanned Braun and Weeks to end the game. Weeks went down on three pitches.
Braun went 0-for-4 in the contest and struck out three times, as his five-game hitting streak came to an end.
St. Louis (6-4) pushed across a run in the second inning on an RBI single by David Freese. Carlos Beltran began the frame with a single and Molina doubled off the glove of a diving Braun in left before Freese picked up his first RBI of the season.
Lohse then limited the damage by working out of a no-out jam with runners on first and third. He struck out Pete Kozma and induced Miller to ground into an inning-ending double play.
"We miss Lohse, obviously," Freese said. "But that's the type of game we expect out of him. We were fortunate to get two runs."
Steve Overbey is a contributor to MLB.com. This story was not subject to the approval of Major League Baseball or its clubs.