Errors help to halt Royals' win streak at four
Offense struggles after promising three-run first inning in series opener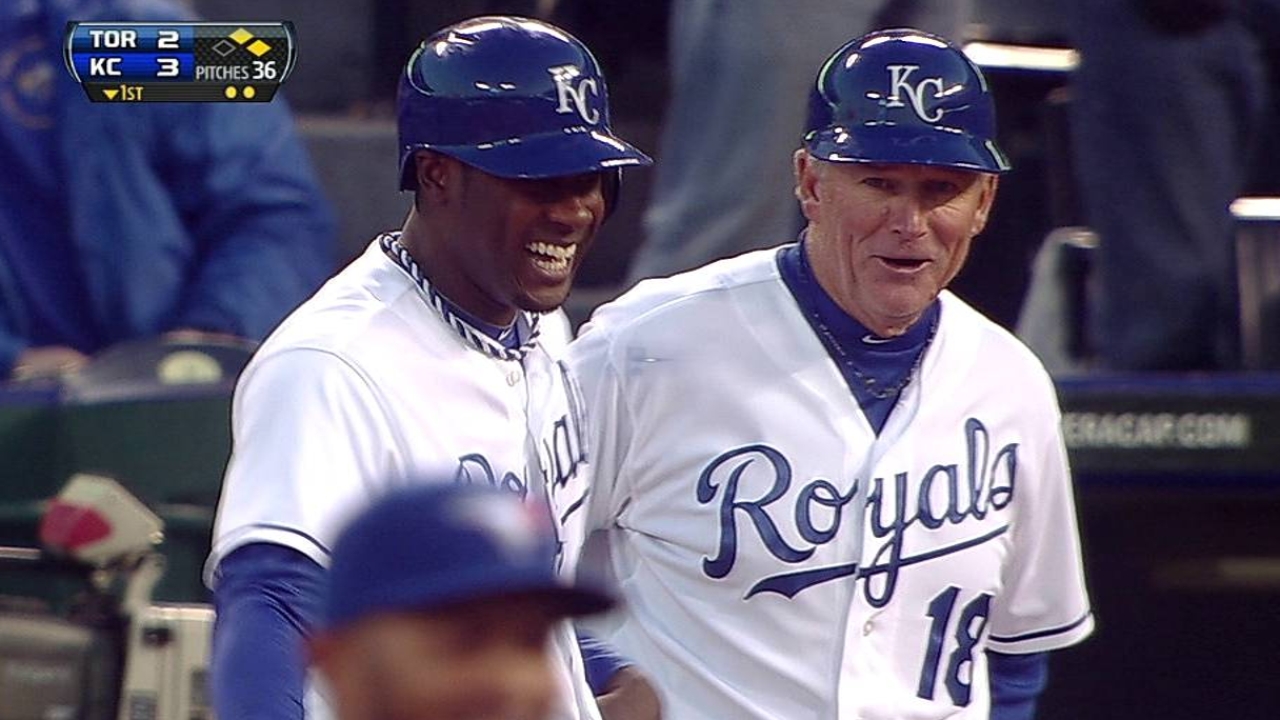 KANSAS CITY -- Three errors in the first three innings and going out 1-2-3 in seven of the nine innings did not make for a good mathematical equation for the Royals.
So down went the streaking Royals, their four-game spurt ended by the Toronto Blue Jays, 8-4, on a chilly Friday night with 13,049 fans at Kauffman Stadium. The Royals had won six of their previous seven games.
"We couldn't get anything going," manager Ned Yost said.
Not after the first inning, that is. The Royals came up with three runs against Blue Jays left-hander J.A. Happ with two walks and three hits, the last a two-run single by Lorenzo Cain.
Meantime, the Blue Jays were scoring five runs in the first three innings against right-hander Luis Mendoza, aided by three Royals' errors. That matched the number of errors they had in all of their previous nine games.
"We made some great plays," Yost countered. "We made a great play on the relay on the ball [Mark] DeRosa hit in the left-center-field gap, [Alcides] Escobar made some great plays up the middle, Elliot Johnson made a great play on [Emilio] Bonifacio going up the middle and a nice play on a popup. And then we made some plays that weren't so pretty."
Exactly. Two throwing errors were charged to catcher Salvador Perez. One came on a stolen base in the first inning, which ended with J.P. Arencibia's run-scoring single and Adam Lind's double. In the second inning, after Colby Rasmus and Bonifacio hit back-to-back doubles, Perez tried to nail Bonifacio advancing to third and misfired. Bonifacio scored for a 4-3 Toronto lead.
The third inning began with Royals third baseman Mike Moustakas throwing the ball far over first baseman Miguel Tejada. Edwin Encarnacion was safe and scored later on Lind's sacrifice fly, and it was 5-3.
"We threw the ball around a little bit and that happens on occasion, but you won't see it very often with us," Yost said.
The Royals though still had hope when they picked up another run against Happ in the fifth inning on Johnson's bunt single, his stolen base and Escobar's single.
"If it's 5-4, you feel like you've got a shot," right fielder Jeff Francoeur said. "Then we went down in order pretty quick after that."
Did they ever. Billy Butler drew a walk, but Blue Jays manager John Gibbons stuck with Happ and he retired both Perez and Moustakas.
"It was nice to keep the lead and great to have the faith of the manager in that case," Happ said.
Then the Blue Jays' bullpen, Sergio Santos and Aaron Loup, took over and put the Royals down in order in the last four innings. In all, the Royals' last 14 batters in the game went out like candles on a birthday cake.
Meanwhile, the Blue Jays added three runs in the sixth inning, although it was costly for them. Shortstop Jose Reyes sustained a sprained left ankle going into second base and was being examined further. Initial reports were that he could be out from four weeks to three months.
Mendoza was having trouble keeping his breaking pitches down and, along with two walks in the sixth, he gave up doubles to DeRosa and Bonifacio.
There was a brief reprieve when, on DeRosa's double, Lind was thrown out at the plate, center fielder Cain to shortstop Escobar to catcher Perez. But he walked Rasmus and up came Bonifacio.
"I got to Bonifacio and I just left the pitch in the middle. It has to be in the dirt and I just left it for a strike," Mendoza said. "That was the killer."
That double made the score, 6-4, and left runners at second and third, bringing Luke Hochevar out of the bullpen. His 2-1 pitch was belted by Reyes for a two-run single and the final 8-4 score. "I threw a two-seamer down and away and I was trying to get it down there, almost like a perfect pitch, bottom of the zone, black, and I thought I got it there," Hochevar said. "And he put a pretty good swing on it."
After that, Hochevar pitched 2 1/3 innings without further incident and racked up five strikeouts.
"The Reyes at-bat was the glaring at-bat. You look at his line -- 2 1/3 innings, one hit, one walk, five punch-outs," Yost said, "but the Reyes at-bat will be the one everybody remembers."
What Reyes and the Blues Jays will remember is that he jammed his ankle as he stole second base, a former batting champion and four-time All-Star likely headed for the disabled list.
"They said he slid too late. When I saw the play, I thought 'Oh, man, something happened,'" Escobar said. "I asked him, 'How you feeling? You good?' He said, 'I can feel my left side and my leg hurts a lot.' When that happens, I feel bad too. He's a really good guy."
Dick Kaegel is a reporter for MLB.com. This story was not subject to the approval of Major League Baseball or its clubs.