Quentin's actions leave much to be desired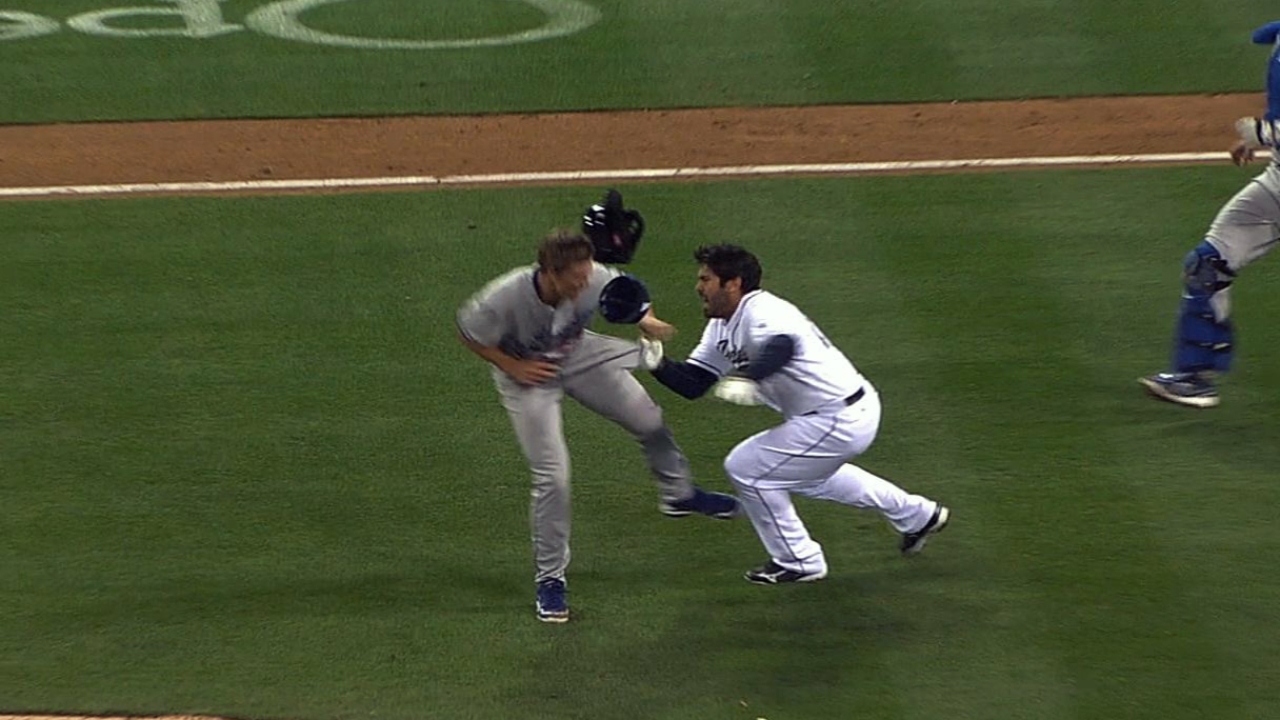 There was a big fracas in San Diego on Thursday night, and it just happened to be on a baseball field. The incident involving Padres outfielder Carlos Quentin and Dodgers high-priced righty Zack Greinke seemed to be pointless. There was no reason for Quentin to charge the mound in the first place, and when it was all said and done, the Dodgers have a man who's making $147 million on the shelf.
It begs a number of questions: Why did Quentin charge the mound in the first place? What can we take away from this incident?
| | |
| --- | --- |
| Joshua Hilkemann | |
Let's look at the facts. It's well known that Quentin gets hit by a lot of pitches. He led the National League in that category last season (17) and is the active leader dating back to 2008. So why was he so upset at this one? There wasn't one instance in the other 115 times he's been plunked in his career that he thought he was being thrown at intentionally, or had something said to provoke him?
It was also obvious that the pitch thrown by Greinke wasn't intentional. It was a 3-2 count, with no one out in a one-run ballgame. Catcher A.J. Ellis was set up outside, and he wasn't ready when Quentin took off for the mound. If it were intended as retaliation or a message pitch, Ellis would have been standing between Quentin and the mound as soon as the ball left Greinke's hand.
Of course, Quentin didn't know the latter. But surely, he knew the situation. Was he insulted by the few words Greinke uttered or was he just looking for a fight? It's been suggested that all Quentin was trying to do was fire his team up. It worked in the short term, as the Padres ended up scoring a run off Dodgers relief pitcher Chris Capuano to tie the game at 2. It didn't last as Los Angeles would win the game with a Juan Uribe go-ahead home run in the eighth inning, but it seemed to get the juices flowing.
I hope that's not why he did it. Baseball isn't hockey. Teams don't have "enforcers" who try to start a fight when their squad needs a lift. It would be sad to see baseball reduced to that level.
With that said, melees have always been a part of baseball. There are unwritten rules about when it's OK to hit a guy and which guys are off-limits to hit. When someone breaks one of those rules, the benches clear and things get worked out. It is a little unusual to see fracases this early in the season. It's normal to have them in the middle of August when it's hot, teams are tired and judgment isn't at its highest.
I don't think Quentin was just starting a fight to light a fire under his teammates. In my opinion, he truly thought that Greinke has something against him and was trying to hit him intentionally. Something snapped when Greinke said a few words, and that was that. Another factor that may have played into it was the fact that he had just sat out the day before after getting hit on the wrist by a pitch by the Dodgers on Tuesday. When your body is hurting, your mind isn't thinking as clearly as it should, but that's no excuse.
One of the most intriguing parts of the incident as it ensued was the reaction of Dodgers star center fielder Matt Kemp. Kemp was brushed off the plate with a pitch around his helmet earlier in the game. When he found out that Greinke was injured, he let loose a tirade of words against the Padres and would eventually be ejected along with Greinke, Quentin and Jerry Hairston. Kemp, who's making $20 million himself this season, was still upset about the brush-off he got earlier.
As a fan of the game, you hate to see star players put themselves in position to get injured if it's unnecessary. I'm not saying I want to see benches-clearing incidents like this go away. They can be entertaining, and they are as much a part of the game as the seventh-inning stretch. But it's not right when a pitcher who does nothing wrong has to sit out for weeks, if not months. Dodgers manager Don Mattingly had a good point when he said Quentin shouldn't play a game until Greinke is healthy enough to return. That would make him and everyone else think twice about charging the mound in the future.
We can thank Quentin for some exciting Thursday night baseball in April.
Joshua Hilkemann is an MLB Rewards Guest Columnist. This story was not subject to the approval of Major League Baseball or its clubs.