Worley, bullpen unable to contain Mets in loss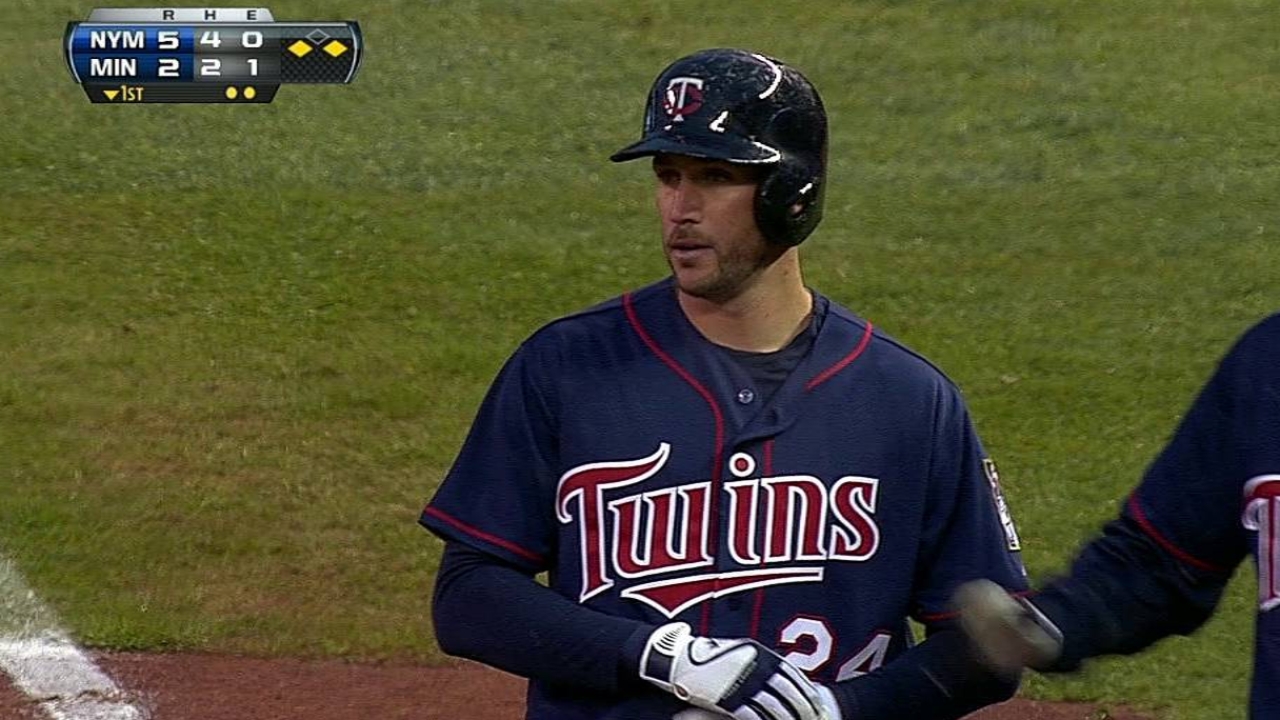 MINNEAPOLIS -- The temperature on Friday night was cold enough to set a record at Target Field, but it apparently wasn't enough to cool down the Mets' bats.
Right-hander Vance Worley turned in the shortest outing of his career, and the Twins were routed by the Mets in a 16-5 loss in the coldest game played in the four-year history of Minnesota's ballpark.
Worley took the mound with a gametime temperature of 34 degrees and the Mets jumped all over him in the early going in the first Interleague game for the Twins this season. Worley recorded just three outs and gave up nine runs (seven earned) on seven hits, as Minnesota quickly fell behind, 10-2, and never recovered.
"Tonight was just one of those nights where you can't get through the innings early," Twins manager Ron Gardenhire said. "And you just have to try to work your way back from there. The guys swung and we scored some runs, but those are tough holes and we put ourselves in a big one tonight."
Worley gave up five runs in the first inning, as the first five batters he faced reached base -- including John Buck on an error by Trevor Plouffe -- and eventually scored. And it was more of the same in the second inning, as he allowed the first four batters he faced to reach before coming out of the game for long reliever Pedro Hernandez.
Hernandez then promptly gave up a grand slam to Buck, who is tied for the National League lead with six homers and leads the NL with 19 RBIs.
"Right now, you're almost starting to take it for granted," Mets manager Terry Collins said about Buck. "When you need a big hit, he's going to get it and he's going to drive in runs when he gets his hit. It's just amazing. It's one night after the next. While he's hot, you ride it."
It handed Worley the worst start of his young career, as he surrendered nine runs (seven earned) on seven hits over one-plus inning. It also marked his shortest career outing, as he had previously set a career-low with three innings pitched in two starts with the Phillies in 2011.
"It's frustrating," Worley said. "Nobody likes to have that happen to them. So I'll have to make some adjustments this week so that I'm ready to go."
The Twins were able to get to Mets right-hander Jonathon Niese, who gave up five runs (four earned) on five hits over five innings, but it wasn't nearly enough after Worley's rough outing.
They scored twice in the first inning with Josh Willingham providing an RBI groundout and Plouffe adding an RBI single. Minnesota added three more runs in the fifth, as Justin Morneau laced an RBI double off the wall in right field before Ryan Doumit brought home two runs with a single.
But the Mets scored four more times in the seventh against reliever Ryan Pressly, who came on in relief of Hernandez, who left the game in the sixth with a calf strain. All four runs were unearned, as Pedro Florimon dropped a potential double-play ball before Daniel Murphy hit a three-run double and came around to score on a triple from David Wright.
The Mets added two more runs in the ninth to mark the first time the Twins had given up 16 runs or more since also allowing 16 runs against the Brewers on May 20, 2012.
But Gardenhire didn't want to use the weather as an excuse for his team's troubles, as he pointed out the Mets had to play in the same conditions.
"It didn't affect the other guys, so it's hard for us to whine about," Gardenhire said. "The other guys on the other side whacked the ball pretty good. So we can't complain about it. It's our ballpark and we let them have their way here. So we need to step it up tomorrow and play a better ballgame."
Rhett Bollinger is a reporter for MLB.com. Read his blog, Bollinger Beat, and follow him on Twitter @RhettBollinger. This story was not subject to the approval of Major League Baseball or its clubs.