Buck's grand slam leads offensive attack over Twins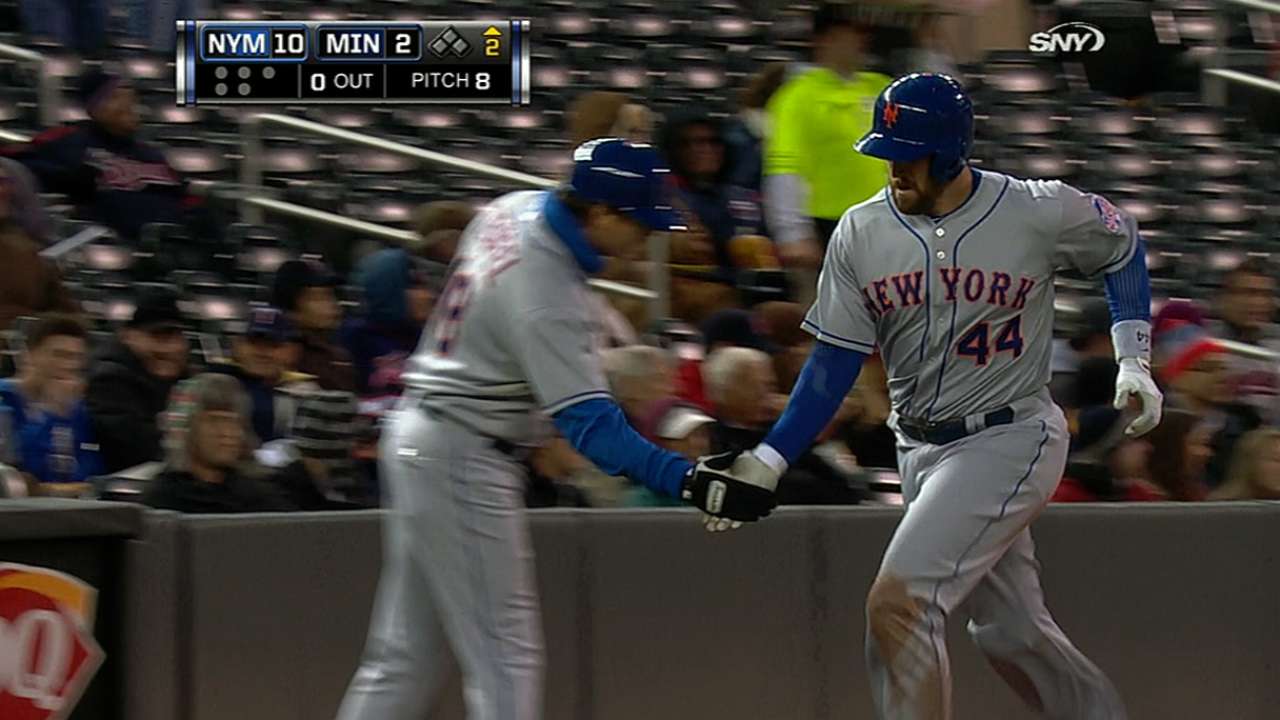 MINNEAPOLIS -- Unfazed by the wintry backdrop Friday night at Target Field, the Mets shelled the Minnesota Twins with a furious early scoring barrage to open the Interleague series with a 16-5 victory.
From leadoff hitter Jordany Valdespin's opening single onward, the Mets subdued the Twins by scoring 10 runs in the first two innings.
With the help of 15 hits, New York bounced back from a disappointing series loss at Philadelphia to surpass its combined scoring total from its last three games (13) in a seven-inning span.
Catcher John Buck's startling power streak continued. He belted a grand slam in the second inning for his fourth home run in four games, and sixth since making his Mets debut this season.
The impressive start of the 32-year-old Buck, who set an MLB record for most RBIs in the first 10 games with a new team, had manager Terry Collins nearly in awe afterwards.
"Right now you're almost starting to take it for granted," Collins said. "When you need a big hit, he's going to get it and he's going to drive in runs when he gets his hit. It's just amazing. It's one night after the next. While he's hot you ride it.
Buck, on the other hand, is purposefully trying to downplay his rediscovered slugging prowess.
"What streak?" Buck joked with reporters. "I'm benefiting from last year when I tried too hard. Now I'm just going up there and trying to hit the ball solid and good things are happening."
Buck's blast to the upper-deck bleachers in left field came off reliever Pedro Hernandez, but the damage was placed on Vance Worley's pitching line after he left the game with the bases loaded. Worley was charged with nine runs (seven earned) after going just one-plus inning.
Worley allowed the first five hitters he faced to score and proceeded to do the same one inning later.
"I just didn't locate very well," said Worley after watching his ERA inflate to 10.50. "If I threw down, the ball was too far down and the secondary stuff wasn't breaking very well. I pretty much got hit."
It felt far from springtime in Minnesota as the temperature had dropped to 34 degrees by first pitch, the coldest gametime start in Target Field's four-year history. While the frosty temperatures were a pregame concern, the negative effects on the Mets' lineup were almost non-existent.
However, the struggles for Mets pitcher Jonathon Niese were more obvious. Niese battled through troubles gripping the ball in the wet and cold weather to give up five hits in his third start of the season, picking up the win despite surrendering five runs. A high pitch count (101) led to the end of his outing after five innings, halting a streak of 22 consecutive starts of six innings or more.
The big lead he was handed eased the pressure on Niese.
"It was tough to be consistent with it," Niese said. "Some pitches would feel good and a pitch later it would slip out of my fingers and the ball would hang there. It was tough, but fortunately our offense was able to give us a big lead there to start off and our bullpen was able to shut it down from there."
The Twins sporadically attempted to rally, but could never come close to matching the Mets' offensive outburst. New York added four more runs in the seventh inning and two more in the ninth to stretch its lead to 11 runs. Relievers Scott Atchison, Greg Burke and Aaron Laffey kept the Twins silent for the remainder of the night.
Third baseman David Wright broke out of an 0-for-8 slump by putting up three hits and four RBIs. Wright combined with Buck and second baseman Daniel Murphy, who went 4-for-5 with a pair of doubles, to tally 12 RBIs. It was a return to form the Mets need to see continue.
"David is the key to our order," Collins said. "When you hit third, that is what you're supposed to do, be the guy that you can turn to when you need big hits. When he gets going, as we know, he can carry us."
Nate Sandell is a contributor to MLB.com. This story was not subject to the approval of Major League Baseball or its clubs.