Orioles drop ball, run into triple play in loss
Jones' inability to make catch on bases-loaded fly ball costs O's game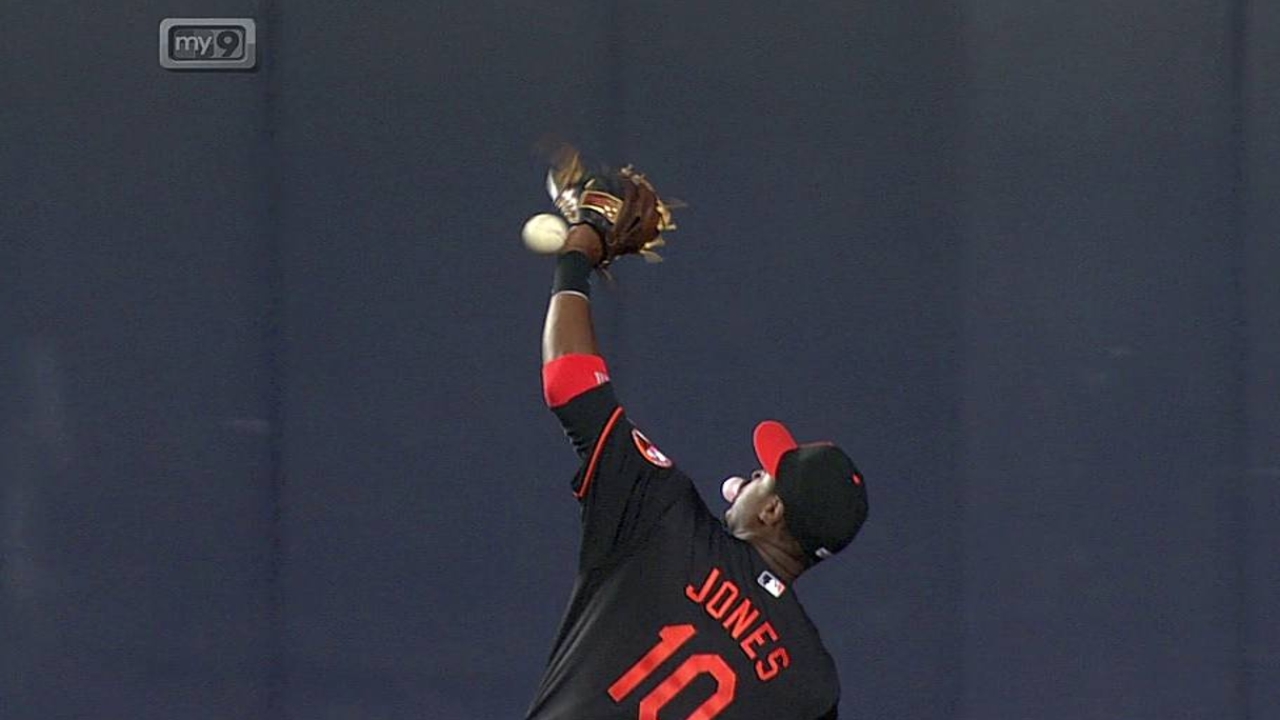 NEW YORK -- If Chris Davis has been the engine driving the Orioles' offense, center fielder Adam Jones has been the accelerator, entering Friday's game against the Yankees leading the American League in hits -- including six multi-hit contests -- and batting an incredible .462. But it was the center fielder's glove that let down the Orioles on Friday night.
On an exceptionally cold and soggy April night, when both teams swapped fielding errors, it was Gold Glover Jones' gaffe that allowed a trio of unearned seventh-inning runs to score en route to a series-opening 5-2 loss.
"Foot gave out, you could say it's rain, you could say it's cold, you could say anything, wind, you could say whatever you want," said Jones, who didn't use any excuses for the misplay. "I was there. Didn't catch it. Cost my team the game. Trust me. It's quite frustrating.
"Some days you're the hero, some days you're the goat."
The defeat -- which comes on the heels of Baltimore's back-to-back wins in Boston --was highlighted by Vernon Wells' deep fly ball popping out of Jones' glove. But it also featured a host of sloppy plays, including the Orioles running into a pair of outs on the basepaths -- part of an eighth-inning triple play -- and issuing six walks with two hit batsmen, giving New York numerous opportunities to secure a lead for ace CC Sabathia.
Sabathia, who struck out eight of the first 18 Orioles he faced, and nine overall, allowed a pair of singles to Alexi Casilla and Nick Markakis to start the eighth. But any hope of an O's rally ended with Manny Machado's ground ball to second base, which started a bizarre chain of events, as the Yanks threw the ball all over the diamond to turn the first 4-6-5-6-5-3-4 triple play in Major League history -- and the Yanks' second since 1968.
"The two lead runners made the right play," manager Buck Showalter said of the ball, fielded by second baseman Robinson Cano, who came up and threw to shortstop. "You can't go anywhere, because if he catches it [in air], then he does get multiple outs. We just made a mistake on the trail runner trying to get a little over-aggressive, a young player. But Manny's one of the reasons why we were in that game."
"I should have stayed at first," said Machado, who was tagged out trying to advance to second during Casilla's rundown. "It was just in the heat of the moment, things that you don't think about."
Machado's baserunning blunder came after Jones' error and was part of an all-around ineffective game for the Orioles. Still, it was a loss Jones shouldered and took full responsibility for.
"To make a mistake like that, big in the game, late in the game, you cost your team a game," Jones said.
"I don't have to watch that ball on video. I've caught way tougher balls than that, and it's a ball hit over my head. It's a routine play in my book. Me and [outfield coach Wayne] Kirby talked about it afterwards. Missed it. No more, no less."
The error handed Orioles starter Miguel Gonzalez -- who last season became the first rookie pitcher in 45 years to beat the Yankees twice on their own field within a span of 33 days -- his first career loss in three starts at Yankee Stadium.
At 96 pitches to start the bottom of the seventh, and with a pair of runs already on the board, Gonzalez issued his third leadoff walk of the night -- to Francisco Cervelli -- before exiting in favor of lefty Troy Patton. Patton got two outs and intentionally walked Kevin Youkilis to put runners on the corners, before plunking Travis Hafner with a full-count pitch to bring on the third pitcher of the inning in righty Pedro Strop. Strop fell behind Wells, but was poised to get out of the inning until Jones flubbed the catch while on the run.
"You know what, he's a leader of this team and he's going to go out there and always fight," Machado said of Jones. "He's always fighting with us, fighting 'til the end. He came out there [after the play] and stayed mentally strong and was pushing us in the dugout. So, things happen. Errors happen. And it's all part of the game."
Added Showalter: "He's spoiled us with a great level of play. Someone said [Jones] stepped in between the warning track and the ground kind of gave way, but that's an excuse he won't take. He's so good for us, and that's why it gets everybody's attention when he doesn't make every play."
Gonzalez was also off his game and was charged with three runs (two earned) on five hits and five walks with four strikeouts over six innings.
"[Catcher Matt Wieters] was telling me, 'What's wrong, what's wrong?' and I told him it's part of the game," Gonzalez said of battling through from the first pitch on. "They did a good job when I was leaving the ball up. Youkilis and Cano did a pretty good job when I was falling behind and I was leaving the ball up a little bit."
The Orioles scored first, with Casilla crossing home on Machado's one-out third-inning single to right field. They wouldn't get another baserunner off Sabathia until Machado singled again with one out in the sixth, but Jones grounded into his second double play back to the mound to end the inning.
The O's pushed across an unearned run in the seventh, capitalizing on Youkilis' error to put leadoff man Wieters aboard. He advanced to second on a balk call on Sabathia, and J.J. Hardy drove him in with a base hit to center field to tie the game at 2. The O's extended the inning when Sabathia's throw to second base on Nolan Reimold's double-play ball was off the bag, but couldn't get anything going after that.
"The way the ball was carrying tonight ... I thought he was going to be able to run it down," Yankees manager Joe Girardi said of Wells' ball to Jones. "The chances of that happening are slim, slim, slim, but we caught a break."
Brittany Ghiroli is a reporter for MLB.com. Read her blog, Britt's Bird Watch, and follow her on Twitter @britt_ghiroli. This story was not subject to the approval of Major League Baseball or its clubs.