Cubs blow lead, win on walk-off double in ninth
Navarro hits game-tying homer to lead off frame before Castro wins it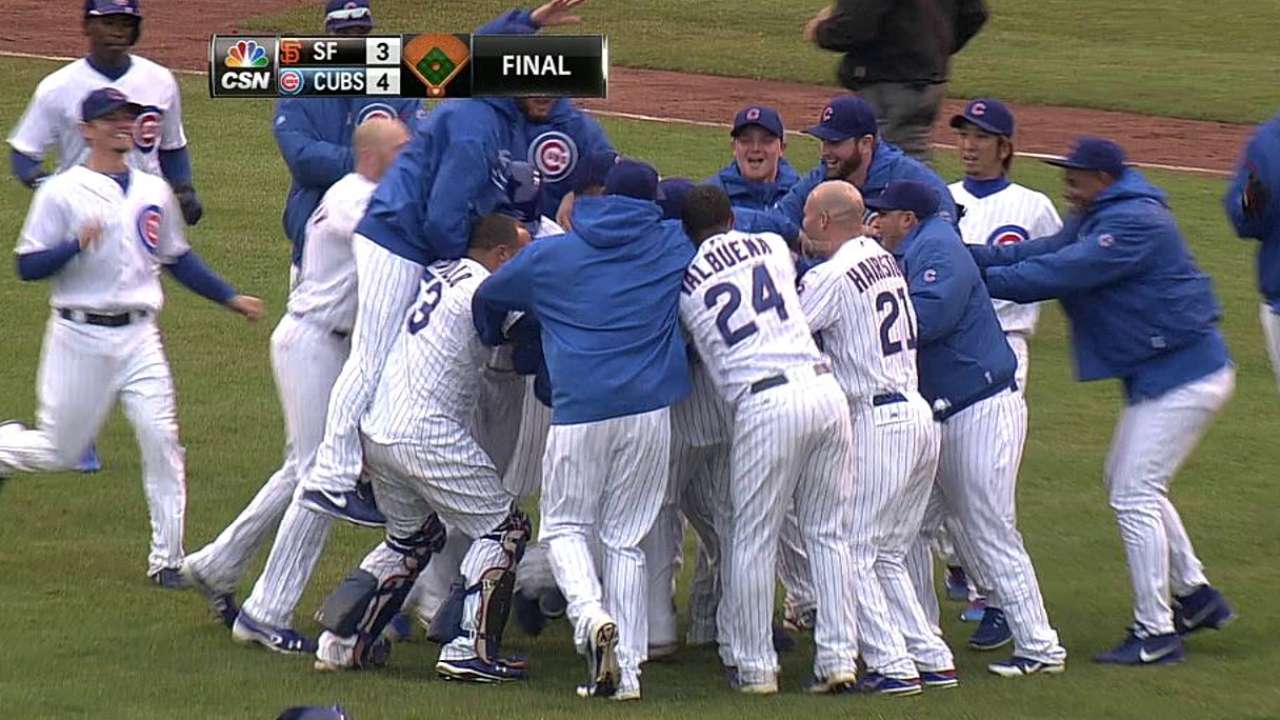 CHICAGO -- Carlos Villanueva may want to take Kyuji Fujikawa, Carlos Marmol and the rest of the Cubs' bullpen out to dinner. Perhaps if Villanueva butters them up, he'll get a win.
For the second straight start, Villanueva missed a potential "W" because the bullpen imploded. However, this time, the Cubs rallied, as pinch-hitter Dioner Navarro hit a game-tying home run leading off the ninth and Starlin Castro smacked a walk-off RBI double to score David DeJesus from first and lift the Cubs to a 4-3 come-from-behind victory over the Giants on Friday at Wrigley Field.
Villanueva, who has given up one run over 14 innings in his two outings, was a good sport.
"I'm happy just getting the [team] 'W,'" Villanueva said. "The atmosphere in our clubhouse right now, I wouldn't change that for the world."
The right-hander shut down the Giants for 7 1/3 innings, but they took a 3-2 lead in the ninth against Fujikawa on an RBI single by Pablo Sandoval and a two-run double by Brandon Belt. It was Fujikawa's second save situation since taking over the closer's duties from Marmol, and he's 1-for-2.
"[It was his] command again," Cubs manager Dale Sveum said of Fujikawa. "He's not getting the swings and misses with his split. I thought he threw some good splits, and they were laying off of them. The command and life of the fastball wasn't there again. He couldn't get strike one."
Said Fujikawa: "As you can see, [my command] wasn't too good."
Navarro saved the pitcher when he led off the Chicago ninth with a home run off Sergio Romo (0-1). Two outs later, DeJesus reached on a single to center that hit Angel Pagan's glove. Castro then lined the ball off the center-field wall to score DeJesus with the game winner.
"It was very close to the basket," Pagan said of Castro's hit. "I had to time the basket and the wall. I didn't want to go full speed to the wall because I've hit it before and it hurts. It doesn't move. It doesn't have any padding. I was just trying to get close to the wall and try to make a play, but it didn't happen. I [gave] my effort."
On Thursday, Castro committed an error that contributed to the Giants' rally. On Friday, he was the hero. It helped that he was facing Romo for the second straight day.
"He's got a pretty nasty slider," Castro said of the Giants' closer. "I put in my mind, the slider coming to me, that's what I'm swinging at. I was looking for a slider, and he threw a fastball and I hit it hard."
What is it about the ninth inning?
"Guys lock in," DeJesus said. "Those are the situations where you want to shine your best. That's why that closer role is such an important job, and it's a tough job because these guys are going up there with the purpose of trying to win the ballgame."
Last Saturday, Marmol served up game-tying and walk-off home runs to the Upton brothers in Atlanta and lost his job as the Cubs' closer. Now, Fujikawa struggled.
"I told Ryo [Shinkawa], his interpreter, to tell him that I believe in him and we believe in him and he'll be fine," Villanueva said. "[Fujikawa] is very apologetic and he feels bad, and we can tell. We need him, and as long as we communicate that to him, times when things aren't going well, that's why we're teammates and we're a team. We love 'Fuji' and we know he'll do well."
Villanueva limited the Giants to three hits. How many pitches does he have? Against Sandoval in the fourth, for example, Villanueva threw a curveball, slider, fastball, curve and changeup. It worked, as Sandoval grounded out.
"[Carlos] is a guy who can pitch to a game plan because he's got so many pitches," Sveum said. "If a guy can't hit a breaking ball, he can keep throwing breaking balls."
"As you can tell, the radar gun doesn't light up when I'm out there," Villanueva said. "Having a game plan and not really executing, I'll have those days, I know. But days like today, when I can go in and out, up, down and mix it up, you have guys on the other team saying, 'We should've killed that guy, we should've scored a million runs today.' But the end result isn't the way they want, it makes me feel a lot more better."
DeJesus and Castro combined to give Villanueva a 2-0 lead, each hitting their first home runs of the season. DeJesus connected in the third, launching the first pitch from Giants starter Matt Cain to right and getting a little help from the wind. Castro notched his homer with one out in the fifth, driving a 1-2 pitch into the left-field bleachers.
After DeJesus and Castro combined in the ninth, Fujikawa received the celebratory beer shower from his Cubs teammates. He ended up with his first Major League win.
"I appreciate my teammates getting my back, but I need to go out there tomorrow," Fujikawa said.
Villanueva will have to wait for his "W."
"For me, today was fun," Villanueva said. "Me and Cain, we met when we were 18 years old in rookie ball with the Giants. I don't know if he remembers me as well. I remember him, and 10, 12 years later, facing each other. ... He's obviously a great pitcher. I had fun out there today and hopefully it can continue."
Carrie Muskat is a reporter for MLB.com. She writes a blog, Muskat Ramblings, and you can follow her on Twitter @CarrieMuskat. This story was not subject to the approval of Major League Baseball or its clubs.