Strasburg, Nats on losing end of duel vs. Hudson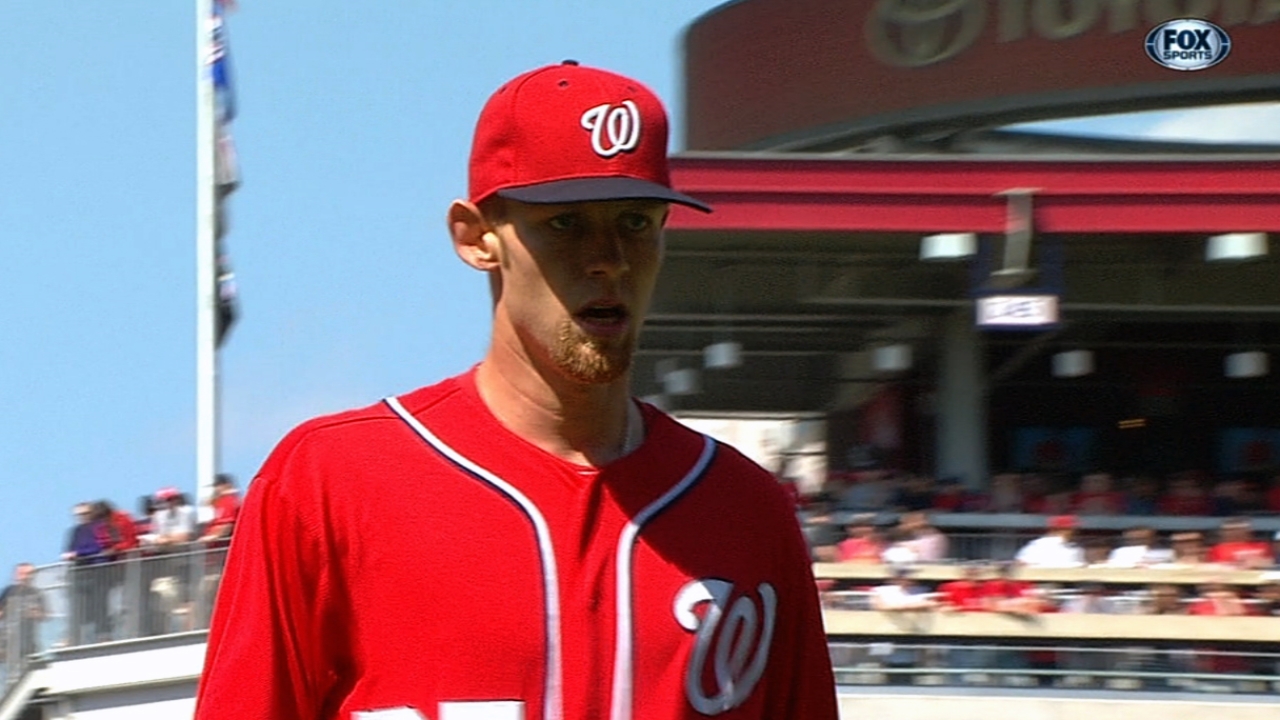 WASHINGTON -- The Nationals were eager to return to action on Saturday afternoon after the Braves rallied to win Friday night's series opener, but they couldn't turn that enthusiasm into results. Instead, one poor throw, one big swing and the stellar pitching of Tim Hudson lifted Atlanta to a series win with a 3-1 victory in front of sellout crowd of 41,992 at Nationals Park.
This time, the Braves never trailed. Rookie catcher Evan Gattis' two-run homer in the third inning followed Ryan Zimmerman's key error and provided Atlanta's only runs off Stephen Strasburg, who couldn't outduel Hudson. The Braves right-hander allowed only a solo homer to Danny Espinosa in seven innings.
That leaves the Nationals trying to avoid a sweep on Sunday afternoon.
"Just two totally different games," first baseman Adam LaRoche said. "Yesterday, I feel like we got robbed there. They came back and put some on us, and today, we couldn't get it going. It's not a good way to start the series."
For the second straight game, a Zimmerman miscue loomed large.
The veteran third baseman, playing with a surgically repaired throwing shoulder, threw wide of second base in Friday's ninth inning, bringing in the Braves' tying runs. With two outs in Saturday's third inning, his throw to first pulled LaRoche off the bag and allowed Justin Upton to reach. After Upton stole second despite a Strasburg pickoff attempt, Gattis caught up to a high 96-mph fastball and launched it into the left-field bullpen for a 2-0 lead.
"It was just a bad throw, an error. I think I'll make more as the year goes on, unfortunately," Zimmerman said. "Today, they took advantage of it. I think Stephen threw the ball so well today, and when you do that and that happens in a game like that, you feel bad. But that's part of the game, and I had a few more balls after that and did fine. It's unfortunate they capitalized on it, and that was a big part of the game, but it happens."
Zimmerman did execute a couple of nifty plays later in the game and said he is "very confident" in his shoulder.
But the one mistake was amplified when Gattis delivered his fourth home run of the season in his eighth game.
"His swing is short," Braves manager Fredi Gonzalez said. "It's not a long swing, and there are not a lot of moving parts to it. Good fastball hitters are going to chase fastballs up in the strike zone. Sometimes he'll swing through them. But if it's high, it better be higher than high."
Strasburg's defense had helped him out of a jam in the second, when left fielder Bryce Harper unleashed a rocket of a throw to nail Dan Uggla at the plate on Hudson's two-out single.
After the home run, Strasburg (1-2) settled in and seemed to find a better handle on his secondary offerings. He put two runners on with two outs in the fourth but then retired the last seven batters he faced, three on strikeouts, before being lifted for a pinch-hitter in the bottom of the sixth.
The right-hander struck out seven, walked one and hit a batter on the day, allowing five hits. He threw 112 pitches and now has racked up two of the three highest pitch counts of his career this season.
"I think [the offspeed stuff] got more consistent there in the end." Strasburg said. "I wanted to go out there and try to go deep in the ballgame, but unfortunately I threw a lot of pitches early, so that kind of spoiled that. But at least I was able to go out and give six."
Washington's offense had trouble gaining traction against the veteran Hudson (2-0), who gave up at least four earned runs in each of his three starts against the Nationals last season, raising his career ERA against them to 2.65.
This time, Hudson surrendered only one run on four hits, with no walks and three strikeouts. He threw 60 of his 90 pitches for strikes.
"He doesn't throw quite as hard as he used to, but he knows how to pitch," Zimmerman said. "You don't do what he's done in this game for as long as he has without having a really good idea of what to do out there. He throws a little more stuff than just his sinker now than he used to, but he's one of the best guys out there, and he usually does well against us. Like I said, if you don't get him early, it's tough."
Washington had a chance early, as leadoff man Denard Span improved upon his .467 on-base percentage with a first-inning single, then moved to second on Hudson's errant pickoff attempt. But Span misread Jayson Werth's liner to center field and ran for third, allowing B.J. Upton to make the catch and complete a double play.
"That line-drive double play got me out of a jam that could have opened the door for them early," Hudson said. "I think that changed the momentum of the game right there."
The Nationals didn't move another runner past first until Espinosa connected on his first homer of the season with two outs in the fifth inning. Espinosa entered play hitting .162 with two RBIs, but he jumped on a Hudson cutter and pulled it into the right-field seats.
"He needed that," manager Davey Johnson said. "He needed something. He had such a great spring, I'm surprised he's struggling."
After Espinosa's homer, the Braves retired the last 13 batters of the game, with Eric O'Flaherty relieving Hudson in the eighth and giving way in the ninth to closer Craig Kimbrel, who recorded his sixth save.
The game got worse for the Nationals in the eighth, when catcher Wilson Ramos tried to beat out a hit and suffered a pulled left hamstring that likely will send him to the disabled list.
Jason Heyward plated the Braves' third run with a fielder's choice forceout in the ninth off Ryan Mattheus.
Andrew Simon is a contributor to MLB.com. This story was not subject to the approval of Major League Baseball or its clubs.