Vargas, lineup switch unable to change course vs. A's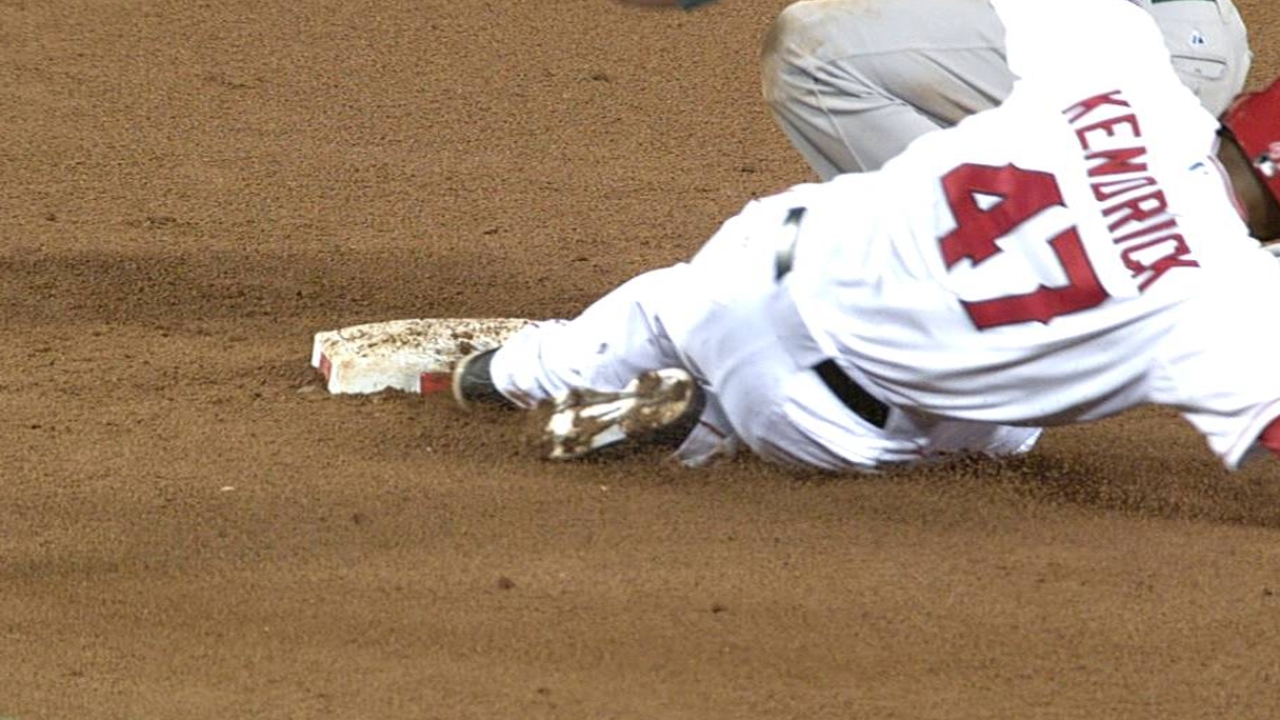 ANAHEIM -- Forget last year. The Angels haven't started a season this poorly since they were an expansion team, simply happy to be in the Majors and on their way to a 70-91 finish. That was 1961, 52 years before evolving into the powerhouse that would sign Albert Pujols and Josh Hamilton in back-to-back Decembers and annually sport payrolls in the $150 million range.
The Angels lost eight of their first nine games in '61.
They've lost seven of their first nine in 2013.
In their latest, the struggling offense was rocked to sleep by Oakland starter A.J. Griffin, while their own starter, Jason Vargas, couldn't pitch deep in the game and an overworked bullpen failed to keep things close, leaving the Angels with an 8-1 loss to a division-rival A's team that has now won eight straight games.
The Angels were outscored 26-11 while getting swept at home by Oakland for the first time since 2001. They've dropped all three of their series to start the season, have lost four straight and are already 5 1/2 games out of first place in the American League West.
If any of this sounds eerily familiar to last April, it should.
"We're a good club, and we are going to turn this around," manager Mike Scioscia vowed. "We all believe this. You can say, 'Go out and win,' but if you don't put the steps in place to win, it's not going to add up to where you want to be."
The Angels came into the season hoping to avoid last April's crippling start, when they lost 14 of their first 20 games and, in case you were wondering, six of their first nine.
Like last April, nothing is really working. They called a team meeting after Wednesday's loss and Scioscia shuffled the lineup prior to the series finale, putting Mike Trout in the No. 2 spot to connect him with Pujols and Hamilton.
The Angels proceeded to muster five hits -- two of them, at least, by the struggling Hamilton -- and showed little life against Griffin, the No. 4 starter who hurled eight shutout innings against them last year.
"You have to be optimistic," designated hitter Mark Trumbo said. "We have too much talent to not be. It's very unfortunate that we're in the place we are, but that's the reality. We look forward to keep grinding things away and trying to weather the storm until we click and start taking it to people."
Like last April, the bullpen is struggling. On Thursday, Kevin Jepsen gave up a two-run double to the struggling Chris Young immediately after coming in to relieve Vargas, putting the Angels in a 5-1 hole in the sixth.
Angels relievers posted a 0.72 ERA in their first three games against the Reds, then a 7.71 mark in their next six games against the Rangers and A's.
"They're just not getting it done the way they have the capabilities to," Scioscia said. "[Pitching coach] Mike Butcher is working very hard on it to get each guy where they need to be. Right now, there's a lot of things out of sync on the pitching side, and these guys are better than they've performed."
Unlike last April, the starting pitching isn't really there. Vargas once again did a nice job of working out of trouble early on, giving up only one run through the first five frames. But he gave up a two-run homer to Josh Donaldson to start the sixth, then exited with two on and two outs.
If nothing else, this is a rotation built to eat innings. But no starting pitcher has yet to come out for the seventh, leaving the bullpen to account for 31 innings this year (more than 3 1/3 per game).
"The teams we've faced have been pretty good offensive clubs and Oakland has been really hot, too," said Vargas, who was charged with five runs on 10 hits and three walks in 5 2/3 innings, putting his ERA at 4.76 through two starts. "It's just one of those things where they're going to grind out at-bats. You only have so many pitches, but you can't let wanting to get deep in a game affect what you're doing out there."
Another aspect that may be different from last year: health.
The Angels were relatively lucky in that department in 2012, with few players making their way to the disabled list. But they're a little nicked up now. Jered Weaver will be out for the next 4-6 weeks with a broken left elbow, Erick Aybar is still trying to recover from a bruised left heel and Alberto Callaspo left Thursday's game after seven innings with a strained right calf.
Perhaps the lowly Astros and Twins, making up the Angels' next six games, can bring a soothing component.
"They have a heckuva team," A's manager Bob Melvin said of the Angels. "Sometimes you catch a team when they're down, and we were lucky to do that. But they're one of the best teams in all of baseball."
Alden Gonzalez is a reporter for MLB.com. Read his blog, Gonzo and "The Show", and follow him on Twitter @Alden_Gonzalez. This story was not subject to the approval of Major League Baseball or its clubs.