'Pen takes second loss in a row to drop series
Three relievers throw in seventh, Uehara allows game-winning hit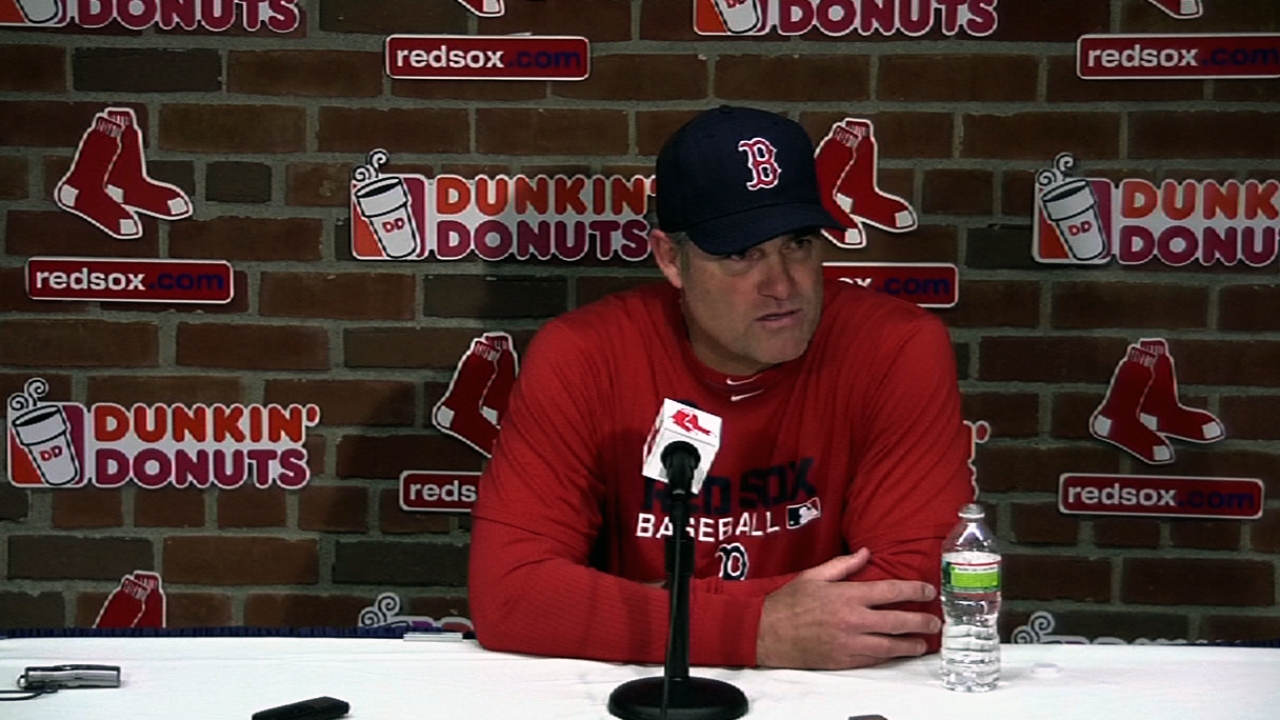 BOSTON -- Koji Uehara had been flawless in his first three relief outings for the Red Sox, retiring all nine batters he faced in a mere 26 pitches.
But that stretch of brilliance ended on his first delivery of Thursday night, an 80-mph splitter that Adam Jones belted into the left-field corner for an RBI double that drove home the deciding run in a 3-2 loss to the Orioles.
"I wanted to throw it lower, but I missed my spot," Uehara said through an interpreter.
For Boston, this was one of those nights where it was just too much Jones. The blossoming Orioles' star drove in the tying and go-ahead runs on a night in which he went 2-for-5.
It was the first series loss of the season for the 5-4 Red Sox, who won the series opener against Baltimore, but lost the past two games.
The two American League East teams certainly looked evenly matched in this series, playing three straight nail-biters.
"They're going to play hard," Jones said of the Red Sox. "[John] Farrell is a great manager. I just think that day-in and day-out, he's going to get the best out of that roster, and you can't predict what the season is going to be, but you know they're going to bring it every single day."
For the second night in a row, Boston's bullpen, which was brilliant in the first week of the season, took the loss.
Clayton Mortensen fired a scoreless sixth and started the seventh with two outs. But after the righty gave up a single to Manny Machado, Farrell went to Andrew Miller for a lefty-lefty matchup. But Miller walked Nick Markakis, ending his night.
It was the third time in four appearances this season Miller has allowed the first batter to reach base against him.
"Well, we're in the first 10 games of the season," Farrell said. "I'm not going to rush to judgment. Certainly, you'd like to see the effectiveness be there, and I'm sure, in time, it will be. He's a valuable guy for us right now. We've got to pick our spots with that one left-hander out there."
Once Miller came out, Uehara came on, but Jones greeted him rudely and that double snapped the tie and decided the game.
"It was a split that didn't quite have the normal depth," Farrell said. "First pitch that he throws him, and he jumped all over it. [Jones] saw a pitch up in the strike zone and he's obviously very capable of doing that."
Just before the Orioles seized the momentum in the seventh, the Red Sox had a chance to do so in the sixth.
Mike Napoli led off with a single to center. Daniel Nava drilled a one-out single to right. Orioles manager Buck Showalter then pushed the right button, going to left-hander Brian Matusz.
That turned switch-hitter Jarrod Saltalamacchia around to the right side, and he struck out. Stephen Drew struck out looking on a 3-2 pitch, ending the threat.
"It's a big at-bat," Drew said. "I got back to a 3-2 count. The ball just caught the inside corner of the plate. It was unfortunate. I wish I could have driven some guys in right there."
Drew tried to make up for it in the ninth, when he drilled a one-out single against Orioles closer Jim Johnson. But Jacoby Ellsbury's liner to left was caught just in front of the Green Monster by Nate McLouth, ending the game.
"They're a good team and they're totally different than what they were last year," Johnson said. "It's going to be a dogfight all the way through. And we know that, and they know that. Anytime you can win a series and move on to the next city, you're happy."
Alfredo Aceves had to work through stretches of inconsistency in his first Major League start since 2011, allowing at least one hit in each of his five innings. But he did what the Red Sox wanted, allowing six hits and two runs over five innings, walking three and striking out four.
"I feel OK about those five innings," said Aceves. "Unfortunately, we didn't win the game, and that's all that matters."
Aceves will make at least one more start while John Lackey is on the disabled list with a bicep strain.
Manny Machado, who hit a three-run homer off closer Joel Hanrahan on Wednesday, knocked a double into the right-center gap in the first inning, but Aceves got some help from his defense when Shane Victorino and Dustin Pedroia executed a relay to throw out Machado at third.
Aceves became one of six pitchers to give up a home run to Chris Davis this season in the second inning. Aceves fell behind to Davis, 3-0, before letting a fastball catch too much of the plate. Davis deposited it in the right-field bleachers, giving the Orioles a 1-0 lead.
"Given that it was his first start of the year, he kept the game under control," Farrell said. "I thought he managed the lineup well, with the exception of the home run on the 3-0 pitch by Davis, I thought he worked his way around the lineup fairly well tonight."
The Red Sox rallied right back in the bottom of the third. Drew led off with a walk. Victorino stung a line single to right with two out, putting runners at the corners. Pedroia lined an RBI single to right to tie the game. Napoli worked a nine-pitch a-bat, which he capped with an RBI single to left, putting Boston ahead.
That narrow lead lasted until the fifth, when Machado dropped down a bunt single and scored on a two-out single up the middle by Jones.
Ian Browne is a reporter for MLB.com. Read his blog, Brownie Points, and follow him on Twitter @IanMBrowne. This story was not subject to the approval of Major League Baseball or its clubs.