Padres fall late after benches-clearing scuffle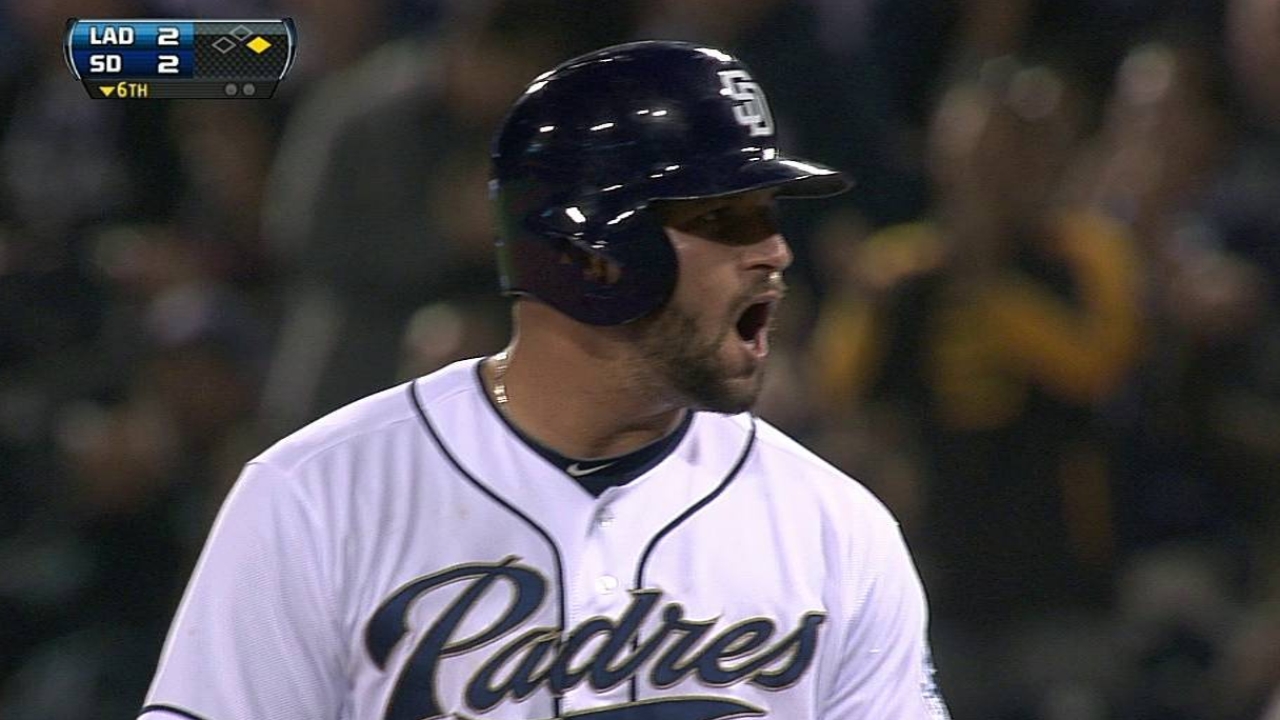 SAN DIEGO -- In a game that was marred by a benches-clearing brawl in the sixth inning, Juan Uribe hit a tiebreaking home run in the eighth inning to lift the Dodgers to a 3-2 victory over the Padres in front of a crowd of 24,610 at Petco Park.
Uribe's home run came off Padres reliever Luke Gregerson, who allowed his first run of the season as the Dodgers (6-3) took two of three games from the Padres (2-7).
In the sixth inning, Padres left fielder Carlos Quentin was hit by a full-count pitch by Dodgers starter Zack Greinke. Quentin charged the mound and a scuffle broke out between the two teams.
Quentin, who has been hit three times with a pitch by Greinke in his career, was ejected as was Greinke, Dodgers center fielder Matt Kemp and infielder Jerry Hairston Jr. Greinke was later diagnosed with a broken left collarbone.
"Unfortunate situation," Quentin said. "Myself and Greinke have a history. It dates back a few years. It's documented. It's unfortunate about the situation. It could have been avoided."
Greinke, who was in line for the victory, was charged with a second run in the game after reliever Chris Capuano allowed a game-tying single to Yonder Alonso later in the sixth inning.
Matt Guerrier (1-0) got the victory in relief for the Dodgers. Gregerson (1-1) got the loss for the Padres, who open a three-game series Friday against the Rockies at Petco Park.
Greinke allowed two runs over five-plus innings with one walk and four strikeouts.
"I've never hit him on purpose. I never thought of hitting him on purpose. He always seems to think that I'm hitting him on purpose, but, I mean, that's not the case," Greinke said.
Former Padres slugger Adrian Gonzalez -- who was a three-time All-Star with San Diego from 2006-2010 -- turned on a Jason Marquis slider for a two-run home run in the first inning, sending it just inside the right-field foul pole for his first home run of the season.
"Jason battled, he gave up the two-run home run to Gonzo … he tried to get it in on him but couldn't," manager Bud Black said. "After that, I thought Jason battled his tail off."
Marquis settled down after a rough start, pitching his way in and out of trouble the next four innings. He ran up a high pitch count, throwing 102 pitches in five innings.
All told, Marquis allowed two runs on seven hits with four walks and five strikeouts.
"I couldn't find a consistent delivery early on but then something clicked around the third inning," he said. "But by then, it was too late, as far as pitch-count."
The Padres scored a run off Greinke in the fourth inning as Jedd Gyorko walked with two outs and went to third base on a single by Nick Hundley. Gyorko then scored on a wild pitch by Greinke.
Hundley, who was 4-for-4 on Wednesday, had two more hits to start Thursday's game.
But the story of the game was the incident between Greinke and Quentin that involved several others.
"It's part of the game, it's happened for 100 years," Marquis said. "It's unfortunate guys get hurt. I was inside watching it on TV and ran out there. I'm going to protect my teammates in any which way. But you don't want to see guys hurt in that situation.
"You don't wish injury on anyone."
Corey Brock is a reporter for MLB.com. Keep track of @FollowThePadres on Twitter. This story was not subject to the approval of Major League Baseball or its clubs.