LA irate after melee in win leaves Greinke hurt
Righty fractures collarbone in benches-clearing fracas with Quentin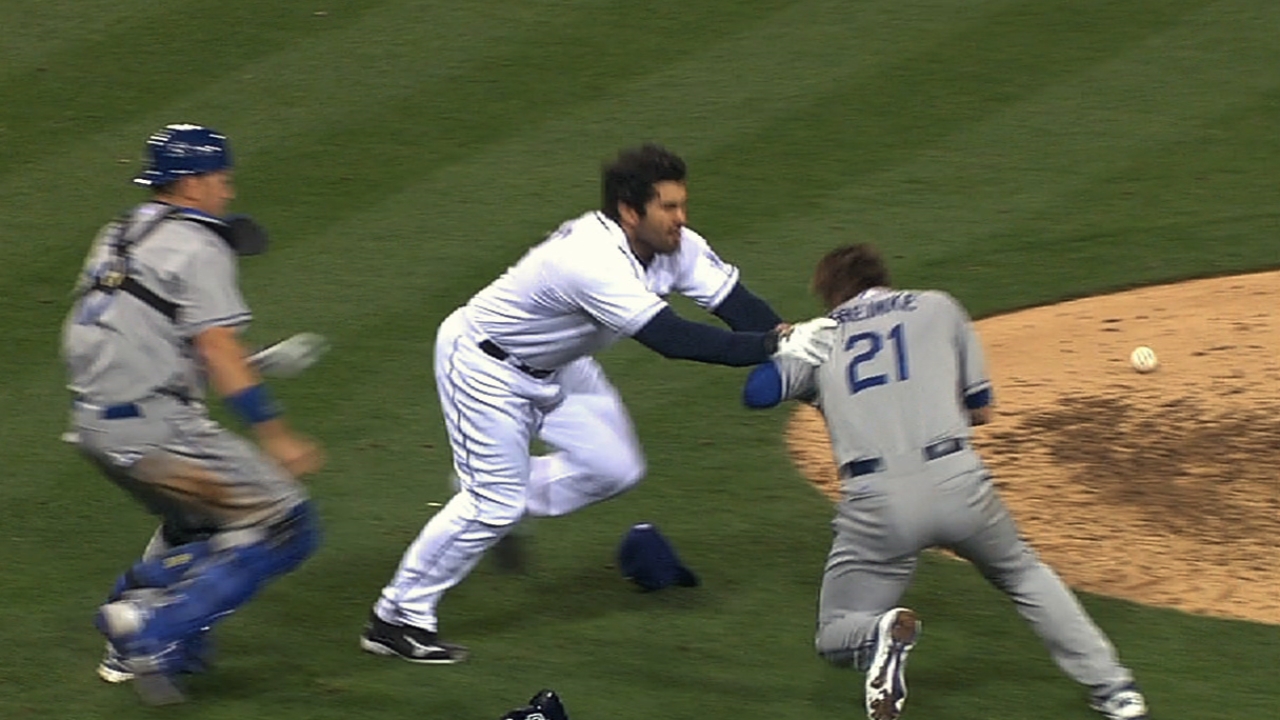 SAN DIEGO -- The Dodgers' fury over Zack Greinke's broken left collarbone, ignited by Carlos Quentin charging the mound in the sixth inning Thursday night, overshadowed Juan Uribe's pinch-homer that gave Los Angeles a 3-2 win over the Padres.
It simmered throughout the postgame comments and spilled into the service tunnel as the Dodgers were about to walk through the Padres players' parking lot to board their buses for the airport an hour after this strange and volatile game ended.
In the tunnel is where Matt Kemp and Quentin met in a tense, face-to-face confrontation, Kemp asking Quentin why he'd charge the mound, Quentin saying his head was thrown at. Quentin started pointing, Kemp warned Quentin to stop and at that point the pair was separated by teammates and friends. Hanley Ramirez first intervened, then Clayton Kershaw grabbed Kemp from going back for more, while Clayton Richard was backing up Quentin.
Meanwhile, Greinke wasn't going to Arizona with the team. Instead, he returned to Los Angeles for a morning exam by Dr. Neal ElAttrache. Greinke, his left arm in a sling, wouldn't give a prognosis or an indication of the severity of the injury, which can take anywhere from two weeks to three months to heal and on rare occasion requires surgery.
So, the physical will be known on Friday. The emotional wounds will be tested next week, as the Padres come to Dodger Stadium for a three-game series starting Monday night.
Is there bad blood between these two teams?
"Now there probably is," said Greinke. "I don't know if there was before."
There really isn't bad blood between the teams. There's definitely bad blood between the Dodgers and Quentin for sidelining their $147 million co-ace, as A.J. Ellis pointed out, for no good baseball reason. And there's bad blood between the Dodgers and Padres reserve John Baker, whom they accused of reveling in the pain Quentin's bull rush put on Greinke's fractured clavicle.
"I hear he went to Stanford," Kemp said of Quentin. "People with good baseball IQs, with a one-run lead in the sixth inning and a 3-2 pitch. I've heard smart people go to Stanford, but that wasn't too smart."
Kemp, Greinke and Jerry Hairston Jr. were ejected for their parts in the melee. During the brawl, Kemp went face to face with umpire Paul Nauert, later saying when he heard Padres players ridiculing Greinke, he "went over the edge."
"That stuff happens in the Minor Leagues," Kemp said of Quentin's actions, "not the big leagues."
Ellis said even during the brawl, Padres players were apologizing for the breach of the baseball code that Quentin showed when he attacked Greinke in a situation nobody else believed was intentional except for Quentin, who four years ago was intercepted from going after Greinke by the plate umpire and opposing catcher when hit in the back with a 2-2 pitch.
"I had a similar thing happen in A-ball -- bases loaded, 3-2 pitch, guy got hit -- and the entire team apologized to me and that's what their guys did tonight, to a man, apologizing for what just happened," said Ellis. "We knew during the game what was up with Zack. They were upset as well. We all know the code of baseball."
The Dodgers were nearly as baffled when they heard that Greinke not only was ejected, but that crew chief and plate umpire Sam Holbrook would only confirm the ejections but not explain why to a pool reporter afterward. It did appear that Greinke said something to encourage Quentin just before he headed for the mound.
"I spoke with my supervisor and until we file a report with the league, that's really all we can say," said Holbrook. "I can't tell you what was said or what we think led to it."
Quentin confirmed Greinke said something to him.
"That was the final straw," Quentin said. "That could have been avoided as well.
"But like I said, there's a history there. There's a reason why I reacted the way I did. Who knows what happens if he doesn't say anything. Or if he motions that it wasn't intentional."
Of all the Dodgers that were angry, nobody seemed hotter than Hairston, a former Padre, who billed himself as a peacemaker in the opening round of the brawl. But after order appeared to be restored, he came sprinting out of his dugout pointing a finger at a player on the San Diego bench he wouldn't name. Manager Don Mattingly, however, said it was Baker.
"Obviously Zack was hurt and one guy over there was chirping, making fun of him," said Hairston. "I asked him to meet me halfway. He didn't. That never should have happened. Zack's not trying to put the tying run on base.
"Now we're trying to win and one of our aces has a broken collarbone. It's unacceptable. I lost it. I know Zack, we talked in the offseason, we have the same agent. I knew he'd be huge for us, hasn't given up a run all year. And their guy is making fun of a broken collarbone? I took exception to that. You don't make fun of a guy that's injured."
Ken Gurnick is a reporter for MLB.com. This story was not subject to the approval of Major League Baseball or its clubs.