Felix gets 1,500th strikeout, but not 100th win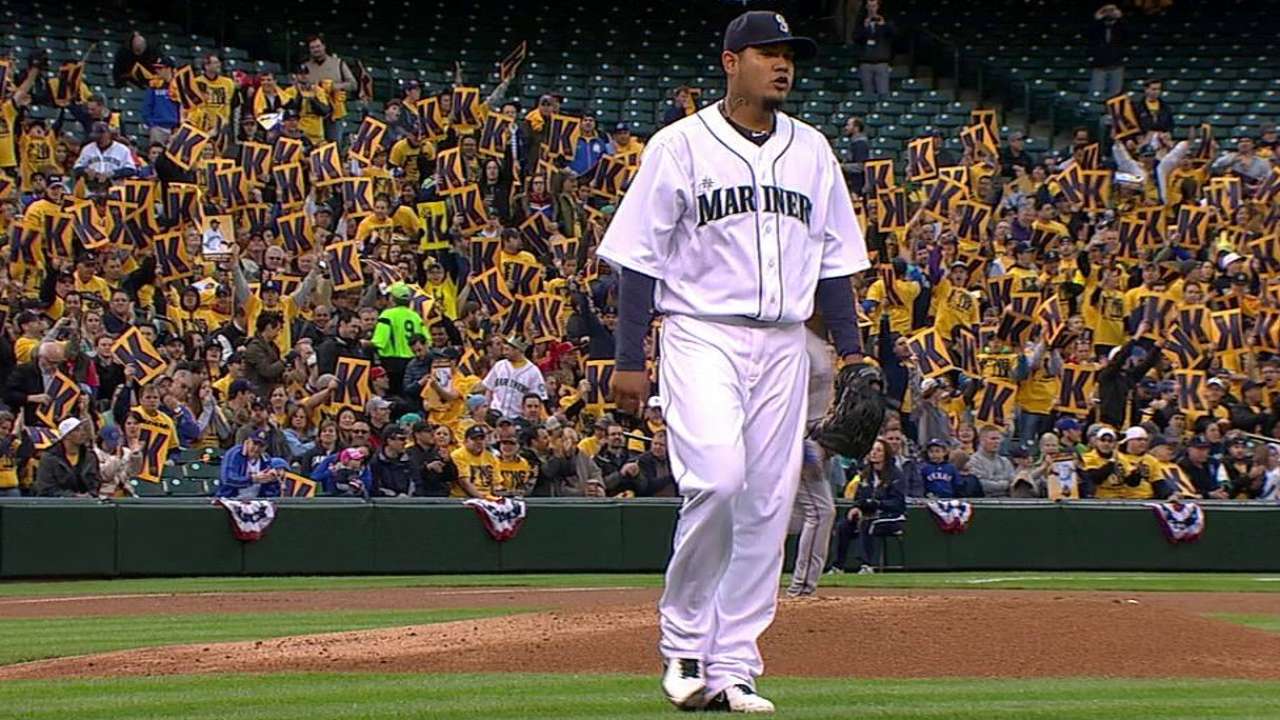 SEATTLE -- The Supreme Court was in session on Thursday night at Safeco Field, but the Rangers provided an unfavorable ruling for Felix Hernandez, as the Mariners dropped a 4-3 decision in their ace's home debut.
With 22,917 yellow-clad supporters chanting and waving Felix "K" cards, Hernandez racked up his 1,500th career strikeout -- becoming the fourth-youngest player in Major League history to reach that milestone -- but remained one shy of his 100th career victory as Texas trumped their American League West foes on the first night of a four-game series.
Seattle lost its third straight game and has dropped five of its last six to fall to 4-7. This one hurt a little extra, coming with Hernandez on the mound against Rangers rookie Justin Grimm, who got the call after No. 1 starter Matt Harrison went on the disabled list with a bad back.
It didn't help that the Mariners missed a chance to tie the game in the eighth when Brendan Ryan's suicide squeeze bunt went right back to pitcher Robbie Ross, who tossed to the plate just in time to nail pinch-runner Endy Chavez.
And adding injury to insult, slugger Michael Morse had his right pinkie finger fractured by a pitch in the seventh inning and will likely be out 3-7 days, according to manager Eric Wedge.
"We're going to keep fighting and grinding and battling," said veteran left fielder Raul Ibanez. "We came up short today, but we fought hard and we have to keep our heads up and keep battling. Nobody is going to feel sorry for you in this game. And we're not going to feel sorry for ourselves. We'll keep fighting."
Hernandez gave up four runs [three earned] and 10 hits over 6 2/3 innings as his record fell to 1-2 with a 3.05 ERA in three starts.
Hernandez beat Texas twice last year, allowing just one run in 17 innings, but is now 12-17 with a 3.76 ERA in 35 career starts against the division rivals.
"I thought he was sharper today than his last outing," said Wedge. "I thought he had better velocity and his secondary stuff was better, too. We just have to loosen things up offensively."
Indeed, the Mariners didn't give their ace much support, managing just two runs off Grimm despite four shaky innings by the 24-year-old right-hander. Additionally, one of Hernandez's runs was unearned after Ibanez missed a line drive in the second inning.
But Hernandez didn't have his best stuff either on a chilly night at Safeco, allowing more hits in this game [10] than he had in his first two road starts combined [9]. He had two walks and five strikeouts before departing after 113 pitches.
"It wasn't a struggle," Hernandez said. "I was making good pitches, but I was just a little bit off. I'm 100 percent. I'm just missing my spots a little bit. It's a long season, anyways."
The Rangers were happy to get one off Hernandez after scoring just once in two starts against him in 2012.
"Felix is a good pitcher," said left fielder David Murphy. "Anytime we beat him, especially in his own park, it means we battled and did what we needed to do to win. I have seen him have more devastating stuff, but he still has as good of stuff as any pitcher."
Mariners center fielder Franklin Gutierrez led off the first with his fourth home run of the season, greeting Grimm with shot over the left-field fence on a full-count fastball, and also drove in the second run with a fielder's choice in the second with the bases loaded.
But the Mariners were unable to take further advantage of five hits and three walks by Grimm over the first four frames, going 0-for-6 with runners in scoring position during that span and 0-for-9 for the game. The Mariners added only one run over the final five innings after Rangers skipper Ron Washington went to his bullpen.
Seattle's first big chance came in the seventh, when Scheppers loaded the bases by hitting Morse in the left shoulder, one pitch after Morse took a fastball off his hand. Jason Bay replaced Morse as a pinch-runner, leaving the left-handed Ibanez to face lefty reliever Robbie Ross.
Wedge said he wanted to give Ibanez a chance, even against the southpaw.
"Raul has been a clutch hitter his entire career and he's faced left-handers his entire career," said Wedge. "Early in the season, he deserves that opportunity to go up there."
But Ibanez struck out to end that threat, and Morse headed to the clubhouse to have his hand examined -- not a good situation with Michael Saunders going on the disabled list earlier in the day with a sprained shoulder.
The Mariners then scored once in the bottom of the eighth to cut the margin to 4-3 and had Chavez at third base with one out, but he was thrown out at home trying to score on Ryan's squeeze.
"It was a close play," said Wedge. "Ryno got the bunt down good, but right back to the pitcher is really the only shot they had to make the play and that's what they did."
"My only thought on a suicide is to just get the ball down," said Ryan. "Get the ball on the ground, because you're guarding against any pitch. Whether it's in the dirt or whatever, you've got to get something on it. It certainly wasn't the ideal bunt, because it came right off my barrel, on a backdoor cutter. It still was close, I guess, but I don't know."
Hernandez came into the game two strikeouts shy of 1,500 for his career and hit that mark by the end of the first inning after setting down Lance Berkman and Murphy.
"I lost," Hernandez said. "I can't celebrate that now."
Greg Johns is a reporter for MLB.com. Follow him on Twitter @GregJohnsMLB as well as his Mariners Musings blog. This story was not subject to the approval of Major League Baseball or its clubs.