Pagan, Panda persevere to back Vogelsong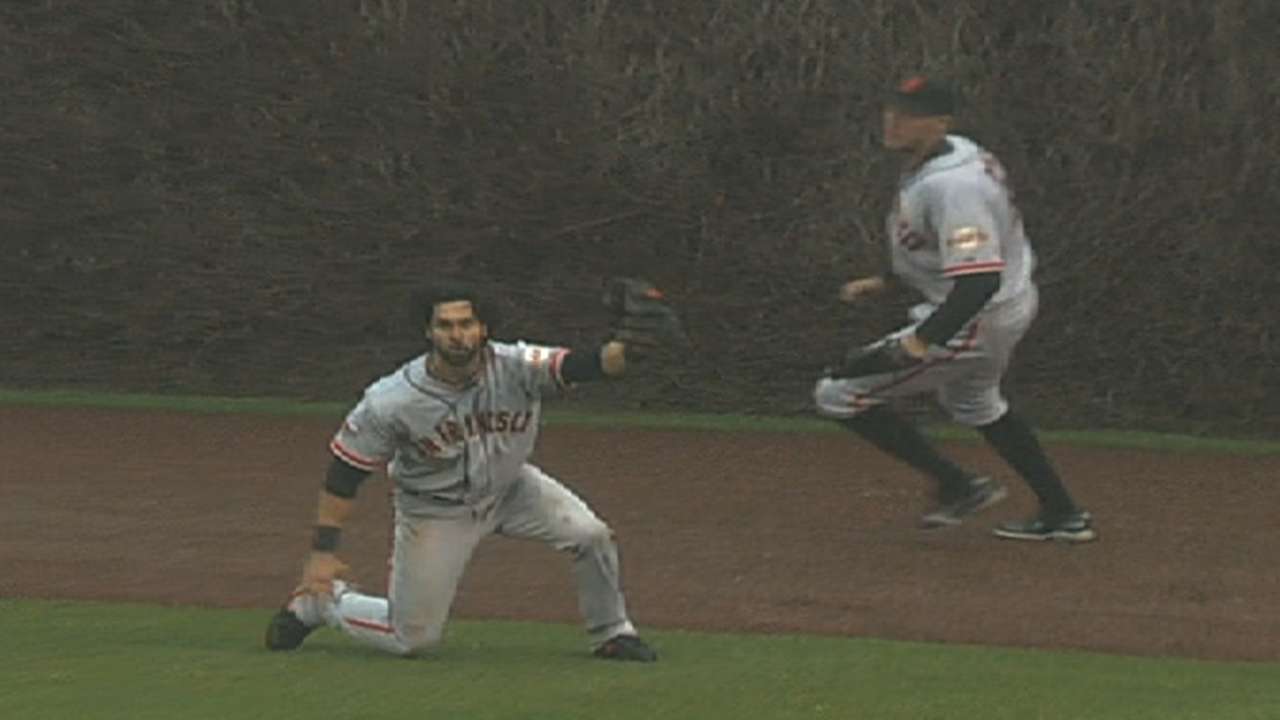 CHICAGO -- Performing in weather that surely grounded nearby aircraft, the Giants demonstrated Thursday how they have flown to the top of the Major League stratosphere.
They adapt. They persevere. They don't beat themselves. They believe. All of these traits were evident at Wrigley Field as the reigning World Series champions won their fourth consecutive game, a 7-6 decision over the Chicago Cubs.
Center fielder Angel Pagan summarized the Giants' approach. "We have to either protect the lead," Pagan said, "or we have to go get the lead."
The Giants excelled at both tasks by overcoming a 5-0 deficit, then clinging to a one-run lead in the ninth inning as the Cubs moved the potential tying run into scoring position with the possible winning run at the plate. Sergio Romo handled the ninth with aplomb, striking out Anthony Rizzo to strand David DeJesus at second base and record his sixth save in as many chances.
"It's a nice little carryover from last season, I'd say, for sure," Romo said. "The mentality of playing together and trying to play your part. If everyone does his part and plays his role to his capabilities, we should be in pretty decent position to win ballgames."
The Giants sustained this winning effort after enduring Wednesday's four-hour flight here, an early wakeup call following a post-midnight arrival and chilly, soggy and foggy conditions contrasting with what they experienced in their season-opening nine games in California.
"Today I have to give credit to the whole team, because after traveling, it was a tough day for us," Pagan said. "Coming over here and coming back, that was such a great victory. It's a good feeling."
The Giants secured their first victory after trailing by five or more runs since Sept. 7, 2008 against Pittsburgh. None of them cracked, least of all Ryan Vogelsong (1-1). The right-hander endured a four-run third inning but regained enough equilibrium to retire the final 10 batters he faced in his six-inning effort.
Wearing short sleeves despite the game-time temperature of 40 degrees, Vogelsong maintained a warm feeling inside. "Honestly, I feel like we needed something good to happen," he said. "Everything was going against us."
The Giants executed the turnaround that Vogelsong anticipated by batting around in the fourth and fifth innings, when they did all their scoring. Since totaling 19 runs (2.7 per game) in their first seven games, the Giants have amassed 26 runs (8.7 per game) in their last three outings.
Rookie second baseman Nick Noonan, starting his first Major League game, helped activate San Francisco's offense by singling in each of his first three at-bats and scoring twice.
"I wouldn't say I was nervous in the beginning, but I had some adrenaline going," he said.
So did the rest of the Giants. Pablo Sandoval's two-run double highlighted San Francisco's four-run outburst in the fourth inning before Vogelsong helped himself with a bases-loaded walk that opened the scoring in a three-run fifth. Vogelsong fouled off a 3-2 pitch before taking ball four from reliever Hisanori Takahashi. San Francisco's pitchers have driven in four runs this season.
"I was really trying to see something up in the zone, so I could hit a sacrifice fly," Vogelsong said. "I would have almost rather struck out than hit into a double play."
Such poor execution doomed the Cubs. San Francisco's fourth-inning runs were unearned, due to shortstop Starlin Castro's misplay of Vogelsong's groundball. "That one is basically not understanding that the pitcher hit the ball and you had plenty of time," Chicago manager Dale Sveum said. "You didn't have to over-charge the ball and overcook that whole play."
By comparison, the Giants relied on defensive excellence. Pagan stopped a rally before it started by dashing into right-center field and sliding on his knees to snare Luis Valbuena's drive leading off the sixth. Pagan correctly sensed that he was better-positioned to catch the ball than right fielder Hunter Pence.
"I know he hit it well, but I checked the wind, and it was blowing in a little bit, so I thought if I could get there and see if I had a chance ... I just went for it," Pagan said.
Romo, who allowed only one hit in five innings spanning his five previous outings, faltered with one out in the ninth as DeJesus doubled. Undaunted, Romo struck out Castro. Up came Rizzo, who homered in the third. Much like he did in Game 4 of last year's World Series, when he froze Detroit's Miguel Cabrera with a fastball for the final out, Romo slipped an 89-mph fastball along the inside corner on a 2-2 pitch. Rizzo didn't move until he heard umpire Kerwin Danley call strike three.
"I'm going to trust my stuff," Romo said. "I understand that there was a base open, and it wasn't that I completely attacked him and was too aggressive. I just tried to make quality pitches. He's a good hitter, a dangerous guy. He was in a position where he could have won the game for his team. I wasn't really trying to pitch around him, but at the same time I wasn't like, 'Here you go,' either. I was just trying to make quality pitches."
In short, Romo felt in control, as did the rest of the Giants.
"As long as you're positive here," Pagan said, pointing to his head with his left index finger, "you'll be fine."
Chris Haft is a reporter for MLB.com. This story was not subject to the approval of Major League Baseball or its clubs.